Socially-Distanced Holiday Destinations in Dallas
Holiday get-together plans may still be up-in-the-air, thanks to the ongoing pandemic. But that doesn't mean you and your close friends and loved ones have to miss out on all the holiday cheer Dallas has to offer!
Whether you're planning an outing with your youth group, a celebration with your coworking pod, or some fun times with your family, you can trust Longhorn Charter Bus to provide safe transportation for your small- or medium-sized travel group. We're dedicated to keeping minibus and charter bus rentals clean and sanitized, and we'd love to work with you to establish a social-distance-friendly outing in the Dallas area.
Here are just a few Dallas destinations your group can add to your 2021 holiday itinerary:
Holiday at the Arboretum
Address: 8525 Garland Rd, Dallas, TX 75218
This annual Dallas tradition is back! Every year, the Dallas Arboretum transforms into a holiday wonderland, complete with a European-esque marketplace full of snacks and hot drinks, a 50-foot Christmas tree that plays holiday tunes, and 12 Victorian-style gazebos that resemble music boxes with life-size puppets. And given the fact that most of the major sights and events take place outside and throughout the gardens, your group can enjoy the bright lights and performances while practicing social distancing.
The festivities are scheduled to run from November 9 to December 31 this year. Admission varies on the day of the week and time of day you plan to visit—but bear in mind that groups of 15 or more can receive discounted entry regardless of when you plan to stop by!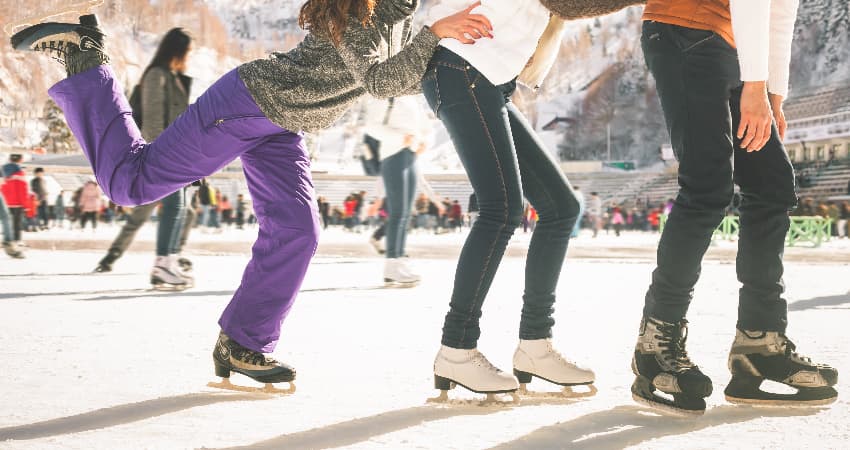 Ice Skating at the Galleria
Address: 13350 Dallas Pkwy, Dallas, TX 75240
While this indoor rink is technically open year-round, something about the holiday season makes skating at this mall complex a little more fun. And when it comes to visiting the Galleria skate rink, more is definitely merrier—the more people tag along to the skate sesh, the more you'll save on general admission!
Face coverings are required for all skaters and spectators and social distancing is encouraged both on and off the ice. And while skates are available to rent upon arrival, we recommend bringing your own blades to ensure they're sanitized to your liking. And if you need help landing that triple axel or salchow—or just standing upright without falling—look into booking private group skate lessons. Not only will that ensure your group has the ice all to yourselves for a while, but you'll also receive a few free tickets for public skating sessions.
2021 BMW Dallas Marathon Festival
Address: 1500 Marilla St, Dallas, TX 75201
For those who just can't sit still, this local holiday favorite is sure to get your blood pumping. Gather your jogging buddies, sports team, or friends and family, and get ready for the biggest running event of the season! This festival is the largest and longest-running marathon in Dallas, and there are tons of races and events to keep everyone on their toes, including a half-marathon, a 50K "Ultra Marathon," a 2-person half-marathon relay, a 5-person marathon relay, a 10K, a 5K, and a variety of laid-back events like the Friday Night Lights Mile and various races for the kids.
One of the biggest perks of participating in Dallas's premier marathon festival? It takes place the second weekend in December and winds its way through some of the city's most vibrant neighborhoods—so you get to take in the beautiful holiday lights, festive storefronts, and residential displays of the city! And once you've finished racing or need to take a breather, a Longhorn Charter Bus rental can act as a home base for your runners. With plenty of space to stash coolers and towels in your charter bus's undercarriage, no one will have to worry about sharing water bottles or taking handouts from water stations while you're trying to social distance.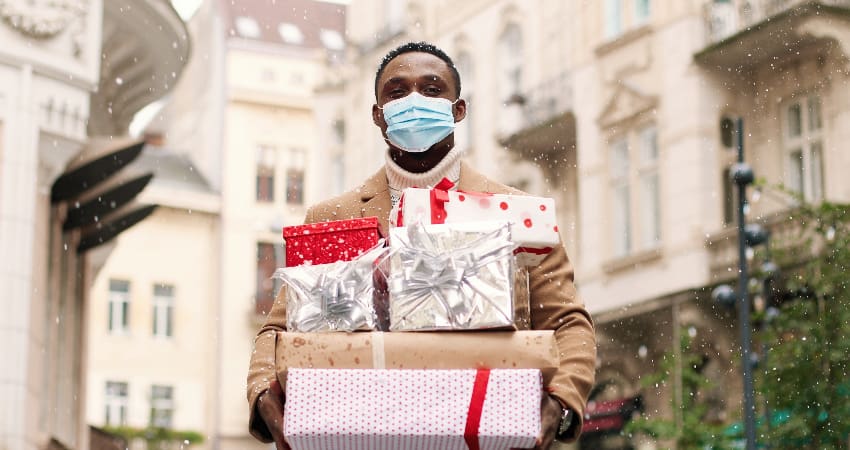 Global Village Market
Address: 5835 Penrose Avenue, Dallas, TX 75206
Looking to knock out some of your holiday shopping? Here, your holiday shoppers can find handmade crafts and unique gifts and support a good cause!
Since 2007, the Global Village Market has raised over $400,000 for nonprofits on a local, regional, national, and even international scale. Whether you're purchasing napkins made in a sewing school in Eastern Congo, munching on tamales made at the Emanuel Community Center, or donating to train South Dallas residents how to install solar tech, your group will return home with unique gifts and warm-and-fuzzies from supporting fair-trade businesses local and abroad.
This year, the Global Village Market will run November 6-7. And while some vendors will be located outside Greenland Hills United Methodist Church, some may be posted inside the church buildings—so remember to bring a mask, just in case.
Enchant Christmas
Address: 3809 Grand Avenue, Dallas, TX 75210
Learning pods, youth groups, and families with kids won't want to miss this light experience and scavenger hunt! From November 26 through January 2, Fair Park will house a variety of structures and games illuminated by thousands of twinkling holiday lights. Enjoy gliding through the skating trail, searching the Christmas Light Maze for Santa's missing gifts, browsing local vendors' seasonal treats and holiday gifts, and posing for a photo with Old Saint Nick himself!
The Enchant Christmas experience takes place outdoors, but visitors are advised to wear masks and to social distance in the most crowded areas such as the vendor market. And while parking is plentiful at Fair Park, walking between the main entrance and your parking spots can be a bit of a hike—especially with younger kids in tow. That's why we recommend letting a professional driver take the wheel of a private shuttle service: so your group can be dropped off and picked up right at the gates, without having to wait for rideshares to arrive or having to remember where everyone parked their cars.
Book Your Ride to Dallas Holiday Destinations
Whenever you're ready to start planning your socially distant holiday outing in Dallas, the Longhorn Charter Bus team will be ready to help! We specialize in custom bus rental plans throughout the DFW area and throughout Texas. So no matter what safety measures you want aboard your minibus or charter bus—hand sanitizing stations, staggered seating arrangements, mask requirements, you name it—we'll work with you to make it happen.
See for yourself how easy renting a bus in Dallas can be! Give our 24/7 team a call at 214-206-8432 for a free, no-obligation quote.