St. Patrick's Day Guide to Austin for 2022
Top o' the morning, Austin! Ready to start setting solid plans for your St. Patrick's Day celebration this year? Longhorn Charter Bus company has got you covered there. Rather than designate a driver or rely on expensive rideshares, you and your friends and family can rent private group transportation with a friendly, professional driver at the wheel all day and night. We can rent you the perfect type of charter bus to cart your crew around town on this festive March holiday.
Ready to get started? Read on to get ideas for your St. Patricks Day itinerary, then give Longhorn Charter Bus a call at 1-844-445-2779 to rent a bus and put your plans into action!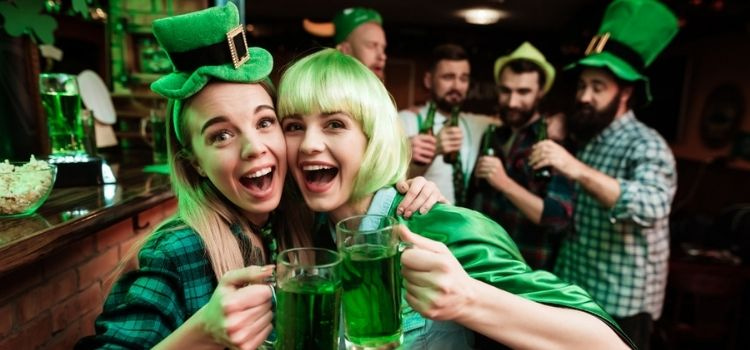 Go to a Dropkick Murphy's concert
Start your celebration early in March with the Dropkick Murphy's St. Patrick's Day Tour in Austin! This raucous Celtic punk band will be performing at Stubb's Bar-B-Q Waller Creek Amphitheater on March 1, 2022, and you can buy individual tickets on Stubb's website. This all-ages show starts at 5:30 p.m. and also features warm-up performances by rock music faves like The Bombpops, Rumjacks, and Jesse Ahern.
Stubb's Bar-B-Q
Address: 801 Red River St, Austin, TX 78701
Phone: (737) 465-1218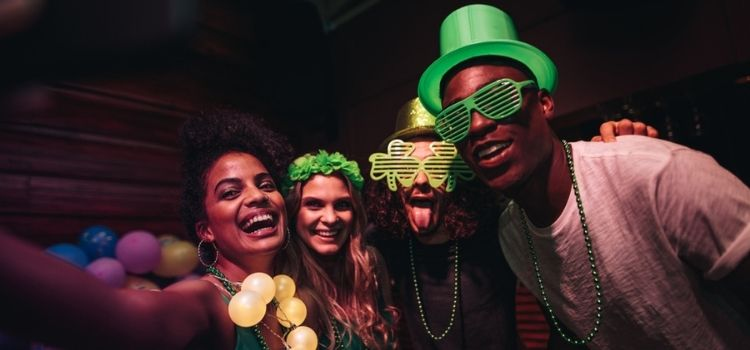 Attend a St. Patrick's Day celebration
When it comes to St. Patrick's Day parties in Austin, you'll have no short supply. The annual St. Patrick's Day Austin, hosted in part by the Austin Celtic Association and Celtic Cultural Center of Texas, is always a go-to event on March 17. While last year's St. Patrick's Day Festival in Austin was a virtual event, keep an eye on the event's website for more information about the 2022 celebration. The live, in-person festival is typically held at Jourdan Bachman Pioneer Farms.
If you're looking to pencil something a little more solid into your planner, consider the Wells Branch Recreation Department's St. Patrick's Day Bagpipe Concert at Katherine Fleischer Park. This event is currently scheduled for March 17, 2022, and the band will lead a parade through the park that you can join starting at 6:30 p.m.
Katherine Fleischer Park
Address: 2106 Klattenhoff Dr, Austin, TX 78728
Phone: (512) 251-9814
Customize a St. Paddy's Day Irish pub bus tour!
On March 17, many bars and restaurants around Austin will be hosting their own St. Patrick's Day parties to join! Why not plan out a personalized pub crawl that features your favorite Irish bars around town, and all from the comfort of your own private transportation?
Cork & Barrel Craft Kitchen & Microbrewery
Address: 4000 E Palm Valley Blvd, Round Rock, TX 78665
Founded by an Irish native and local Texan resident for over 30 years, Cork & Barrel is an authentic Irish Pub vibe with eccentric Austin flair. Their drink menu is packed with house-brewed beers and tasty signature cocktails like the Carrie Bradshaw (Titos, St. Germain, watermelon, and lime) and a Smoke & Salted Old Fashioned, stirred with Makers Cask Strength, smoked salted bitters, and raw sugar.
While this spot is a bit off the beaten track up in Round Rock, it's definitely worth the trip. And if it's a little too far away from Austin's hotspots for you, make it the first stop on your crawl! That way you can enjoy this lively and unique Irish pub, and on your way to your second stop, you can keep the party going with your favorite boozy drinks aboard your charter bus rental.
Jack & Ginger's
Address: 11500B Rock Rose Ave, Austin, TX 78758
No Irish pub crawl in Austin is complete without stopping at Jack & Ginger's, an Irish pub on Rock Rose Avenue featuring 82+ beers on tap and delicious Irish-American eats. This is a good place to eat your fill before enjoying more drinks on your pub tour. Opt for crowd favorites like "Austin Sausage Company" bangers and mash, jumbo shrimp corn dogs, "grilled cheese" hush puppies, and Guinness-battered fish and chips. Before you pay the tab, ask for a round of Guinness stout floats—a long, cold pour of Guinness Stout with a scoop of vanilla bean ice cream and drizzled caramel.
B.D. Riley's Irish Pub at Mueller's
Address: 1905 Aldrich St #130, Austin, TX 78723
As Austin's self-proclaimed oldest Irish pub, it's St. Patrick's day every day at B.D. Riley's. You can bet their festivities on March 17th are unmatched, but you can also enjoy events like traditional Irish music performances and weekly trivia year-round. This spot is also a go-to if you want to catch a football or soccer game like Liverpool FC and the Texas Longhorns. Enjoy a drink from their extensive list, like a three beer flight of their brews on tap, or an Irish Coffee to put a little more pep in your step for the rest of the night.
Foxy's Proper Pub
Address: 201 Brazos St, Austin, TX 78701
One of the newest Irish pubs to hit the downtown Austin scene, locally-owned Foxy's brings its own flair and family feel to the neighborhood. Its centerpiece is a bar program featuring an expertly curated Irish whiskey collection and cocktail list. If you haven't yet on your bar crawl, this is the perfect place to try an Irish-inspired craft cocktail. Opt for a Kilbeggan Highball, a refreshing mix of Kilbeggan Irish whiskey, seltzer, and mint, or a Dingle Mingle, a sweet take on a gin and tonic with notes of lavender and grapefruit. Round out your visit with some nibbles like a scotched egg, smoked salmon on toast, or corned-beef-and-gravy-topped Disco Fries.
The Pub
Address: 214 W 4th St Suite A, Austin, TX 78701
This adequately named Irish/British bar is a lively pub with an "old world" feel on West St. in Austin. Make this the last pub on your crawl to enjoy some last simple and classic drinks, like a frothy Guinness stout or whiskey on the rocks. If you're craving a snack, opt for their all-day breakfast menu. Nothing quite hits the spot like a Rasher's Butty (a hearty amount of rashers served on garlic sourdough toast) or a Full English Breakfast served at 1 a.m.!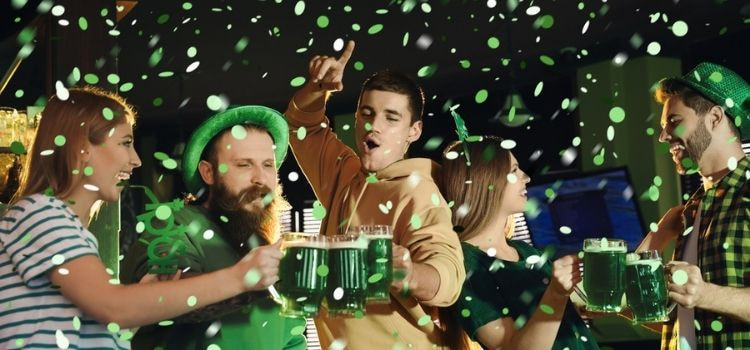 Rent a Charter Bus for St. Patrick's Day in Austin
Now that you've got some solid St. Paddy's Day plans, it's time to seal the deal with a charter bus rental with Longhorn Charter Bus. Give us a call at 1-844-447-2779 to book a private charter bus or minibus rental for St. Patrick's Day in Austin, and take on the day safely and in style!