Socially-Distanced Holiday Destinations in Houston for 2021
As another holiday season approaches during the COVID-19 pandemic, many folks still aren't sure what the holidays will have in store.
Don't worry—there are still plenty of outdoor Houston holiday events you can enjoy while social distancing! And when it comes to getting to and from your must-see favorites, you can trust Longhorn Charter Bus to provide a safe and sanitized bus rental that can keep your extended family, group of friends, or coworking pod together and on time.
Here are just a few festivities your friends and family won't want to miss this 2021 holiday season: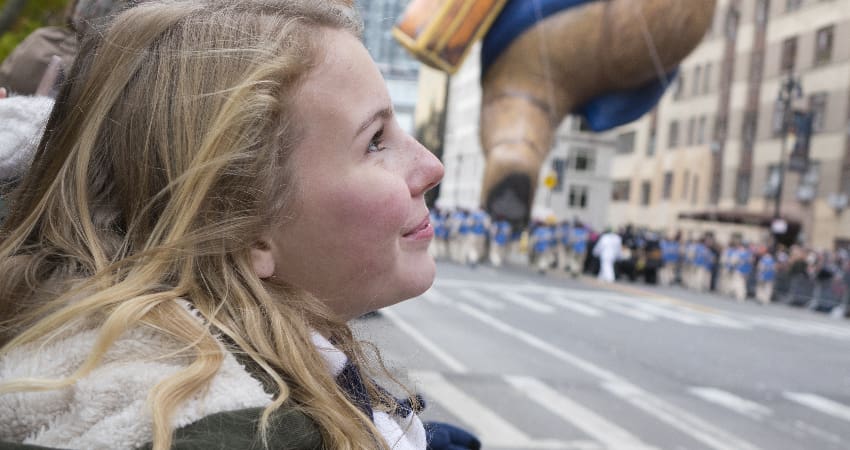 City of Houston Thanksgiving Day Parade
November 25, 2021
Last year, the city of Houston canceled this 72-year-old holiday tradition (one of the oldest still running parades in the country) to prevent the spread of COVID-19 and to draw attention to the city-wide food drive taking place the same day. Now the infamous Thanksgiving Day Parade is back and better than ever!
This showcase of sparkling floats, local marching bands and dance crews, high-flying balloons, and jolly old Saint Nick himself will step off from Minute Maid Park at 9 a.m., Thanksgiving Day. The parade covers 20 blocks of downtown, so there should be adequate space to social distance along the sidewalk along the route. That being said, family groups, housemates, and vaccinated friends are encouraged to mask up if they wish to join the crowd of spectators.
ICE at Discovery Green
November – December 2021
Every winter, Houstonians look forward to the day the Kinder Lake model boat basin is transformed into an outdoor ice skating rink! This open-air rink offers 7,716 square feet of space to skate around (plenty of room to keep your distance from other skaters) as well as family-friendly programming and concerts throughout the holiday season.
Let your tykes run loose in the pint-sized ICE box for skaters aged 4 and under, grab some hot cocoa from the snack bar, listen to the upbeat music playing over the loudspeakers, or just take in the colorful lights streaming through the glass railings onto the ice. Skates are available to rent, but we recommend bringing your own skates to ensure they're properly sanitized.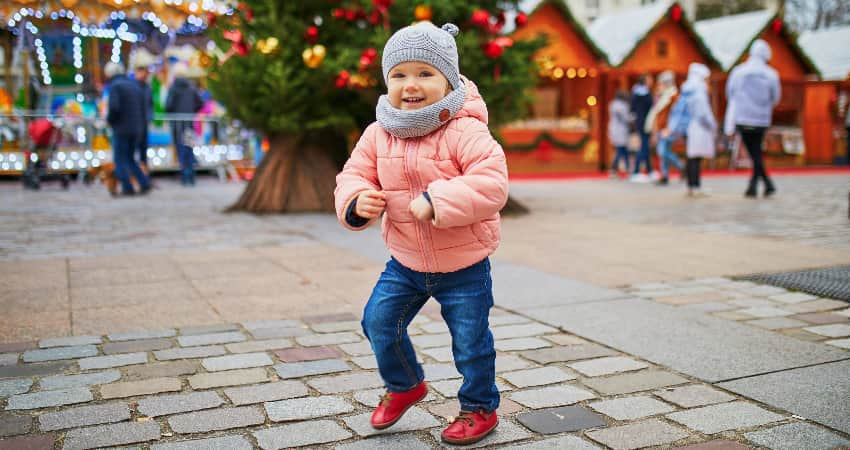 Holiday in the Gardens
November 2021 – January 2022
Moody Gardens is a great group destination year-round—but the holiday season brings even more reasons to pay a visit to this Galveston landmark! Here, your merrymakers can enjoy 8 holiday attractions, all in one place. Some of these festivities are more conducive to social distancing than others. But depending on your group's comfort level, folks can enjoy their favorite stop-motion Christmas classics in 4-D, ice skate around a bedazzled rink, or simply walk through the outdoor, mile-long trail that more than two million lights and lighted scenes themed to holiday music. Just be sure to save room for s'mores and hot chocolate—snack stands will be serving them throughout the Gardens!
Oh, and did we mention Moody Gardens is offering special group rates? Check in with one of their sales representatives once tickets go on sale to set up your group's unforgettable holiday experience at a discounted price.
Dickens on the Strand
December 3 – 5, 2021
Speaking of Galveston, this historic town's Victorian architecture truly suits the holiday season—especially during this 19th-century-inspired street festival! Come take in the sights and sounds of the season as depicted in Charles Dicken's beloved book, A Christmas Carol. From outdoor stalls full of artisan wares to crowds of carolers donning their Victorian finest, there is much to keep your merrymakers entertained at this annual event in downtown Galveston. (And yes, era-appropriate costumes are encouraged!)
Tomball German Festival and Christmas Market
December 10 – 12, 2021
This quaint little town located 40 minutes from central Houston is well worth the drive—especially if your group is in the market for homemade Christmas presents! Admission to this celebration of German holiday traditions is free to the public, so all are welcome to walk the streets of Tomball, catch a live music act or two, and peruse the artisan market for sweets and crafts.
The festival is great for families with kids—stop by the "Weihnachtshaus" at the city's community center to meet Santa!—but the alcoholic beverages are definitely a perk for adult groups. Whether you arrive on Saturday bright and early for the parade or stick around for the Willkommen ceremony for German exchange students and their Tomball host families, a fun time will surely be had by all at this festive, small-town event.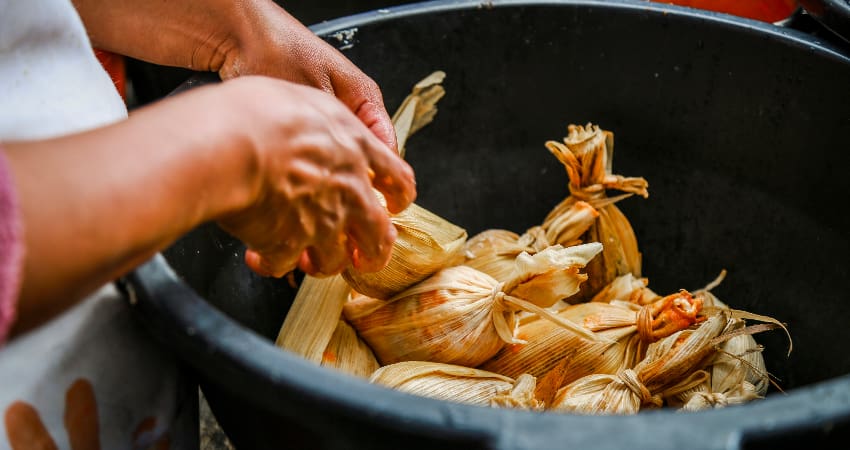 Tamale Festival Houston
December 2021
Nothing says "holiday season" quite like comfort food! The exact dates of this weekend-long event have yet to be determined, but you can expect a smorgasbord of signature tamales served up by Houston's best taquerias, chefs, and dining establishments. And even if tamales aren't your thing, there will be plenty of Texas BBQ, craft beer stands, and food trucks to keep your group satisfied. Between chowing down, tune into live musical acts, the Tamales Eating Contest, and countless art exhibits throughout this outdoor street fair.
Zoo Lights
November 2021 – January 2022
What can be better than taking in dazzling holiday lights with your friends and family? How about walking through a zoo after hours!
While exact dates have not been set for this year's celebration, the Houston Zoo's beloved annual event is expected to return this year with more than 300,000 LED lights, 15 miles of tree-lighting, and seasonal songs and stories for all ages. Sadly, none of the zoo animals will be making an appearance, but guests can still see more than 50 animal-themed light displays as they sip hot chocolate and stroll through the Zoo's outdoor scenery. As with most outdoor events in Houston this winter, face coverings, masks, and social distancing are encouraged throughout the park during this event.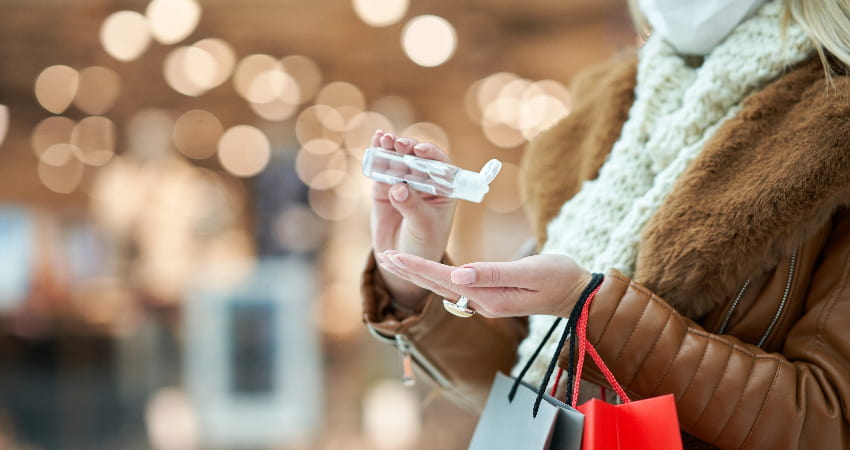 Reserve Your Ride to Houston Holiday Events
Whether you're going light-gazing or checking out Houston's finest holiday festivals, Longhorn Charter Bus has you covered. We'll set up a personalized bus rental plan that includes all the safety measures your passengers need to ride with peace of mind—from face-covering requirements to onboard hand sanitizing stations to staggered seating charters to encourage social distancing on the road. Rest assured the professional charter bus drivers in our network take your group's health seriously—so every bus will be thoroughly sanitized between each trip.
When you're ready to plan for your Houston holiday outing, give us a call at 1-844-447-2779. Our 24/7 representatives would be happy to connect you with the ideal minibus or charter bus rental for your needs and to offer a no-obligation, free quote for your Houston bus rental!