The Best Outdoor Dining in Houston
Whether you're a local or a tourist, when you're in Houston, there's one thing everyone can agree on: Space City is a top spot for good eats. And when the sun is out, it's even better to enjoy your meal outside along the city skyline. Luckily, Houston offers plenty of outdoor dining venues that combine beautiful views and delectable food.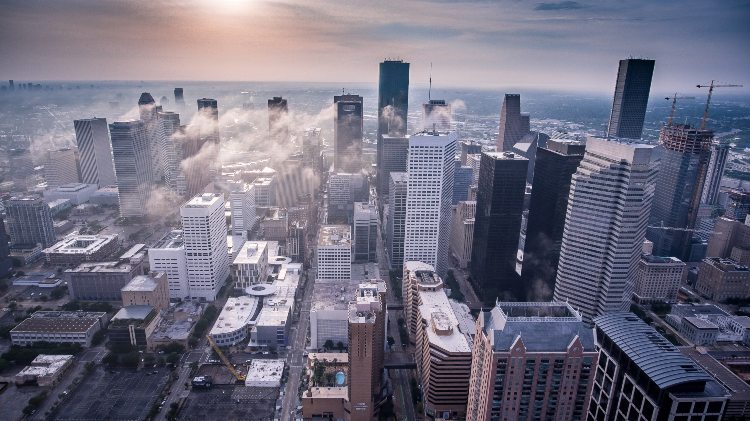 When you're planning your outdoor dining adventure with a group, don't let the stress of transportation take away from your experience. Sports teams, school groups, wedding groups, and groups of all kinds get around Houston efficiently with Longhorn Charter Bus. With access to a range of bus rentals from minibus rentals to full-sized charter bus rentals, we can help build a custom fleet that fits your group's needs perfectly.
Your bus rental can come with luxury amenities to make the ride even better, like AC to ease the Texas heat, WiFi to keep your group connected, and onboard restrooms to minimize bathroom stops. Each bus rental comes with an experienced local driver that will handle all the transportation logistics. All you need to do is plan your itinerary, figure out parking spots, and enjoy this foodie-central hotspot! Just give us a call at (844) 447-2779 to get started.
Ready to reach new flavor heights? Hop on your bus rentals and add these favorite spots to your list:
Backstreet Cafe
Address: 1103 S Shepherd Dr, Houston, TX 77019
Looking for a cute, cozy spot to enjoy happy hour? The Backstreet Cafe serves up award-winning, homestyle New American cuisine with gourmet cocktails and smaller, boutique wines. Since the venue is housed in a 1930s era house now converted, it's on the smaller side but offers a front and back patio with a relaxing, whimsical aura. With plenty of umbrellas and fans, your group can sip cocktails comfortably no matter how hot the Houston summer gets. This friendly neighborhood eatery will make you feel like you're at your home away from home. It's best to make a reservation for this popular spot and to keep your group on the smaller side, as online reservations only accommodate up to six people at once.
Charter bus parking: The venue has a small parking lot with very limited parking, so you'll most likely have to park on the street nearby.
Buffalo Bayou Brewing Co
Address: 2101 Summer St, Houston, TX 77007
Who doesn't love beer with a side of the beautiful Houston city skyline? Buffalo Bayou Brewing company gives your group a laidback spot to sip on beer on their open-air patio. This 3-story brewery has grown a lot and is one of Houston's favorite, most creative breweries, offering craft beers and a 3 Day Pizza, made with the same yeast as their beer. There are plenty of menu options that pair perfectly with a pint of beer with plenty of outdoor space to spread out, as they also have two giant tents in the parking lot. Keep your group on the smaller side; this brewery only allows eight guests per table at the time this article was written.
Charter bus parking: The brewery has a huge private parking lot, so call ahead at (713) 714-3335 to make sure your bus rental can park there.
B.B. Lemon
Address: 1809 Washington Ave, Houston, TX 77007
Food doesn't have to be complicated to be delicious, and B.B. Lemon proves that with simple comfort food that warms the body and soul. With classics like burgers, oysters, fried chicken, banana pudding, and more, all cuisine and cocktails are inspired by Houston and New York. Whether you're coming for a bubbly brunch or satiable dinner, B.B. Lemon offers an outdoor patio meant for relaxation. Adorned with rattan chairs and a manicured lawn, it's the perfect spot to gather outdoors with friends. Reservations aren't required but are highly recommended, especially if you're visiting with a group.
Charter bus parking: Since B.B. Lemon is in the downtown area, parking is limited, so it'll be best for you to find parking for your charter bus rental on a side street.
Secret Garden Bar
Address: 408 Main St, Houston, TX 77002
Looking for a magical place to enjoy the fresh air with friends? Secret Garden keeps true to its name. Located inside a greenhouse (calling all plant lovers), this hidden venue is strictly a bar, but occupies 2,000 square feet of backyard patio space at Bravery Chef Hall. After you've had your fill, stop by this haven nestled in between Houston's skyscrapers to sip on cocktails, craft beers, daiquiris, margaritas, or some frosé. Since this is a bar, reservations aren't necessary, but if you're coming in a larger group, be considerate of distance and space for others.
Charter bus parking: Since this venue is located in the First Ward neighborhood, there is no parking, so you'll have to find street parking nearby.
The Annie Cafe & Bar
Address: 1800 Post Oak Blvd Suite 6170, Houston, TX 77056
Take your outdoor dining experience to new levels with this swanky eatery. If the upscale decor and aura doesn't entice you then its fresh take on Texas-influenced American cuisine will. Putting a fun twist on classics like burgers, steak, tacos, brunch, and so much more, your group can enjoy a delicious meal and your favorite drink on the venue's two-story patio high above Post Oak Blvd. This may be an upscale restaurant, but you'll feel relaxed and cozy with walls surrounded by ivy and oversized umbrellas to block you from the sun. It's always best to make reservations for popular restaurants with your group, even if they aren't required.
Charter bus parking: There is a private parking lot, but make sure to call ahead at (713) 804-1800 to make sure they can accommodate your bus rental.
Enjoy Delectable Outdoor Dining with Longhorn Charter Bus
No matter the occasion, Longhorn Charter Bus makes transportation easy for groups of all sizes. We'll help your group discover new restaurants or revisit all-time favorites without you stressing over traffic and navigation logistics. All you need is your itinerary and parking plans, and we'll handle the rest. Ready to hop onboard? Call our 24/7 team at (844) 447-2779!