Top 5 Budget-Friendly Group Activities in Houston
The saying "everything's bigger in Texas" really does apply to Houston. It's the state's largest city by population and by land area, making it a major destination for a variety of travelers. Although the city is big, your group travel budget doesn't have to be to make your trip worth it. Houston has plenty of group-friendly attractions for all types of visitors traveling on a budget. Plan an educational trip around Houston's many affordable museums, spend quality time with loved ones at local green spaces, or host a company team-building day at spots like the Houston Zoo.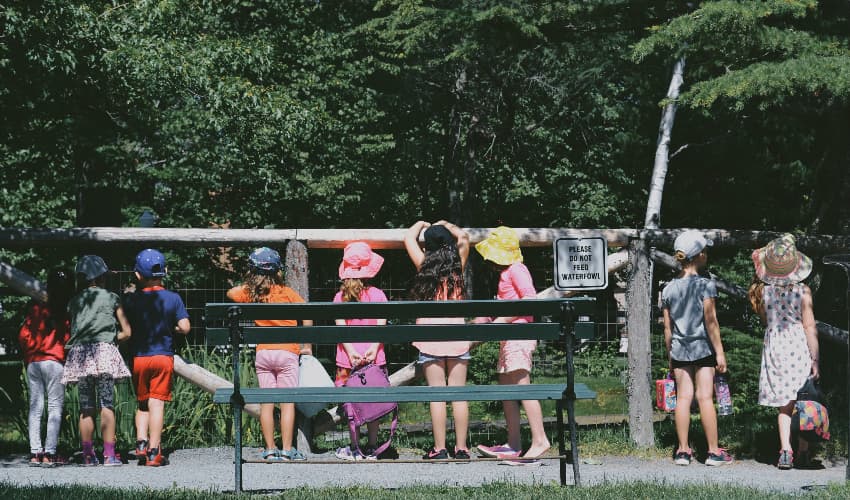 After organizing your budget-friendly itinerary, you'll have to figure out how your group will travel around the city. Simplify your Houston group trip by renting a bus to easily shuttle everyone from stop to stop. Longhorn Charter Bus has an experienced team of professionals to help book transportation for every type of trip. Book a full-size charter bus with WiFi and TVs to keep your students entertained, or rent a compact minibus for your company off-site event. Give the Longhorn team a call at (713) 344-0553 to find the best charter bus or minibus to meet your group's budget.
If you need a few ideas of what Houston spots to add to your itinerary, check out the following budget-friendly attractions in the area.
1.   Visit the Menil Collection
Address: 1533 Sul Ross St, Houston, TX 77006
Phone: (713) 525-9400
Admission Cost: Free admission, but donations are welcome
This local art museum houses the extensive private collection of late philanthropists John and Dominique de Menil. Designed by famed architect Renzo Piano, the Menil Collection opened in 1987, displaying more than 10,000 pieces from around the world. Highlights include ancient pieces from New Guinea and Egypt and works from Andy Warhol, Man Ray, and Pablo Picasso. The Menil Collection is also home to the famous Rothko Chapel, a modern art piece by Mark Rothko that doubles as a non-denominational chapel.
Admission to the Menil Collection is always free, and groups are welcome to visit. Although public tours are not available, groups of 20 or more can schedule a private tour at least one week in advance. School groups are also welcome to visit for field trips with prior registration.
Bus tip: Have your charter bus driver drop your group off at the museum's main entrance. Once your group is finished unloading, your bus driver can find parking along Mulberry Street on the west side of the museum near Menil Park.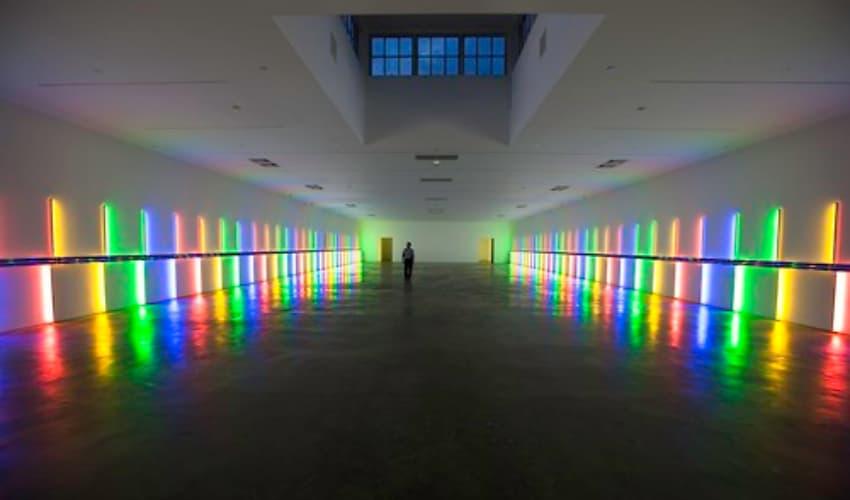 2.   Museum Hop on Free Days
Address: 1300 McGowan St., Ste. 120, Houston, TX 77004
Phone: (713) 715-1939
Admission Cost: Free (dependent on the museum)
The Houston Museum District is an association of 19 museums located around sprawling Hermann Park. Notable institutions in the district include The Museum of Fine Arts, Houston, the Houston Museum of Natural Science, and the Houston Zoo (the Menil Collection is a formal member of the association but is located in the Montrose neighborhood.)
Along with the Menil Collection and Rothko Chapel, 8 other members of the district offer free admission every day. More popular attractions offer free admission on certain days during select times. Visit the Houston Zoo for free on the first Tuesday of every month or the following museums at given times on any Thursday:
Buffalo Soldiers National Museum – 1-5 pm
Children's Museum of Houston – 5-8 pm
The Health Museum – 2-7 pm
Holocaust Museum Houston – 2-5 pm
Houston Museum of African American Culture – 6-8 pm
Houston Museum of Natural Science – 6-9 pm
The Museum of Fine Arts, Houston – 10 am–9 pm
Free days are subject to change; be sure to check the Houston Museum District website before planning your trip.
Bus tip: With so many attractions, parking in the Museum District is often crowded. Have your driver drop your group off at the first museum on your itinerary before parking at an off-site lot. Fortunately, much of the area is easily walkable, and the paved walkways also make the area accessible for guests with mobility devices. Take a leisurely stroll between the museums and enjoy the beautiful landscapes surrounding Hermann Park.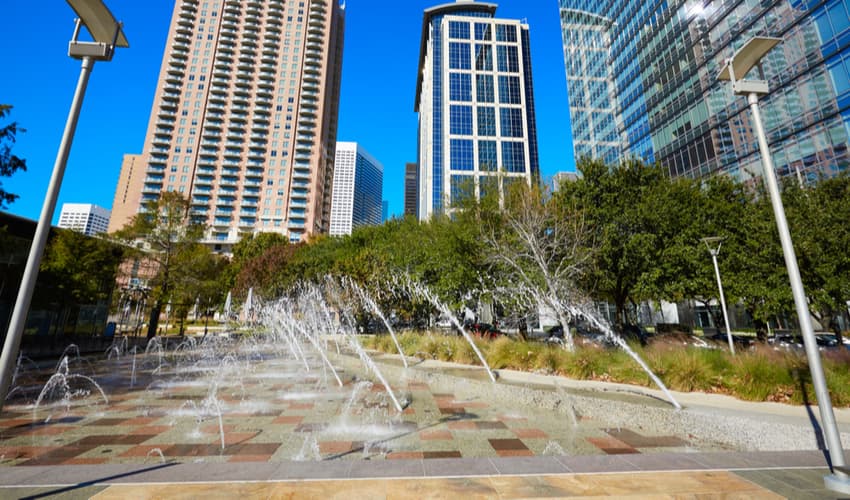 3.   Enjoy Live Entertainment at Discovery Green
Address: 1500 McKinney St, Houston, TX 77010
Phone: (713) 400-7336
Admission Cost: Free (unless otherwise noted for special events)
If you're in Downtown Houston, make a trip over to Discovery Green, one of the city's central green spaces. The urban park is located right next to the George R. Brown Convention Center and is a short walk from the city's many sports venues. Hop on over to Discovery Green after a business convention or an Astros or Rockets game. Your group can admire the park's art installations and take photos of Downtown Houston's landscape, and groups with children can let them play in the park's splash pads and playgrounds. The park hosts concert series, outdoor film screenings, exercise classes, and other community events that are often free to the public. During the winter months, Discovery Green also has an outdoor ice skating rink that is open to the public for a fee.
Bus tip: Parking a bus around Discovery Green can be tricky. Tour and charter buses were once able to park along Avenida De Las Americas in front of the convention center. Unfortunately, this option is now only available for events at the convention center. Instead, organize your parking ahead of time at a nearby private surface lot or arrange with your driver to use metered street parking.
4.   Learn at the Houston Arboretum and Nature Center
Address: 4501 Woodway Dr, Houston, TX 77024
Phone: (713) 681-8433
Admission Cost: Free, but donations are welcome
Located in Memorial Park just west of downtown, the Houston Arboretum and Nature Center is a 155-acre sanctuary filled with hiking trails, native plants and animals, seasonal ponds, and educational resources about the area. The nature center offers a variety of free public programming for visitors of all ages. It's an ideal destination for schools, scout troops, or groups who just want some peace and quiet from the crowds that often flock to Memorial Park.
Hike 13 different trails through the arboretum's habitats, learn about the region's landscape in the Discovery Room, or sign up for upcoming programs on the center's calendar. School programs are available for all age groups with prior registration.These programs can be customized to focus on diverse topics like animal adaptations and the process of natural decomposition. Private group tours are also available for a small fee per person and can explore themes like how humans and nature interact in Houston.
Bus tip: There are two parking lots for guests traveling in personal vehicles. These lots can quickly become full during the weekend and spring. Consolidate your group onto one minibus and shuttle to the center, where you'll be instructed to park along the 610 Parking Loop. Although admission to the arboretum is free, parking options do require paying a small fee (parking is free on Thursdays, though.)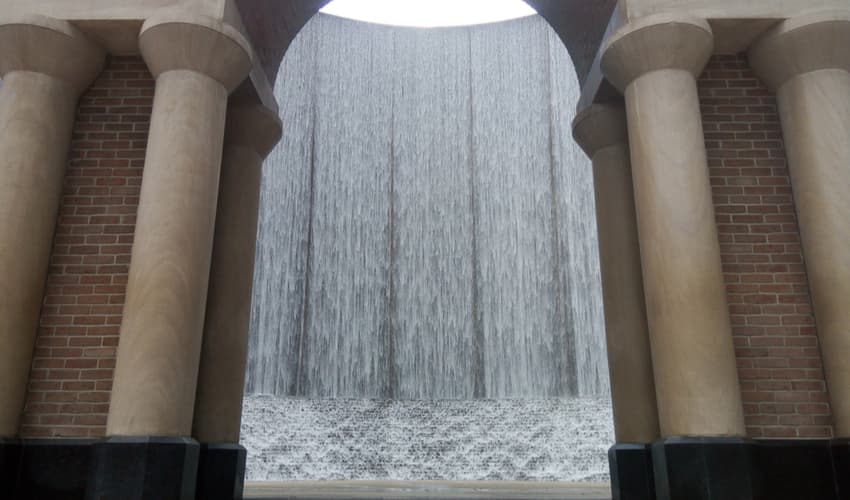 5.   Soak Up Some Sun at the Water Wall
Address: 2800 Post Oak Blvd near the Galleria, Houston, TX 77056-6100
Phone: (713) 966-7799
Cost: Free
Gerald D. Hines Waterwall Park (usually referred to as the Water Wall) is a local gem located in Uptown Houston. The park is in a busy spot just a few blocks from Texas' biggest luxury shopping mall, The Galleria. If you want to unwind after an upscale group shopping experience or find a unique spot to lay out and catch some rays, this park is your place. The focal point of this park is a 64-foot tall sculptural fountain with a man-made waterfall created by Philip Johnson and John Burgee Architects. Although the park itself is much smaller than some of Houston's other popular green spaces, the Water Wall fountain draws a large number of guests. Stop for a group photo op and cool off among the mist rolling off the sculpture.
Bus tip: There isn't a private lot dedicated to this park. Have your charter bus driver drop everyone off at the Water Wall before parking at The Galleria nearby. Once everyone is done getting photos and enjoying the park, call your driver to pick your group up and shuttle you over to the next spot on your itinerary.
Reserve Your Houston Bus Rental Today
Ready to explore Houston? Once you have your itinerary squared away, call the Longhorn Charter Bus team at (713) 344-0553. A rental expert will help you find a charter bus that's perfectly suited for your group trip. Even if your travels are taking you to Austin, San Antonio, or beyond, Longhorn Charter Bus will have your trip running smoothly each step of the way.