The Spookiest Places to Visit in Houston
If you're hoping to get your e-learning group, friends, or family excited about Houston's history this spooky season, taking them on a tour of the city's most haunted sites is a great place to start. Haunted places usually come with a lot of history—especially around here—so it's easy to learn a thing or two while facing your fears!
One aspect of your Houston travels that shouldn't keep you in suspense? Your transportation plan! That's where Longhorn Charter Bus can help. From compact minibus shuttles for hop-on-hop-off tours to full-size charter buses for long-hauls into town, we'll secure a clean and sanitized bus rental to best suit your needs. Just give us a call at 713-344-0553, and we'll brave these haunted Houston attractions with you: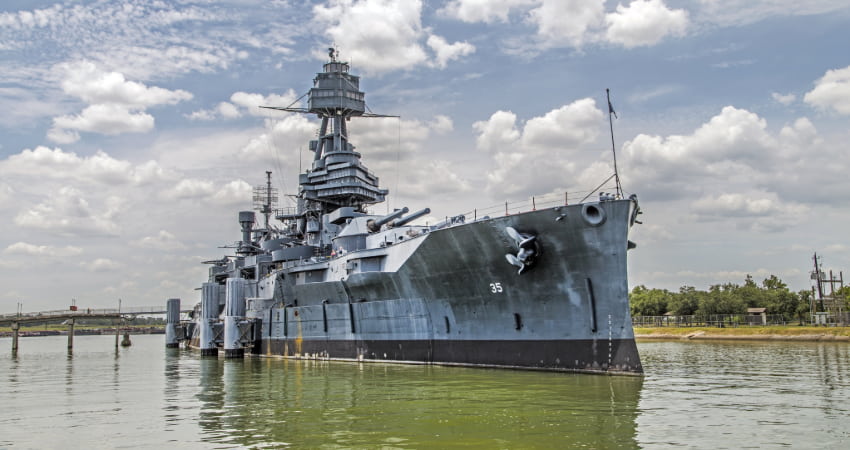 Battleship Texas
Address: 3523 Independence Pkwy, La Porte, TX 77571
This battleship docked in San Jacinto Battleground State Historic Site served the U.S. forces in both WWI and WWII—even playing a role in the D-Day invasion of Normandy at Omaha Beach. Believe it or not, as much action as it saw in battle, very few crewmen died while aboard.
That's not to say there's no paranormal activity to be found on deck—there definitely is.
Over the years, visitors have reported hearing urgent voices in empty hallways, as if a commander was shouting orders to their soldiers. Some have even seen white, ghostly wisps floating around on the decks—including the apparition of a red-headed sailor in an outdated uniform. Don't worry, though: this unknown crewman isn't hostile. He's mostly seen hanging around the ladders between decks and smiling at visitors, seemingly without a care in the world.
As of this writing (October 2020), the ship has been closed to the public for repairs for nearly a year and will remain closed until further notice. That being said, before the closure, the ship held overnight tours that focused on the ship's history, allowed visitors to spend the night in the sailors' old bunks, and, yes, gave the spirits aboard time to chime in with their own histories if they so desired. Look forward to similar tour opportunities once this favorite Houston attraction is back up and running!
It's also worth noting that the ship is wheelchair accessible on the main deck only—so folks with mobility concerns might want to sit this one out. However, the Longhorn Charter Bus team can get you an ADA-compliant coach to take you anywhere else on this list!
Charter Bus Parking: The Battleship Texas State Historic Site has two visitor parking areas that should be able to accommodate your charter bus rental.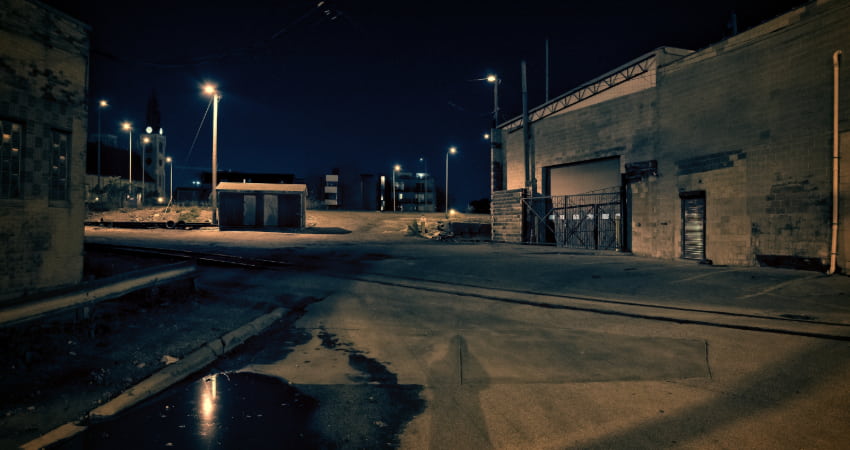 The Old Spaghetti Warehouse
Address: 901 Commerce St, Houston, TX 77002
Before it was the Italian restaurant this site is known for today, the building was a pillow factory and warehouse from 1912 through the '70s. And while there are no confirmed deaths here, for the longest time this place was considered the most haunted place in Houston!
Urban legends tell of a young pharmacist who fell to his death down an elevator shaft and his wife, who was so distressed by the incident she died a year later. Restaurant patrons often recalled seeing dark figures of a couple standing in doorways and hearing hushed voices in the upper floors, as well as seeing apparitions of former restaurant patrons returning for their favorite spaghetti dinner.
Unfortunately, the building saw significant flood damage after Hurricane Harvey in 2017, forcing the Italian restaurant to close its doors and relocate. Renovations are currently underway to restore this historic building, but your group won't be able to go inside and walk around amidst the construction. You can, however, see the building from the walking trail along Buffalo Bayou in Allen's Landing Park. So stretch your legs, enjoy the breeze off the water, and see if you can spot any silhouettes in the upstairs windows!
Charter Bus Parking: This close to downtown Houston, parking can be scarce—especially for oversized vehicles like motorcoaches. If your driver can't find adequate street parking close by, consider springing for a parking pass at nearby Minute Maid Park. That way, you'll definitely have a place to keep your coach while your group enjoys a walk along the Bayou.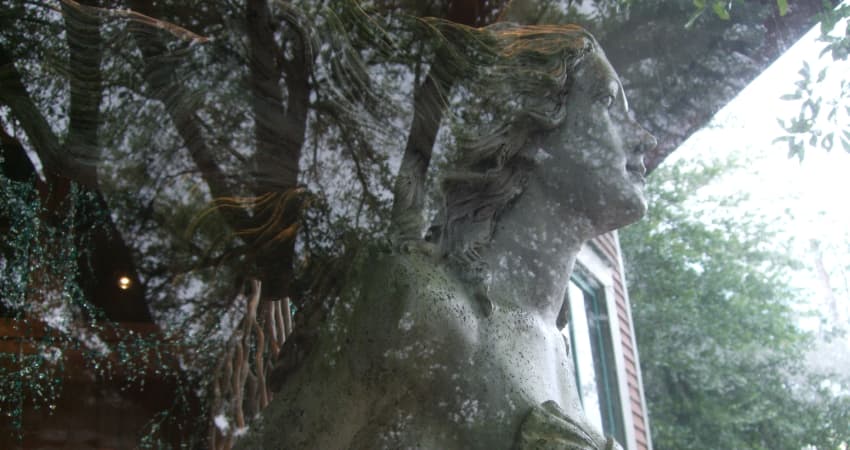 Old Town Spring
Address: 403 Main St, Spring, TX 77373
Don't let the sleepy, small-town vibe and quaint storefronts fool you—this place has a sinister past.
Prior to the arrival of colonists, this land was home to Akokisa indigenous people. As more settlers arrived in Houston in the late 1800s, the Akokisa were forcibly removed from the area that would be Old Town Spring. But stories say they cursed the land as a final act of revenge.
Locals will tell you that any business that has cut down a tree to build, renovate, or expand its establishment has burned down in a mysterious fire. This has happened so many times, in fact, many businesses have skipped town altogether. As for the businesses that stayed, it's not uncommon to see their Victorian-style buildings and storefronts built at odd angles to accommodate the trees on their property.
As if an alleged curse isn't enough, spirit-sensitive visitors will notice dark energy surrounding a few select trees in town. Around the turn-of-the-century, the township had some exceptionally cruel local judges—one of whom sentenced 60 people to hang throughout his career and another who hung convicted criminals from a tree in his own backyard.
Despite all the negative energy surrounding the town's past, if you stop by Old Town Spring in broad daylight, you'll be met with a dozen cute stores and family-owned restaurants. Kill some time before your dusk ghost tour by exploring the quilt shops, boutiques, and cafes!
Charter Bus Parking: Most of Old Town Spring is either residential or private property. When it comes to parking, your driver's best bet is to unload and park at Preservation Park on the southern side of town. Don't worry—the town is small and very walkable, so you won't need to venture far to get to all the haunted spots.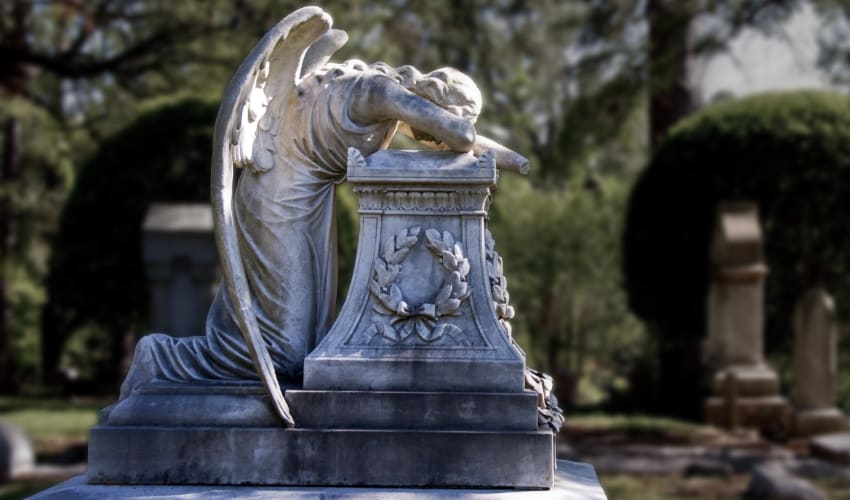 Glenwood Cemetery
Address: 2525 Washington Ave, Houston, TX 77007
Because a ghost tour isn't complete without a stop at a cemetery! And as one of the oldest still-standing hallowed grounds in Houston, Glenwood is a prime location to spot some spirits and learn about the city's history.
It was the first professionally built cemetery in the city, designated in 1871. As you walk around, you'll notice names you've probably seen on street signs around town: Allen, Binz, Blaffers, Cullinan, Cummings, Foley, and Settegast, just to name a few.
And if the pristinely manicured lawns, Victorian architecture, and looming marble angel statues aren't enough to give you the creeps, many tourists have noticed wispy specters wandering the grounds around sunset. No one knows if these are the souls of the city's famous founders, disturbed spirits of those reinterred here from condemned cemeteries throughout the city, or just a trick of the light—but the beautiful gardens and stately mausoleums are a sight to behold nonetheless.
Docent-led tours of Glenwood Cemetery are available by reservation on a first-come, first-served basis. The tour route covers approximately 1.5 miles at a leisurely pace with plenty of stops, so bring some good walking shoes. A word of warning: there are no public restrooms on the cemetery grounds. Either plan a pit stop before your tour or take advantage of your charter bus's onboard restroom.
Charter Bus Parking: Buses are not permitted to enter the cemetery. You'll need to disembark outside the front gates and walk in. While your group tours the grounds, your driver can street-park along Washington Avenue if it's the weekend or find a space in nearby Buffalo Bayou Park if it's not.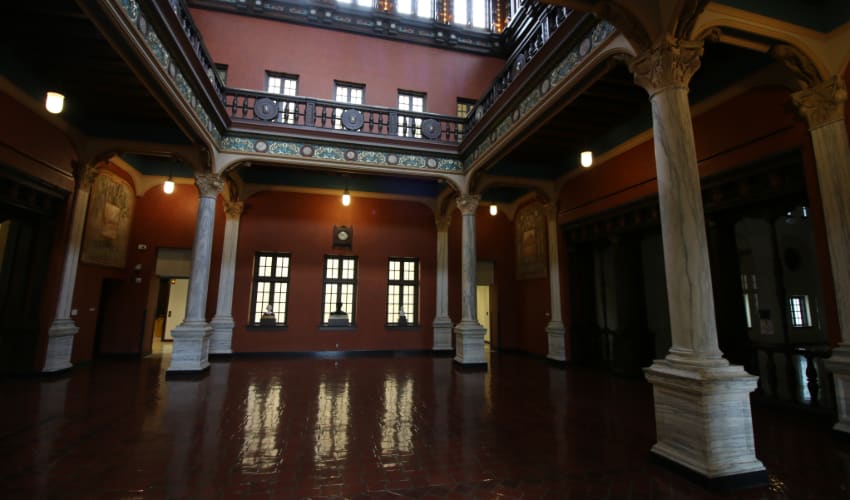 Julia Ideson Building
Address: 550 McKinney St, Houston, TX 77002
This structure used to be the only public library building in town and is named after the first Head Librarian in Houston. Nowadays, these halls house old manuscripts, archives, and the Texas and Local History Department of the Houston library system.
Most ghost hunters, though, are here to meet Jacob.
Jacob Frank Cramer was the library's caretaker and watchman when it first opened. He lived in the basement with his dog, Petey, and was known to play the violin in his spare time. Sadly, he died alone in his basement apartment in 1936, and ever since then, people occasionally hear echoes of eerie violin strains and the clicking of Petey's toenails on the marble floors.
If you're on the hunt for a spooky venue (or just a venue with a lot of history) for your next private event, you're in luck. This Spanish Renaissance-style building offers a variety of rooms for rent, ranging from private lecture halls with garden access to a 5,600-square-foot reception space that can accommodate up to 450 standing people.
Charter Bus Parking: Street parking around the Central Library buildings is very limited, so your driver will likely need to find a spot close to the Theater District, two blocks to the northeast.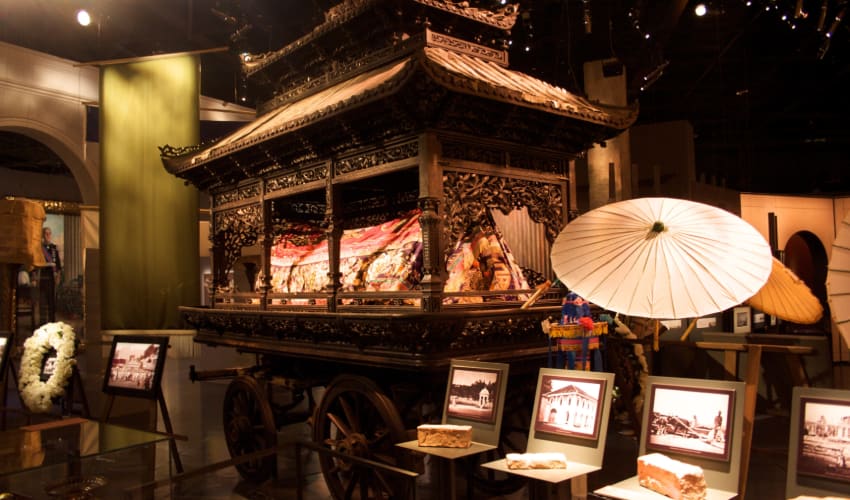 National Museum of Funeral History
Address: 415 Barren Springs Dr, Houston, TX 77090
Okay, so this one isn't haunted. But if your group is into the macabre, you'll probably have a great time touring this museum!
As you can probably guess, this museum showcases the history of burials, funerals, and mourning processes from across the world and across time. Learn how ancient Egyptian mummies were preserved, the history of Mexican ofrendas, how Abe Lincoln's funeral tour changed the way Americans bury their dead, and much more—all under one roof.
Groups don't need a reservation for a self-guided tour of the exhibits, but if your explorers prefer a little structure, guided tours can be arranged by calling 281-876-3063. The museum can be flexible when it comes to last-minute tours and group size, but try to reserve at least two weeks in advance and cap your group at 30 people. For larger groups, several 30-person tours can be spaced out around the museum to accommodate everyone.
Although this place is family-friendly and all are welcome, the museum suggests kids older than 7 will appreciate the exhibits more than younger ones. Just ensure there is one chaperone for every 10 children under age 16.
Charter Bus Parking: The museum's parking lot should have plenty of space to accommodate your oversized vehicle of choice. Just let the staff know what kind of vehicle you're riding in when you reserve a tour, and they can ensure there's space for you.
Plan Your Haunted Tour of Houston
Whenever you're ready to plan a tour of Houston's creepiest cemeteries, spookiest libraries, and scariest historical sites, give Longhorn Charter Bus a call at 713-344-0553. Our team will connect you with the perfect minibus or charter bus rental to suit your group size, itinerary, and amenity needs. That way, everyone can sit back in a plush and comfy seat and relax after your fright-filled tour of Houston!