Budget-Friendly Things to Do with Kids in San Antonio
Whether you're in charge of a field trip or looking for something fun to do with a sports team, you'll find plenty of free or inexpensive activities to fill your time in San Antonio. See historic missions and cathedrals, go for a walk in nature, or grab a taco and an ice cream cone at a local food hall.
If you need transportation around the city, Longhorn Charter Bus Company can help. We provide a wide array of charter buses and minibuses to take your group to gardens or walking trails. Just give us a call at 512-827-0540 to start planning your trip to these kid-friendly destinations.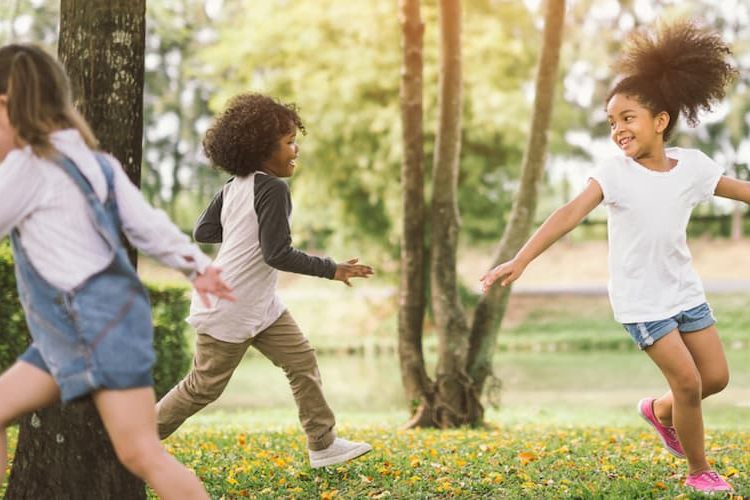 Historical Attractions
The Alamo
If you're from San Antonio, you probably already thought of this one. But if you're not, you may not realize that San Antonio's most famous historical attraction is free. You can take your kids to see the battlefield and the fortress without paying a cent. Learn about the 1836 battle, the fight for Texas independence, and the deaths of Bowie, Crockett, Travis, and Esparza from a historical interpreter, and then spend the rest of your day wandering around the grounds and church.
Charter bus parking: Because it attracts so many visitors, the Alamo has multiple charter bus parking lots and bus drop-off zones. Check out this map to find them.
Address: 300 Alamo Plaza, San Antonio, TX 78205
Phone: (210) 225-1391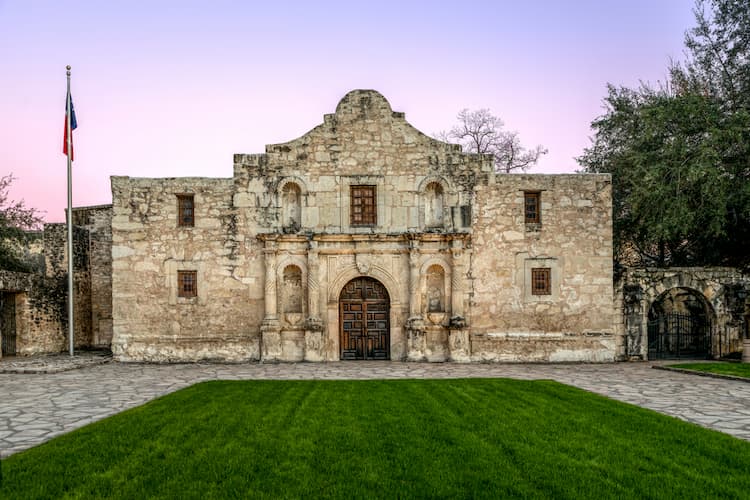 San Antonio Missions National Historical Park
Just like the Alamo, the San Antonio Missions National Historical Park is a UNESCO World Heritage Site and is free to visit. If you're escorting students or want to expand the horizons of your sports team, ask your charter bus driver to drop you off so you can walk or bike between Concepción, San José, San Juan, and Espada, the largest collection of Spanish colonial missions in the U.S.
Each mission contains a church and buildings where Spanish settlers and Native Americans lived in the 18th century. The Mission San José also offers a film called "Gente de Razon" to help your students learn about the history of the four missions.
Charter bus parking: All four missions have charter bus parking. Depending on how active your group is, you can have your bus drive you from mission to mission or let your bus drop you off at one so you can walk or bike to another.
Address: 6701 San Jose Dr, San Antonio, TX 78214
Phone: (210) 534-8875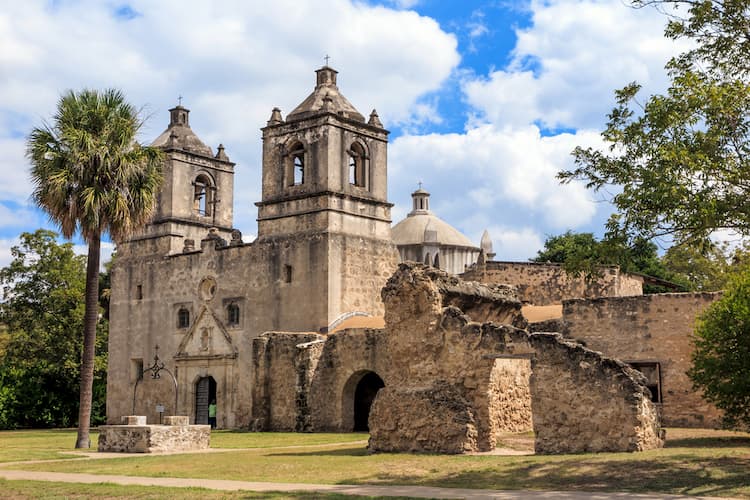 Historic Pearl Brewery
Don't be fooled by the name—we're not suggesting you make your kids sit around a brewery (though we wouldn't judge!). The Pearl building started out as a brewery in 1883, and the beautiful historic structure now serves as a shopping and dining complex.
Treat your students or athletes to authentic Mexican food at La Gloria, or try the kosher and vegetarian fare at Green. You can finish your day with cones from Lick Honest Ice Creams while your kids look at the colorful art, gifts, and candy inside Feliz Modern Pop.
Charter bus parking: Charter buses probably won't fit inside the Pearl parking garage, but there are several surface parking lots around the complex. You can find them here.
Address: 303 Pearl Pkwy, San Antonio, TX 78215
Phone: (210) 212-7260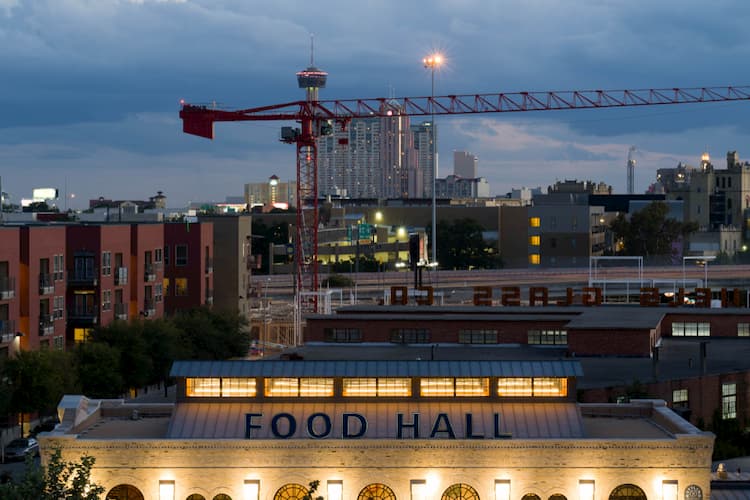 Historic Market Square
If you can't get enough delicious food and souvenir-browsing, take your kids to Historic Market Square, one of the oldest shopping districts in Texas. The King of Spain told Spanish settlers to establish Market Square in 1730, and it became a hotspot for fresh produce, venison, and honey. At night, women set up stands to serve hot bowls of chili to hungry settlers.
In 1896 the market moved to its current location, and it now features live music on many nights as well as a wide selection of restaurants and stores. Your kids can stop at local artisans' booths to observe as they paint, draw, and make soap. Then, you can treat your group to tacos from Viva Villa Taqueria and traditional Mexican candy from Mi Tierra.
Charter bus parking: Market Square has several public parking lots surrounding it. If the one closest to the market doesn't have space for a bus, a few of the others should.
Address: 514 W Commerce St, San Antonio, TX 78207
Phone: (210) 207-8600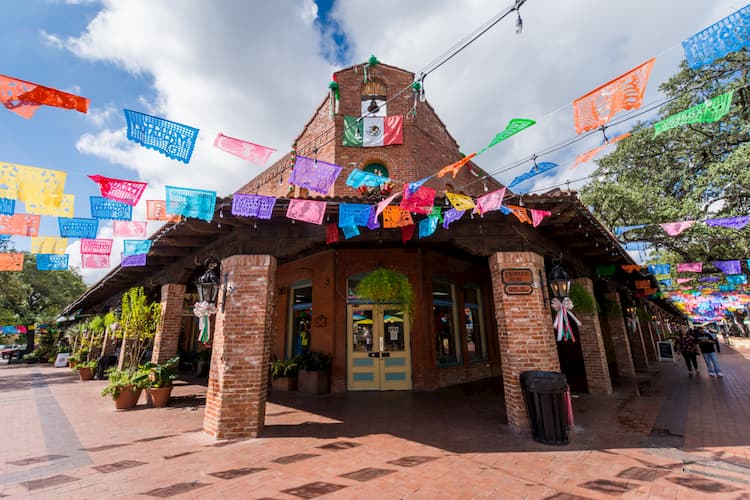 San Fernando Cathedral
Founded in 1731, San Fernando Cathedral is the oldest constantly running religious community in Texas and was once the site of Jim Bowie's wedding. It still hosts weddings and serves as an active parish, but it also welcomes tour groups who want to see the historic building for free. Help your kids take some photographs of the golden crucifix and beautiful altar, and then take them to the gift shop to see the candles, rosaries, and souvenirs.
Charter bus parking: Downtown San Antonio has many public parking lots for your charter bus, though most of them require payment, so make sure you account for that in your budget.
Address: 115 Main Plaza, San Antonio, TX 78205
Phone: (210) 227-1297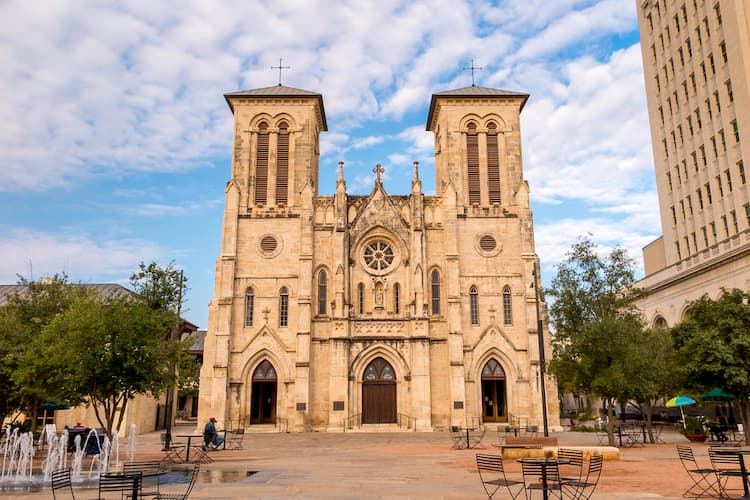 Outdoor Fun
San Antonio River Walk
Self-described as "the #1 attraction in Texas," the San Antonio River Walk lies close to the San Fernando Cathedral downtown and is free to visit. If you're in the city during a holiday, you can watch a boat parade float down the river, a San Antonio tradition.
There's plenty to do along the River Walk when it's not a holiday, too. Catch a free outdoor show at Arneson River Theatre or take a tour of the Aztec, a historic movie palace. If you're willing to spend a little bit of money, you can even reserve seats for your kids on a boat tour.
Charter bus parking: The parking situation here is similar to that at the cathedral—you'll need to look for a public paid lot downtown.
Address: 309 N Alamo St, San Antonio, TX 78205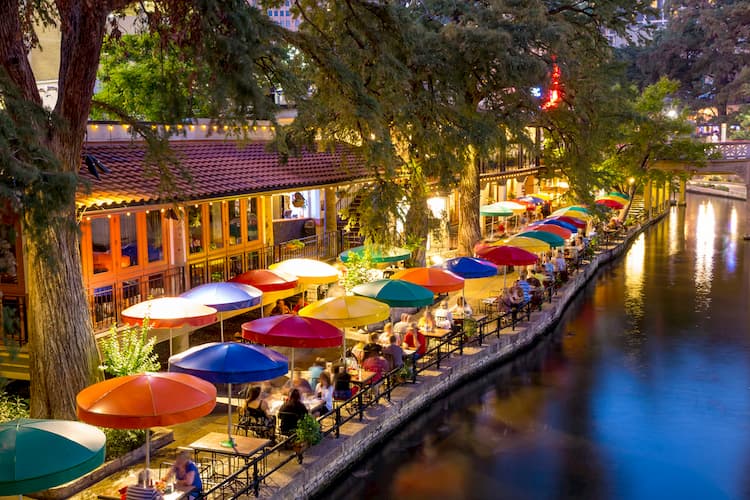 San Antonio Japanese Tea Garden
Originally constructed during World War I, the Japanese Tea Garden took the place of an empty quarry in Brackenridge Park. It now includes beautiful koi ponds, a pagoda, a waterfall, and several stone bridges, and you can enter and walk around for free.
The garden also hosts a tea house where you can buy sushi, bento boxes, sandwiches, and, of course, tea. The garden is wheelchair-accessible, and Longhorn Charter Bus offers ADA-compliant charter buses by request if your group needs one.
Charter bus parking: The closest public parking lot lies along N St. Mary's St, but if it fills up there are other public parking lots nearby.
Address: 3755 N St Mary's St, San Antonio, TX 78212
Phone: (210) 559-3148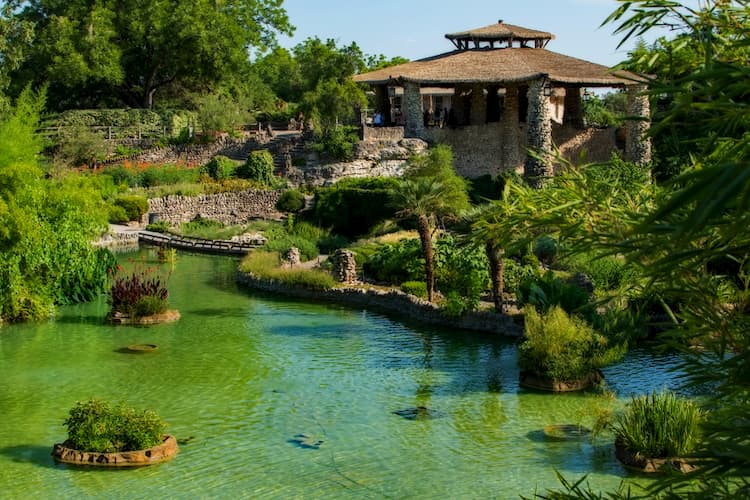 San Pedro Creek Culture Park
If your group can't get enough history, you won't want to miss the free park surrounding San Pedro Creek. This creek was once home to the Payaya people, and when Spanish settlers arrived in the area, they lived along the creek to ensure they'd have a water source. The creek was a major part of San Antonio life until the 1900s, when it began to be neglected as the city expanded.
In 2018, the city redirected the creek to prevent flooding and to create several beautiful water features. They then surrounded the creek with paseos (walking pathways) and low walls adorned with tile mosaics and murals. The walls provide a place where your kids can watch local wildlife or see the music, dance, and poetry performances that take place at the creek. San Antonio has also filled the creek with aquatic plants and surrounded it with shade trees to preserve its natural beauty.
Charter bus parking: Your charter bus can park for free at 201 Piazza Italia, behind the Christopher Columbus Italian Society.
Address: 705 Camaron St, San Antonio, TX 78207
Phone: (210) 302-3652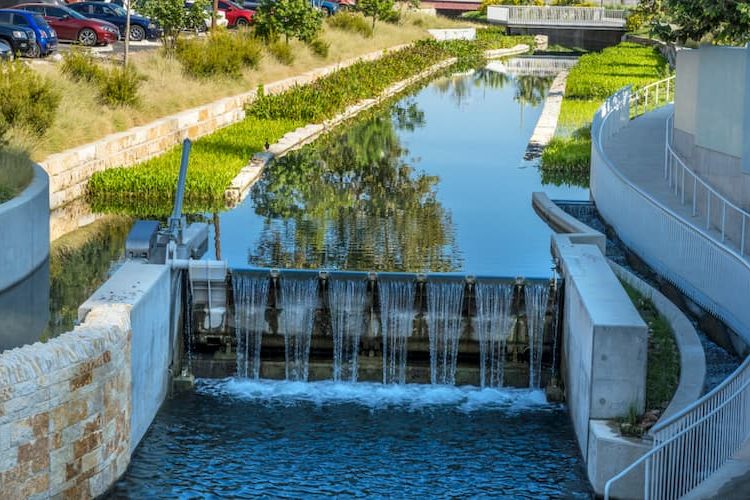 Headwaters Sanctuary at Incarnate Word
This 53-acre nature sanctuary houses the Blue Hole, which is the spring that begins the San Antonio River. The Sisters of Charity of the Incarnate Word and the University of the Incarnate Word maintain this preserve that's filled with trees, walking paths, and wildlife.
Help your kids take photographs of birds or practice meditation next to one of the creeks. Although this is a great place for your kids to walk or run, biking isn't allowed, and the only motorized vehicles permitted are wheelchairs. This helps keep the sanctuary peaceful and ensures the public can continue to use it for free without damaging the environment.
Charter bus parking: You must book an online parking permit from the University of the Incarnate Word in advance to visit Monday through Friday. If you want to visit Saturday or Sunday, you won't need to reserve parking. Enter the UIW campus at the 281 N Access Road/UIW gate, and then proceed until you see the Headwaters Sanctuary sign, which will guide you to the parking lot.
Address: 4503 Broadway St, San Antonio, TX 78209
Phone: (210) 828-2224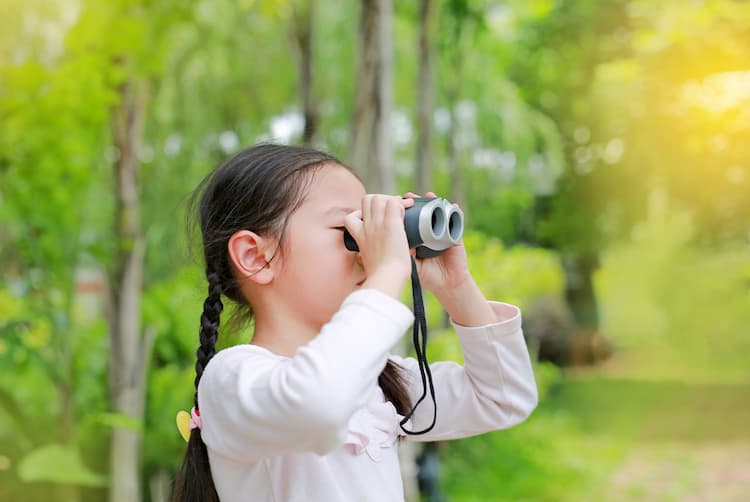 Schertz Storywalk
The city of Schertz lies about 30 minutes outside downtown San Antonio, but if you're traveling with young kids, the Schertz Storywalk is worth the drive. Created by a Girl Scout in 2014, the Storywalk features winding paths adorned with huge pages recreated from famous picture books.
As you lead your kids along the path, they can read the story page by page or you can read it aloud to them. The Storywalk also lies just outside the Schertz Library, so after you finish the walk you can take your kids inside to relax and look at more books.
Charter bus parking: The Schertz Library has a large lot where your charter bus can park.
Address: 798 Schertz Parkway, Schertz, TX 78154
Phone: (210) 619-1700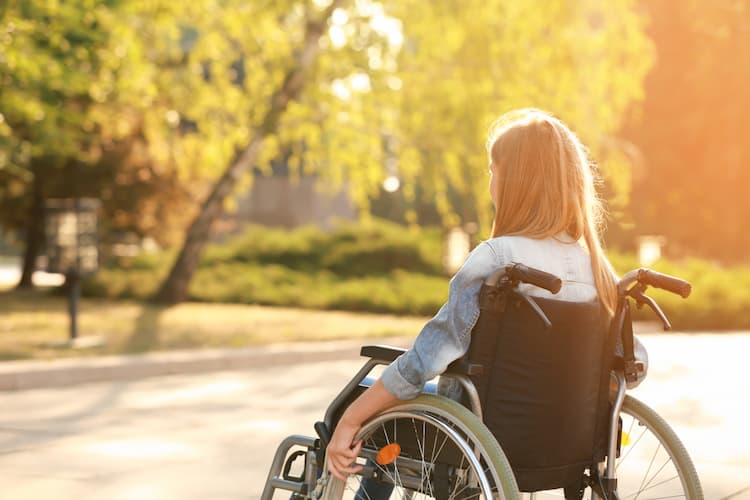 Plan a Budget-Friendly Day in San Antonio
You can have fun with your after-school group or your students in San Antonio without needing to spend a ton of money. Whether you're planning a hike through a beautiful nature sanctuary or a trip to a historic mission, Longhorn Charter Bus can help you get around Alamo City on a budget. Just call us at 210-686-0796 to speak to a reservation specialist.