The Spookiest Destinations in Dallas-Fort Worth
If you love Halloween, you can make this spooky season extra-special by treating your group to a tour of Dallas's most haunted destinations. Whether you want to go ghost-hunting with your wedding party, a group of friends, or the residents from your retirement community, Longhorn Charter Bus can provide your transportation to haunted hotels, lakes, and theaters in the Dallas-Fort Worth area. Give us a call at (214) 206-8432 to book your coach or minibus, and keep reading to learn more about all the haunted (and historic!) places you can visit.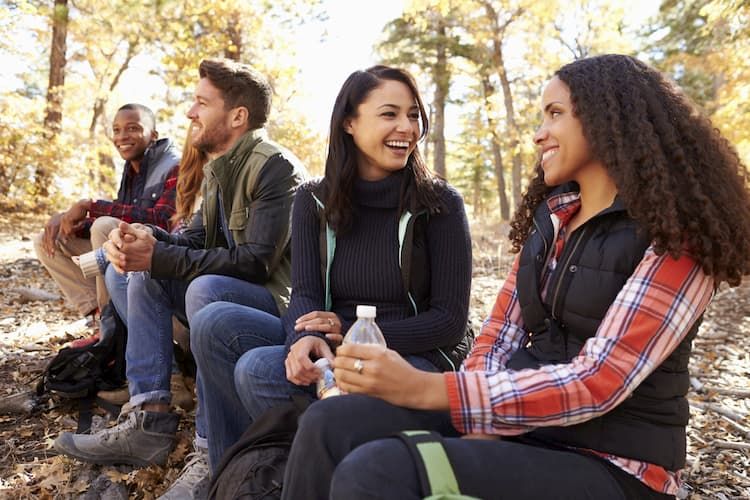 White Rock Lake & Flag Pole Hill
White Rock Lake was constructed in the 1910s, so it's not surprising that it has plenty of hauntings associated with it. The most famous ghost is the Lady of the Lake, a young woman wearing soaking-wet formal clothes who waves down drivers and asks to be taken home. Drivers who comply with her request either turn around during the drive to find her gone and nothing but a puddle in their backseat, or arrive at her supposed home and are told she drowned years ago.
Most cities have a version of this story—but you can always go for a walk or a picnic at the lake to decide for yourself if Dallas is where the story originated. If you're willing to take on more aggressive ghosts, your group can also walk up to Flag Pole Hill, located just north of White Rock Lake, and look out for the ghosts who supposedly throw rocks at people walking past.
Address: 8015 Doran Cir, Dallas, TX 75201
Charter bus parking: Flag Pole Hill Park has its own parking lot where you can leave your coach.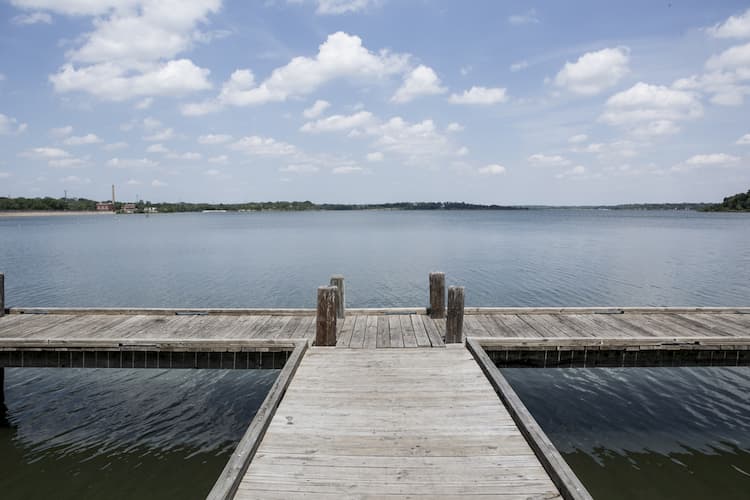 Miss Molly's Hotel
Miss Molly's Hotel opened near the Fort Worth stockyards in 1910 as a boarding house called the Palace Rooms. When prohibition hit it was converted into a speakeasy named The Oasis, and when Prohibition ended it became a bordello known as the Gayatte Hotel. Today, it's a bed and breakfast with 8 rooms furnished in an Old West style.
If you opt to spend the night here, you may encounter strange smells, sudden shadows and lights, cold spots, old coins appearing on the furniture, and your personal items turning up in odd places. Ghost hunters have reported seeing spirits of women who used to work at the bordello, including a woman who suffered from lung disease and a blond woman who likes to lie down next to guests in bed. There's also a mysterious cowboy who sometimes appears in the Cowboy Room and a child ghost, believed to be one of many sick children who stayed at the boarding house in the 1910s.
Address: 109 W Exchange Ave, Fort Worth, TX 76164
Charter bus parking: Miss Molly's has street parking around it, but if your driver can't find space, you'll need to pay so they can park in a public lot.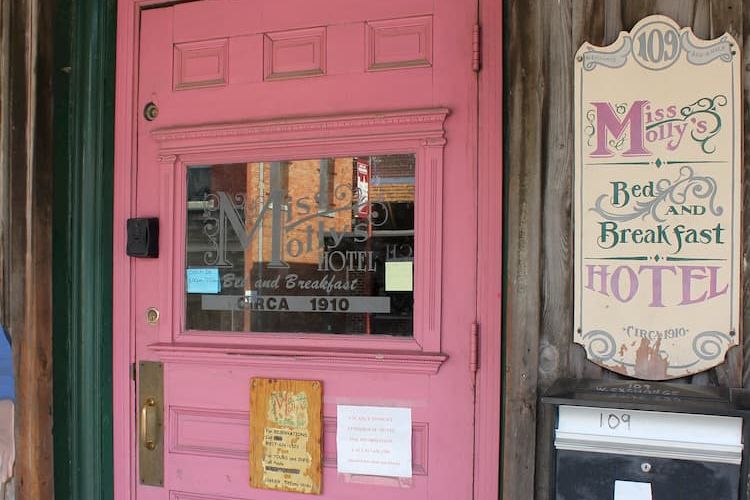 Sons of Hermann Hall
When Sons of Hermann Hall opened in 1911, it was a fraternal lodge that hosted live music and swing dancing. Both those events still take place here, but now it's a Texas Historic Landmark with its share of ghosts. While your group drinks and dances, keep an ear out for slamming doors, children's laughter, mysterious voices, pictures falling off the walls, and phantom footsteps.
Most of the hauntings are centered on the stairs, a back room downstairs, and the ballroom, and a good number of them are attributed to kids who used to play here during lodge meetings or swing dancing lessons. The children's ghosts are supposedly chased by the ghost of Louis Barnhardt, a cranky former caretaker who used to yell at them for being too loud. If you want to enjoy a few drinks while you meet the ghosts of Louis and those meddling kids, your charter bus driver can serve as your DD so you can indulge.
Address: 3414 Elm St, Dallas, TX 75226
Charter bus parking: Sons of Hermann Hall recommends street parking, though there are also public paid lots in the area.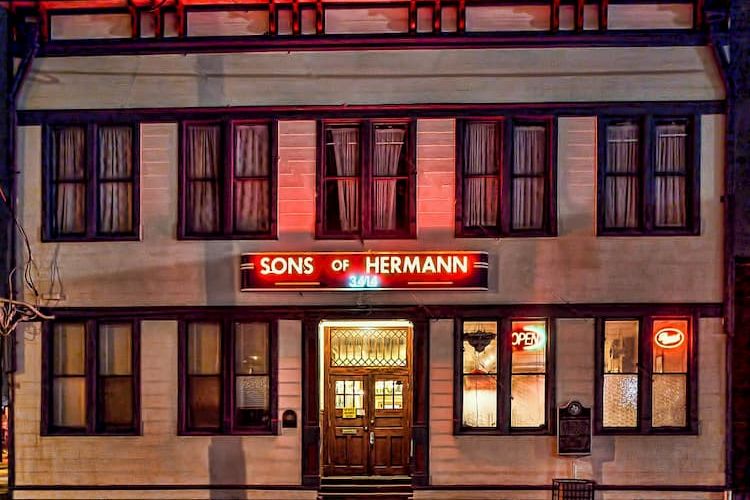 Adolphus Hotel
This Beaux-Arts hotel has been a Dallas icon since it opened in 1912. Because it catered to wealthy clientele, the hotel has an elaborate 19th-floor ballroom where ghost hunters claim you can still hear Big Band music, clinking glasses, footsteps, and polite conversation. The hotel's apparitions include a bride in a 1930s wedding gown who supposedly took her own life after being left at the altar, a woman ghost who wanders around the pastry kitchen, and many ghosts of guests who don't want to leave because they had such a good time at the hotel when they were alive.
The Adolphus still serves as a hotel today. You can rent out the event spaces for corporate gatherings and weddings, and if you're not planning a celebration, you can visit the hotel's restaurants or book an overnight room for some ghost-hunting.
Address: 1321 Commerce St, Dallas, TX 75202
Charter bus parking: Self-parking at the hotel costs $26 per day.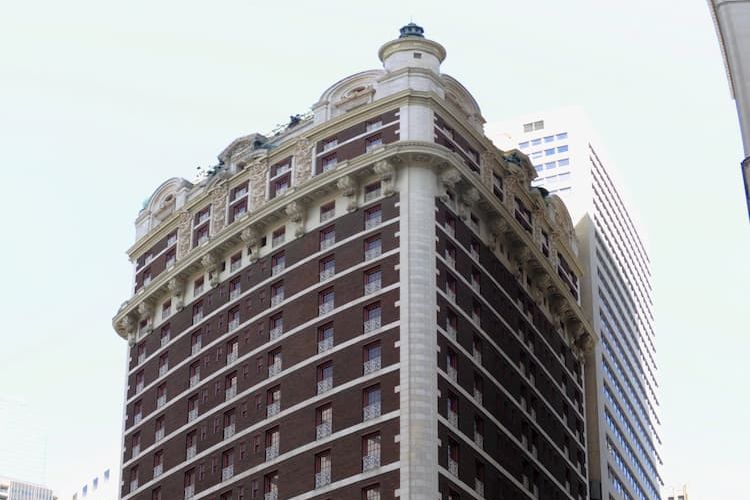 Image credit: Wikimedia Commons
The Majestic Theatre
Built in 1921 as a vaudeville theater, The Majestic hosted famous performers like Mae West, Bob Hope, and Harry Houdini and also showed movies from 1922 until 1973. The theater then closed, and it reopened in 1983 as a venue for musicals, plays, comedy routines, and concerts.
The founder of the theater, Karl Hoblitzelle, died in 1967, but some visitors claim he never left the building. Performers and guests have heard unlocking doors and mysterious footsteps, sensed cold spots, smelled odd scents, and seen backdrops moving on their own and lights flickering on and off. Some people have also reported seeing a man in a balcony seat who vanishes as soon as anyone goes to check on him. Is it Karl looking after the theater he built? Your group can decide for yourselves.
Address: 1925 Elm St, Dallas, TX 75201
Charter bus parking: The Majestic doesn't have its own parking, but there are many paid public lots around downtown where your bus can park.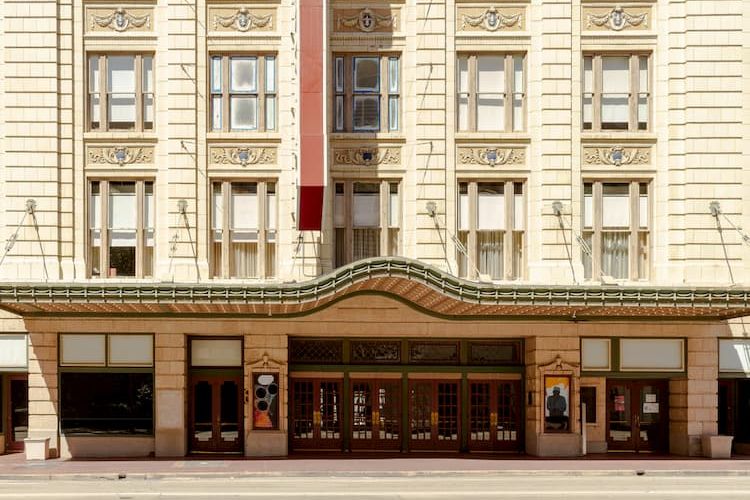 La Quinta Inn & Suites Dallas Downtown
A La Quinta Inn & Suites may seem like an odd site for a haunting, but this hotel has a long history. It opened in 1925 as the Scott Hotel and was known as the Bradford and the Hotel Lawrence before being bought by La Quinta Inn & Suites by Wyndham. With almost 100 years of history, it's not shocking that the hotel has seen several murders and deaths.
The hotel's most famous ghostly resident is Jack "Smiley" Jackson, a gangster who was killed in room 1009. If you stay in this room, he'll supposedly hold the door shut until you politely ask him to move. Later, a man named Mr. Brookshire had his throat cut in the exact same room. People now report hearing closing doors and footsteps, feeling cold spots, and seeing things move on their own all around the tenth floor, where room 1009 is located.
Address: 302 S Houston St, Dallas, TX 75202
Charter bus parking: Unfortunately, the hotel does not have its own parking. However, your driver can drop you off and then take the bus to one of the public lots in downtown Dallas that specifically accommodate oversized vehicles.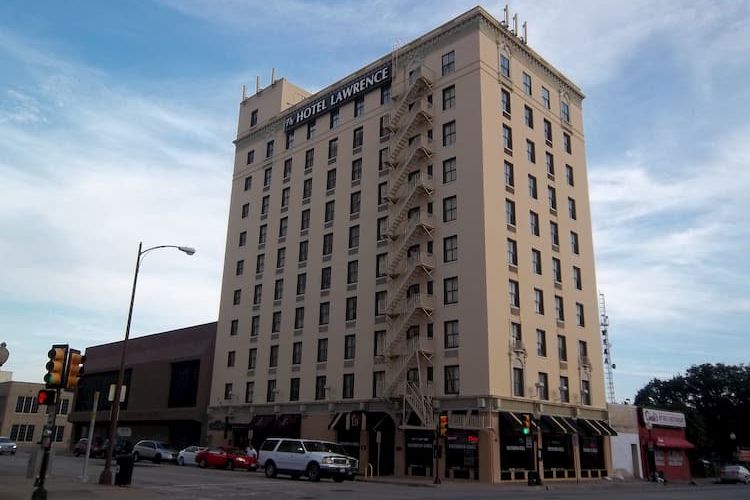 The Baker Hotel
About 1.5 hours from downtown Dallas you'll find Mineral Wells, once a popular destination for celebrities like Clark Gable, Helen Keller, and Judy Garland who wanted to experience the "healing waters" of the mineral springs. The Baker Hotel opened in 1929 to accommodate these famous visitors, and though it's currently being renovated, you can visit as soon as it reopens to meet its famous ghosts.
People taking photos inside the Baker have noticed unexplained orbs appearing in the pictures, and the housekeeping staff has found glasses with red lipstick stains in empty rooms. Guests have also reported seeing the ghosts of a little boy in a wheelchair, a woman dressed in all white, and a bloody woman said to be the scorned mistress of a former hotel manager. Other supernatural phenomena include sounds of a dinner party, orchestra music, and high heels clicking down the hallway.
Address: 200 E Hubbard St, Mineral Wells, TX 76067
Charter bus parking: For now, the Baker only has street parking, but that may change once renovations are complete and the hotel reopens.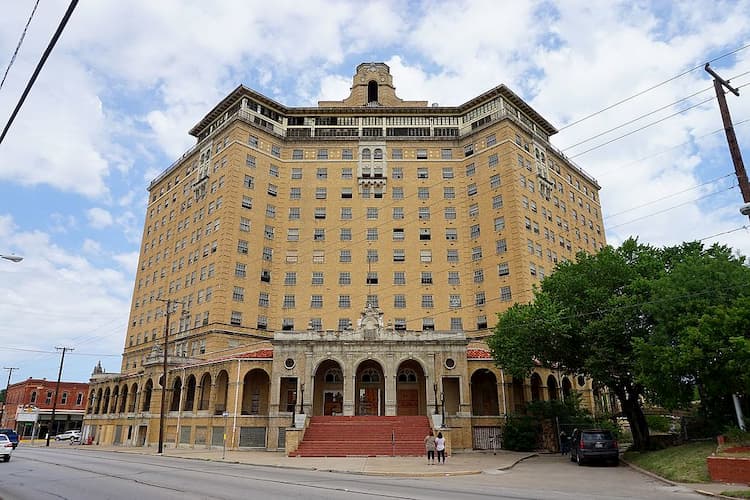 Image credit: Wikimedia Commons
Six Flags Over Texas
Six Flags may seem like an odd destination for ghosts, since it wasn't built until 1961 and is often packed with happy theme-park-goers. But according to employees and visitors, Six Flags has multiple spirits, among them a little girl named Annie who lives in the Texas section of the park. She is said to have drowned in Johnson Creek in the early 1900s and to have started haunting the theme park once it was built.
Annie is friendly but mischievous, turning lights on and off inside the yellow house near the Texas Giant and exploring Runaway Mountain and the Candy Store. Visitors and employees have also noticed lights flickering, curtains opening, doors slamming and unlocking, and cold spots around the Music Mill, the Palace, and the Log Ride. Some employees have even felt as though they were being touched, so stay alert for ghosts next time you're in the park.
Address: 2201 Road to Six Flags, Arlington, TX 76011
Charter bus parking: On-site parking is plentiful and costs $30 for cars, vans, and buses. You can buy parking online or when you get there. Charter bus drivers get into Six Flags for free when they show a valid commercial driver's license.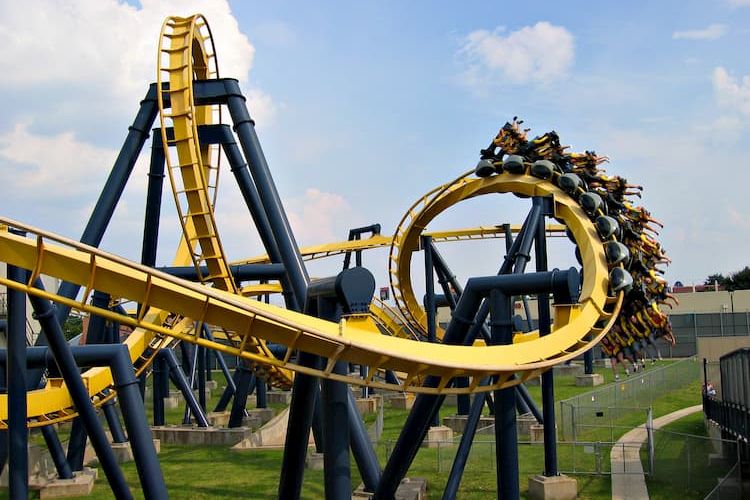 Take a Spooky Group Tour of Dallas-Fort Worth
If you love spirits and supernatural phenomena, Dallas has plenty of haunted hotels, theaters, and music venues that offer a glimpse of Dallas-Fort Worth's history as well as its ghosts. At Longhorn Charter Bus, we specialize in transportation around Texas, and we can help you have an amazing trip through the Dallas area. Just give us a call at (214) 206-8432 to book your next ghost-hunting adventure.