The Spookiest Destinations to Visit in Austin
Between the city's self-proclaimed weirdness and its centuries-old history, it should come as no surprise that Austin is (supposedly) home to a fair share of ghosts and ghouls.
Don't believe me? Round up your gaggle of ghost hunters and see for yourself! Call 512-827-0540 to set up a ghost tour shuttle service, and Longhorn Charter Bus will handle the rest. Our large network of coaches throughout the Lone Star State includes nearly any size and amenity makeup you can hope for, so we can definitely find the perfect bus rental to keep your crew comfy as you explore these haunted locations in Austin: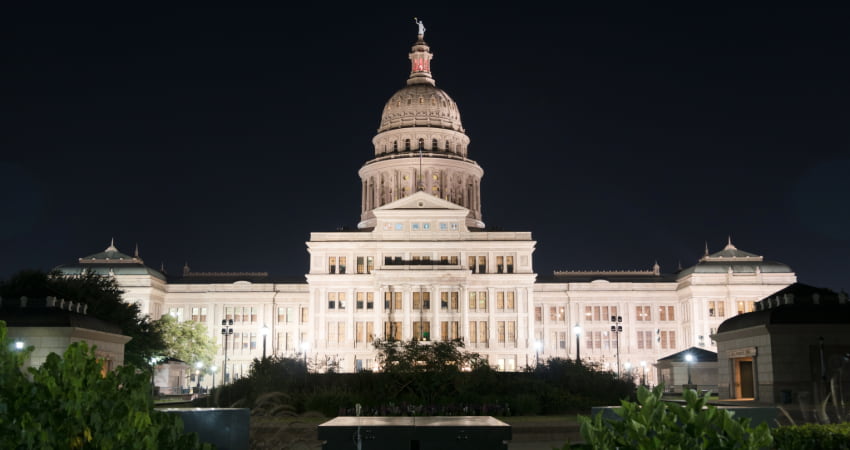 Texas State Capitol Building
Address: 1100 Congress Ave, Austin, TX 78701
A beloved addition to many Austin field trip itineraries, the Texas State Capitol Building is home to some frightening sights—and no, I'm not talking about Texan politics.
A small collection of spirits call this legislative building home, including the infamous Lady in Red. Cleaning staff have reported seeing a woman in a red dress walking around on the third floor who vanishes into thin air when approached. No one knows who she might be, how she might have died, or why she's taken to late-night walks around the capitol building—though many speculate she was the mistress of a politician who used to work in these offices.
In 1983, a fire consumed most of the capitol building, and sadly quite a few people died. One particularly tragic death was that of a 23-year-old intern who worked on an upper floor. The rescue team had managed to tame the flames around the window where the document caddy was trapped, but the window was locked and they failed to pry it open in time. Today, handprints materialize in the condensation on that particular window, no matter how many times the glass is cleaned and despite the fact the pane has been changed out multiple times.
One of the most-spotted specters in the building, however, is former Comptroller Robert Marshall Love. He was shot by his former employee and died at his desk in 1903. On misty and foggy days, people have often seen the Comptroller walking up the Capitol steps, top hat and walking cane in hand. Love is the only ghost you'll be likely to see on your free tour of the capitol (considering the other spiritual hotspots are off-limits to the public), but you'll have to keep a keen eye out for him. His spirit is described to be so lifelike, many visitors see him and mistake him for a living staff member!
Call 512-305-8402 to reserve a 30-minute tour of the building if your group includes more than 10 people—and keep in mind that groups of 40+ will need to split into multiple tour time slots. Your bus driver can drop everyone off at 1200 Brazos Street (within walking distance of Comptroller Love's favorite promenade!) and park on the west side of Waterloo Park while you tour.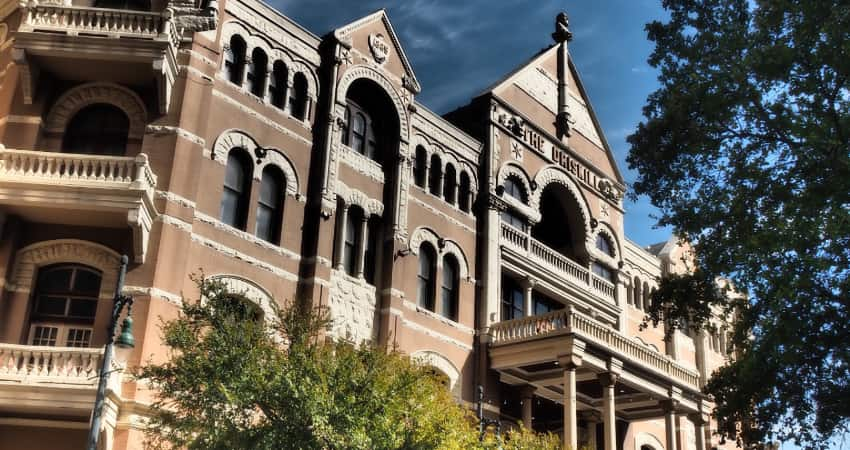 Driskill Hotel
Address: 604 Brazos St, Austin, TX 78701
Constructed in 1886, this hotel has seen many happy moments in history. In fact, President Lyndon B. Johnson met his wife, Lady Bird, in the downstairs bar.
But that's not why you're here, is it?
One of the first ghosts you'll meet here is the original owner himself, Colonel Jesse Driskill. Make your way to the cattle tycoon's portrait in the lobby, and you may smell a cigar or notice flickering lights. Don't worry—that's his way of asking if you're enjoying your stay.
Speaking of creepy portraits, the Driskill is full of them. Many of the Victorian-era paintings depict people staring at the viewer, and their eyes tend to follow you as you walk down the hall.
The most popular portrait? Samantha Houston: the little girl on the fifth floor. Her father, a Texan senator, commissioned the painting after Samantha died in the hotel one year after it opened, chasing after her ball and falling down the grand staircase. Since then, visitors have heard the sound of giggling and a bouncing ball in the hallways, especially near her portrait.
Last but not least, the Driskill is also the home of the so-called "suicide brides"—two women who took their own lives on their respective honeymoons. In the same hotel room. 20 years apart. To the day. Many guests have experienced bad luck while staying in suite 525, the room where it supposedly happened, so keep that in mind if you book a hotel block here.
Besides its share of spooks and spirits, the Driskill offers a range of luxury lodging accommodations as well as elegant ballrooms and dining spaces for corporate events and weddings. Fill out a venue request form to plan your next event here… if you dare.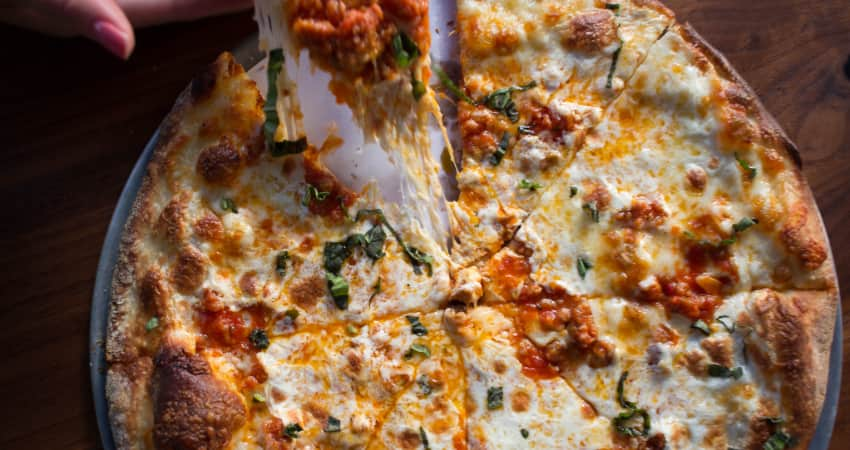 Austin Pizza Garden
Address: 6266 US-290, Austin, TX 78735
Now a popular pizza haunt, this building once served as a post office, a masonic lodge, and even an art gallery—though it was originally constructed as James Andrew Patton's general store in 1879. His daughter Rosa Patton and her husband, a Texas Ranger named John Dudley White, inherited the store, but Dudley was soon killed in the line of duty in 1918.
Throughout the decades, patrons have noticed random temperature drops inside the building, even when the AC isn't running. Paranormal investigators have even cased the restaurant in recent years, believing a paranormal presence lingered in the pizza parlor. When they asked the spirit why it remained in the building, their EVP equipment responded, "Rosa." Could it be John Dudley White, waiting for his wife after all these years?
If you're feeling peckish and want to investigate the Patton building for yourself, Austin Pizza Garden is a great place for a pizza party. The restaurant offers multiple group dining options for private events, from a balcony that can accommodate 30 people to the outdoor patio with a playground for the kids and enough space for 100 people. Call 512-891-9980 to reserve a space for your ghosthunting crew (or anyone else for that matter).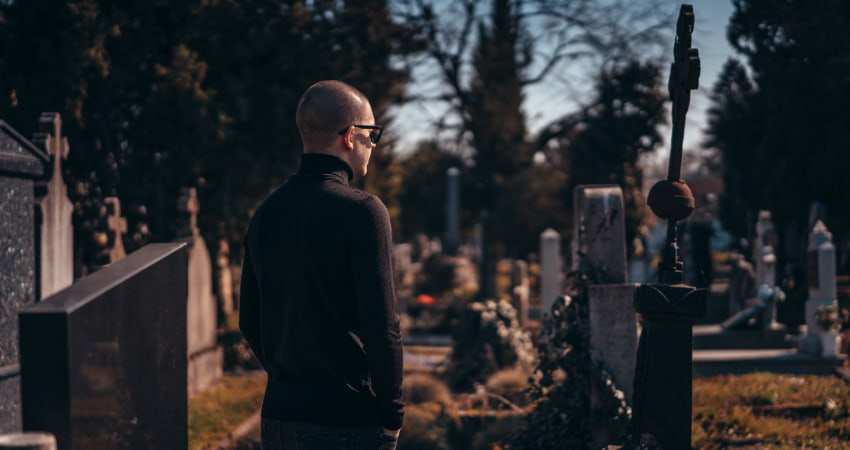 Oakwood Cemetery
Address: 1601 Navasota St, Austin, TX 78702
This cemetery is not only the oldest city-owned plot in town, but there's also evidence that this land was used as an indigenous burial ground before the city even existed. So needless to say: if there is a restless spirit anywhere in Austin, it would be in Oakwood.
A number of notable Texans are buried here, including:
Susanna Dickenson—She was one of the few civilians who survived the bloody battle at the Alamo and was laid to rest in the southwest corner of this cemetery. Although she was illiterate, her spoken-word account is one of the only first-hand oral histories we have of the San Antonio Nowadays, she's known to appear in front of strangers as they wander the grounds, giving them a fright before she vanishes.
Eula Phillips—She was the final victim of the 1884 Austin Axe Murderer, one of the earliest recorded serial killers in U.S. history. Some visitors have spotted this teenage girl wandering the grounds seemingly lost and confused, as if her violent murder took her by surprise and she's not aware she's dead.
John Barclay Armstrong—He was a Texas Ranger who pursued infamous gunslinger John Wesley Hardin throughout most of his early career. Barclay is credited for apprehending the criminal on a Pensacola train in 1877, but some say their feud lives on. If you hear gunshots or see gunpowder flares through the cemetery gates, it might just be the spirits of Barclay and Hardin settling the score beyond the grave.
Plenty of local ghost tours make stops here, but nothing's stopping your group from dropping by and wandering this historic cemetery on your own time. The gates are open 7 a.m. to 7 p.m. every day of the year, and the on-site Oakwood Chapel acts as a visitor center and charter bus loading/unloading point for walking tours.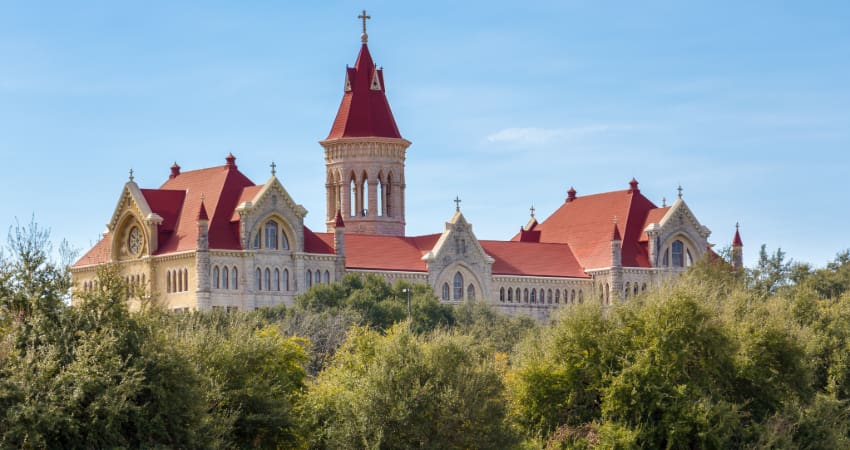 Saint Edward's University
Address: 3001 S Congress Ave, Austin, TX 78704
In town with prospective students for a campus tour? Depending on their affinity for the paranormal, they may or may not want to skip this private Catholic university.
As if the campus' central building in all its Gothic glory isn't enough to give you the creeps, it's supposedly one of the most haunted spots on campus. As the story goes, one of the university's brothers used to sneak into the building's Maloney Room at night to paint the landscapes he saw from the window. One night, a gust of wind sent one of his projects flying out the window and while trying to catch it, the brother fell to his death. If you see the shutters opening and closing on one of the upper floors—especially on a windless night—you might have just spotted the ill-fated painter!
Besides visiting the major academic wings, your group should keep an eye (and ear!) out as your bus rental drives you around campus. In 1877, back when the campus was an all-boys school, a popular teacher was trampled to death by a horse-drawn carriage on what is now called University Circle. To this day, folks who drive along that road hear a loud thunk, as if their wheel just hit something. When the driver checks under their car, there's nothing there.
If your group opts for a walking tour of the campus, you should know that parking at St. Ed's for anyone other than students and faculty is very limited. Have your driver drop everyone off close to campus and park the charter bus in either the East Congress neighborhood or near Mabel Davis District Park while you get your spook on.
Hit the Road to Spooky Sites in Austin
Whenever you're ready to start planning your history or ghost tour in Austin, Longhorn Charter Bus is here for you. Rather than having to call multiple rideshares and wait around at every stop for your ride to show up, your group can trust that your personalized minibus or charter bus rental will be wherever and whenever you need it. Plus, we can set you up with all the small comforts to help your group calm down after a day of frights—TVs for movie marathons, WiFi for streaming music, reclining seats for short naps, you name it.
Call 512-827-0540 to start the reservation process. Our 24/7 team is always here to answer your questions and offer a free and personalized rental quote with no obligation to book!