The 5 Best Field Trip Destinations in Austin
We all know Austin is fun.
From the city's self-proclaimed weirdness to all the outdoor spaces that'll give you a good reason to stretch your legs, it's no wonder you're considering taking your class, afterschool group, scout troop, or any other group of youngsters out to explore it all.
But how do you narrow down where to go and what to do? No stress—Longhorn Charter Bus is here to help. We've put together this list of the top field trip destinations the city has to offer, so all you have to do is figure out how you'll get there!
… And speaking of getting around, we can help you with that too. Longhorn Charter Bus offers one of the widest selection of motorcoaches you'll find in the Lone Star State. That means we can service nearly any adventure you can dream up—whether you need a small minibus service for your summer camp day trip or a charter bus to transport your class in total comfort. We can even ensure your ride has all the bells and whistles to keep your kids entertained on the road, like free WiFi, TV screens and a DVD player, power outlets for their personal devices, and more—all you have to do is ask.
Call (512) 827-0540 today to learn more about our bus rental services, and to receive a free, no-obligation quote for your trip.
Now let's get going!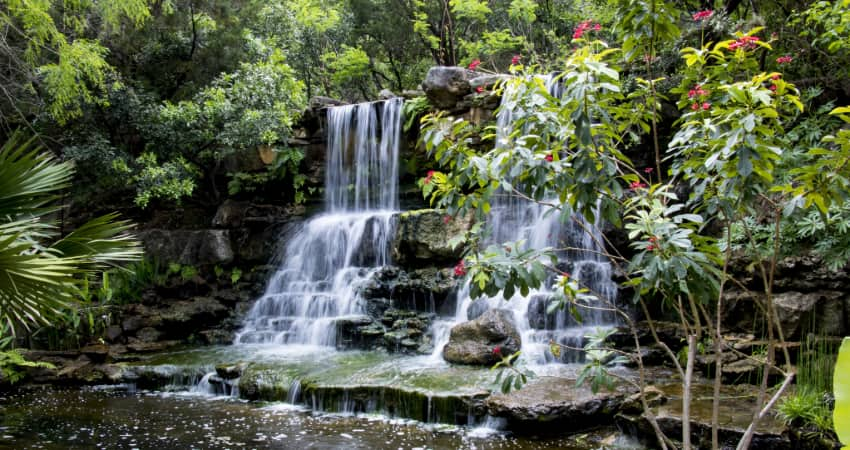 Zilker Botanical Garden
Address: 2220 Barton Springs Rd, Austin, TX 78746
Phone: (512) 477-8672
Zilker Park is Austin's pride and joy in terms of urban greenspaces. And while the 351-acre park makes for great picnicking, hiking, and kite-flying, the real gem for field-trippers is the riverside botanical garden right in the middle of it all. Here, visitors of all ages are invited to explore outdoor showcases like the small pioneer village and the interactive children's garden, as well as the hundreds of local and exotic flora planted throughout.
Docent-led tours—tailored to the Texas Essential Knowledge and Skills (TEKS) curriculum—are available for groups of 15 to 18 PreK-12 students. But if you'd rather opt for a self-guided tour of the place, there are educational materials available for that as well. Either way, it should take your group about 90 minutes to see all the highlights.
The gardens just ask that you reserve your visit well in advance (especially if you're planning to stop by in the busy months of March, April, or May), and let them know if you're touring with students with special needs or ESL children, so they can find a guide that matches your needs.
While the parking here is free, unfortunately, it is very limited. If you're arriving by motorcoach, your driver will have better luck parking at this nearby Austin field trip attraction: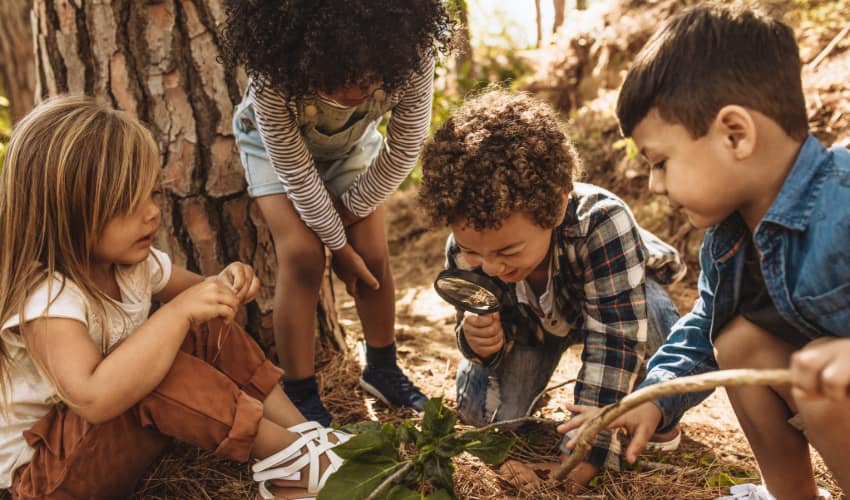 Austin Nature & Science Center
Address: 2389 Stratford Dr, Austin, TX 78746
Phone: (512) 974-3888
Still itching for some fresh air? Let your kids blow off some steam in Zilker Park's other educational outdoor attraction: the Austin Nature & Science Center. Here, your group can work up a sweat on the hiking trails throughout the grounds, or dip into the AC of the visitor center to check out the educational exhibits, scheduled workshops, and even a sandpit where children can dig up fossils.
The nature center is normally free to individuals and families, but organized groups are asked to pay $1 per person upon entry and reserve a time slot in advance to ensure enough education staff is present to assist with your trip.
Considering a visit to this nature center and the Botanical Garden on the same day? They're across the street from each other, so hopping between the two is easy-peasy. After your group has had its fill of fun at the garden, your driver can drop you off at the nature center's designated unloading zone along Stratford Drive and park in the lot across the street, under the expressway overpass.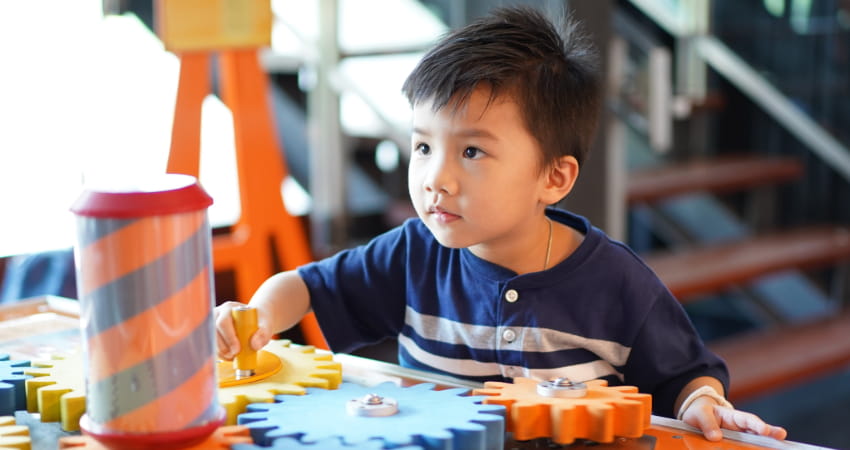 The Thinkery
Address: 1830 Simond Ave, Austin, TX 78723
Phone: (512) 469-6200
If you're an Austin veteran, you may know this place as the former Austin Children's Museum. In recent years it's gotten a new name and updated exhibits, but it still aims for its original goal: encouraging young innovators to explore the "hows" and "whys" of everyday life. Here, you'll find multiple labs for hands-on experiments, makerspaces for your little tinkerers to create in, and interactive exhibits geared to STEM topics—from the science of electricity to the physical forces that shape the Earth.
The Thinkery offers a variety of field trip programs and materials for education-centric groups like classes and afterschool clubs, with a max capacity of 140 people per visit. Most group tour slots are only available in the morning hours, and groups usually need at least 2.5 hours to make the most of the museum—so expect to bring a bagged lunch for everyone. Luckily, the Thinkery even provides a list of nearby picnicking spots for visiting groups. And when you reserve a charter bus rental, your ride will have plenty of undercarriage storage for your coolers and sandwiches!
Buses must unload and load guests at Thinkery's Group Entrance on the east side of the museum, and are encouraged to approach the entrance via McBee Street. There's a parking garage nearby, but if you're traveling by bus, your driver will need to street park along Simond Avenue, Aldritch Street, or anywhere around the Mueller Lake Park perimeter.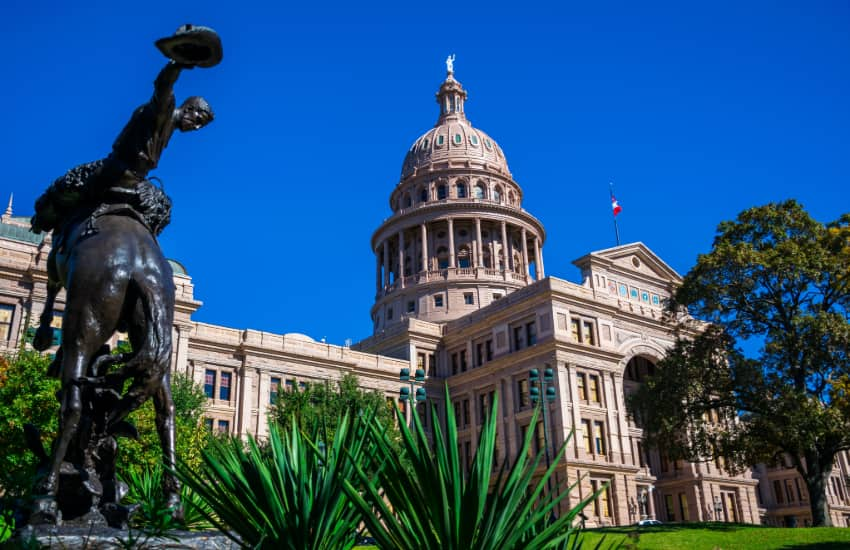 Texas State Capitol Building
Address: 1100 Congress Ave, Austin, TX 78701
Phone: (512) 463-4630
Out and about with your government class, history majors, or aspiring world leaders? Then it's about time you paid a visit to the Texas State Capitol. This building houses some of the most important conversations in Texas' government, as well as interesting architecture and multiple libraries full of historical documents. And on top of it all, tours here are completely free to the public!
As for what your group's tour will look like, well, it depends on what your kids are interested in. The visitor center has plenty of tour styles and activities to choose from—video presentations, interactive exhibits, self-guided scavenger hunts, etc.—and is willing to work around your time constraints so your kids make the most of the trip. Call the field trip coordinators at (512) 305-8402 to reserve your class's tour.
When you get there, your bus driver should drop everyone off at 1200 Brazos Street, across the street from the visitor center. Your driver can then park the bus on the west side of Waterloo Park along Trinity Street and wait for your tour to wrap up.
Traveling with a group with mobility concerns? No worries, there's a designated accessible entrance on the north side of the building, so your ADA-compliant bus rental can easily drop you off there with plenty of time to catch your tour. Just let us know if you need a ride with wider aisleways, a lift, or wheelchair fasteners—as long as we have at least 48-hour's notice, the Longhorn Charter Bus team can find you the perfect ride at no additional cost.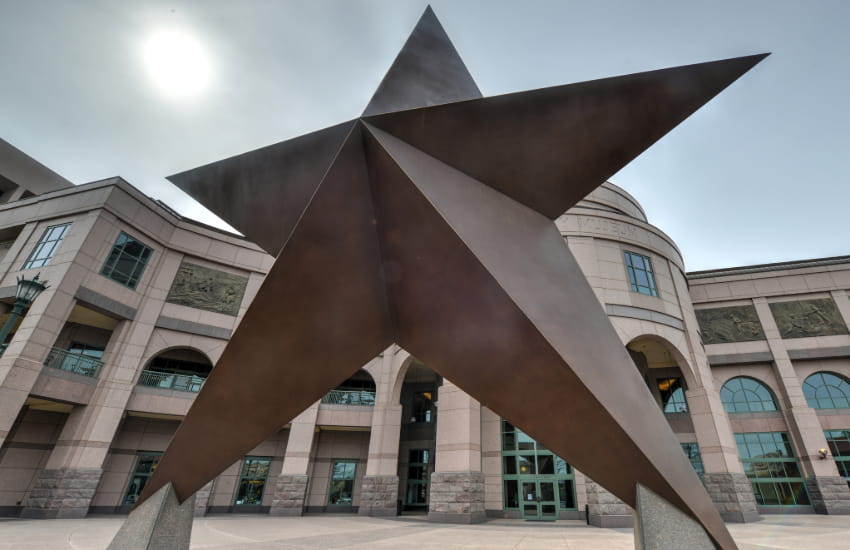 Bullock Texas State History Museum
Address: 1800 Congress Ave, Austin, TX 78701
Phone: (512) 936-8746
If you're looking for a history museum that takes a bit of a different approach, this place is for you. This museum is an archive of anecdotes, personal histories, and multi-generational accounts from across Texas—from short stories from a small-town dance school in the 1970s to coming-of-age memories of young immigrants across multiple decades.
If you call at least 10 business days before your visit, your group of 20 or more can receive a personalized, docent-led tour of the exhibits, discounted admission, and reduced prices at the museum's cafe. This place prioritizes school-aged tour groups throughout most of the year, so you should have minimal trouble securing a time slot.
This museum is located only a couple blocks away from the Texas State Capitol, so your bus can park at the same location it would for touring the capitol building: along Trinity Street, on the west side of Waterloo Park.
Start Planning Your Austin Field Trip
Whether it's a big day out with your little tykes or much-needed celebration for your graduating seniors, you can count on Longhorn Charter Bus to give them a safe and reliable ride there. We only work with certified, professional drivers with extensive background checks, so you know your students, staff, and chaperones are in good hands.
Give us a call anytime at (512) 827-0540 to start planning! Our 24-hour reservation team will be more than happy to help you hash out the best routes and vehicle sizes to suit your trip.