The Most Beautiful Destinations in Texas
It's no surprise that a state as large as Texas has many beautiful lakes, caves, and gardens for your group to explore. Whether you're traveling with a group of friends who love to hike or a group of students who want to learn about plants, Longhorn Charter Bus can help with your next sightseeing trip. Just give us a call at 1-844-447-2779 to book a charter bus with plush seats, climate control, and large windows. Not sure where you want to go yet? You can check out our list of the most stunning destinations throughout Texas.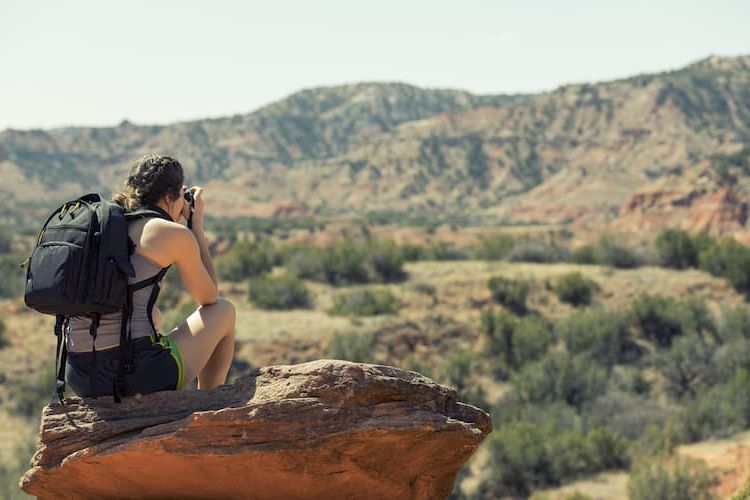 The Caverns of Sonora
Drive from San Antonio through Texas Hill Country to find these picturesque caves perched on the edge of the Chihuahuan desert. The limestone-rich soil has led to the creation of a living cave system covered in speleothems (stalagmites and stalactites!)
You'll need to sign up for a guided tour to see the caves. The tour takes about 1 hour and 45 minutes, and you'll climb 360 steps to crystal corridors 155 feet below the surface. The caves are very warm, so you won't need a jacket, but they're also crowded by speleothems. That means you can't bring anything inside except cameras and objects that fit in your pockets, so urge your group to leave bags, backpacks, food, and drinks on the bus.
Schools and other large groups can make advance reservations to view the caves by calling 325-387-3105. You may be eligible for group pricing and tax-exempt rates. If you're with younger children, you can opt for a condensed tour that's only an hour long and then take them to dig for fossils in the Underground Classroom or to pan for gemstones in the gift shop.
Address: 1711 Pvt Rd 4468, Sonora, TX 76950
Charter bus parking: The Caverns have plenty of parking and even an RV park for overnight camping.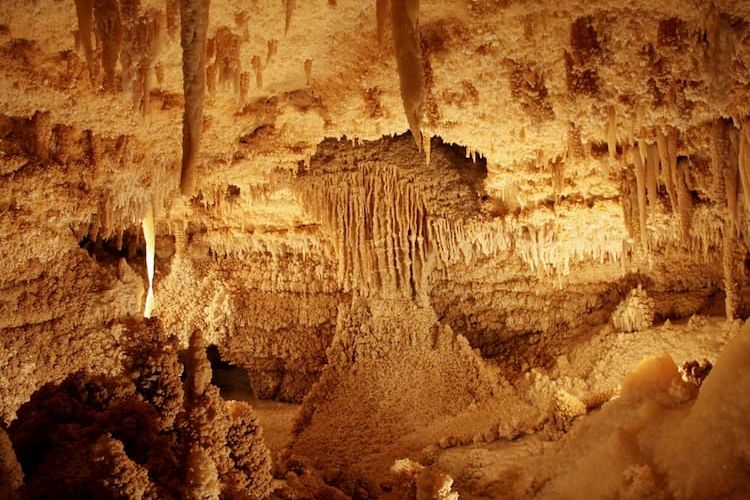 Rockport Beach
Texas's Gulf Coast boasts many beautiful beaches, but Rockport Beach may be the loveliest of them all. Known for its white sand and clear water, Rockport was Texas's first Blue Wave Beach, meaning that its waters are tested twice a week by Texas Beach Watch to make sure the levels of bacteria are acceptable. Signs are posted to let you know if the water is clean enough to swim in, so you don't have to worry about your group's safety while you splash through the waves.
Rockport Beach has free admission, and vehicles can park for only $5 per day. If you get tired of swimming, you can go for a walk along the Bayside path or use your binoculars to scope out the beach's many bird species. You can also rent 1 of 4 beach pavilions for weddings or corporate events by the water.
Address: 210 Seabreeze Dr, Rockport, TX 78382
Charter bus parking: Rockport Beach has an ample amount of parking available for $5.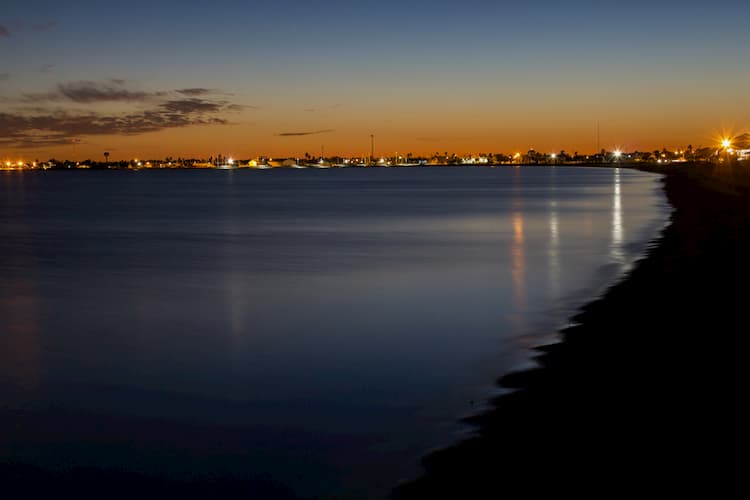 Hamilton Pool Preserve
About 45 minutes outside of Austin, you'll find this natural swimming pool below a 50-foot waterfall. The Hamilton Pool Preserve lies in a picturesque canyon and has a quiet grotto behind a sheet of falling water. Swimming is allowed when the levels of bacteria are safe and COVID-19 isn't a concern, and you can hike to the water along a quarter-mile trail even when swimming isn't available.
You'll need to make online reservations for your group to visit this county park and pool. There's a cash entrance fee of $8 per adult and $3 per senior that you must pay upon arrival, and the park also has a parking fee of $12 per vehicle with a maximum of 8 people per car. Additional online reservations and parking fees are required when you bring a minibus or charter bus that holds more than 8.
Address: 24300 Hamilton Pool Rd, Dripping Springs, TX 78620
Charter bus parking: The parking lot can accommodate buses, but you'll need to pay a separate parking fee for every pod of more than 8 people.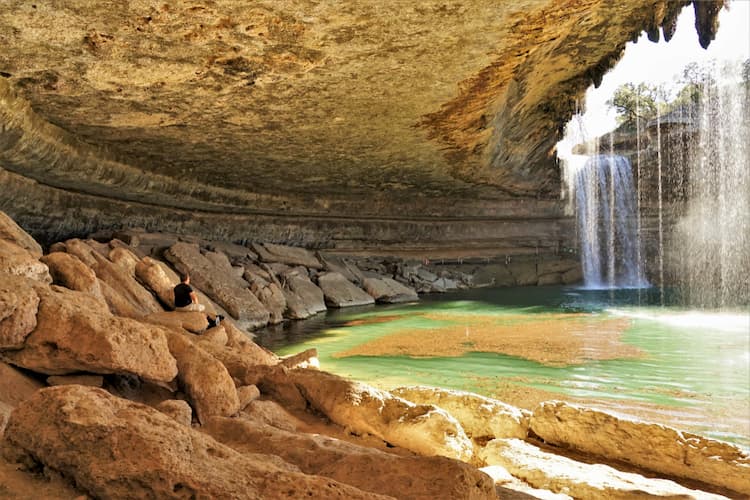 Gorman Falls in Colorado Bend State Park
Built around the Colorado River, Colorado Bend State Park is beautiful throughout, but its most famous feature is the 70-foot Gorman Falls. The 2.6-mile trail to the falls is heavily trafficked and often filled with kids, so it's a good choice for groups who are relatively new to hiking. The final stretch leading down to the waterfall can be a bit steep, but the park has put up railings to help you descend.
During your walk to the falls, you'll see butterflies, cacti, and maybe even wild rams. Adults can enter the park for $5, and kids get in for free. If you're bringing a school group, you'll want to call in advance to ask about reservations. You should also tell your students to wear sturdy boots or sneakers and bring along water to stay safe during the hike.
Address: 2236 Park Hill Dr, Bend, TX 76824
Charter bus parking: Colorado Bend State Park has a parking lot where you can leave your bus.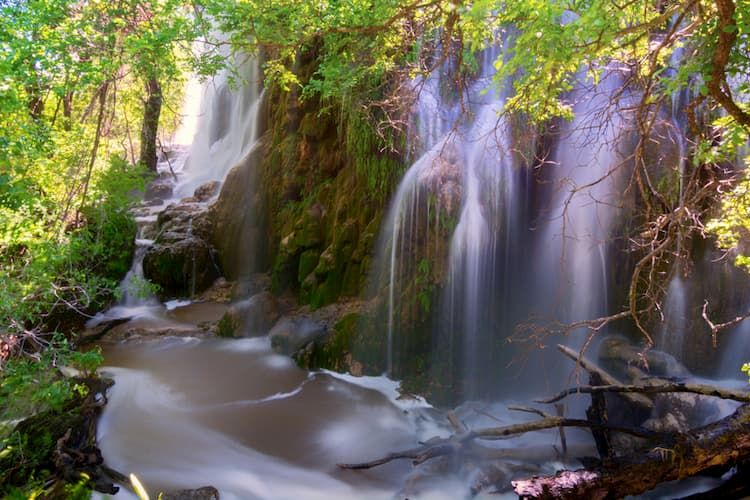 The Dallas Arboretum and Botanical Garden
Covering 66 acres and filled with 1.4 million plants, the Dallas Arboretum welcomes groups who want to see flowers, trees, and statues in a peaceful setting. Check out the beautiful Nancy Clement Seay Magnolia Glade, a quiet area filled with magnolia trees, a lily pond, and white and pastel flowers. Then head to the Crape Myrtle Allee to stroll among pink and red crape myrtles and see the "toad fountain," a favorite with kids.
Because most of the gardens are wheelchair accessible, the Arboretum is one of the best destinations on this list for visitors with disabilities. You can rent a wheelchair at the entrance if you need one temporarily, and service animals are welcome. The Arboretum is also one of the most beautiful places to host an event. You can fill out the event inquiry form or the wedding inquiry form for more information and a quote.
If you're bringing a large group but you just want to walk around, you'll need to book group tickets online in advance. Group tickets cost $9-$14 per person (depending on the season), and you'll get a 10% discount at the gift shop and free parking for your tour bus.
Address: 8525 Garland Rd, Dallas, TX 75218
Charter bus parking: The arboretum can direct you to bus parking as long as you let them know you're bringing a charter bus when you make your group reservation.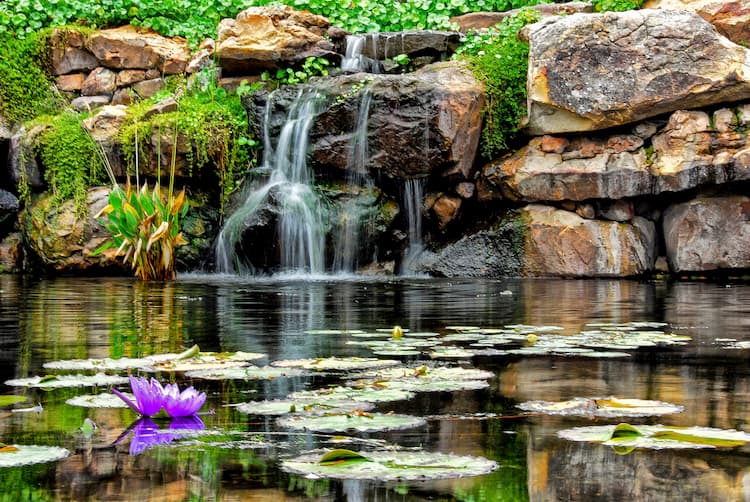 Caddo Lake State Park
Located between Dallas and Shreveport, Louisiana, Caddo Lake State Park consists of a bayou filled with bald cypress trees. You can kayak or canoe beneath sheets of Spanish moss before hiking along the Caddo Forest Trail. More of a fishing person? Caddo Lake has over 70 species of fish, a pier, and a boat ramp.
Although many groups just opt for a day of hiking, kayaking, or fishing, your group can also camp in the park. Caddo Lake has 46 campsites, 7 screened-in shelters with electricity and picnic tables, and cabins for 2 to 6 people. Some of the cabins are wheelchair-accessible, although only about ¼ of the Caddo Forest Trail is. Adults can enter the park for just $5, while kids get in for free. However, school groups need to call in advance to make reservations, and camping reservations cost extra for all groups.
Address: 245 Park Road 2, Karnack, TX 75661
Charter bus parking: Caddo Lake offers plenty of parking for buses and RVs.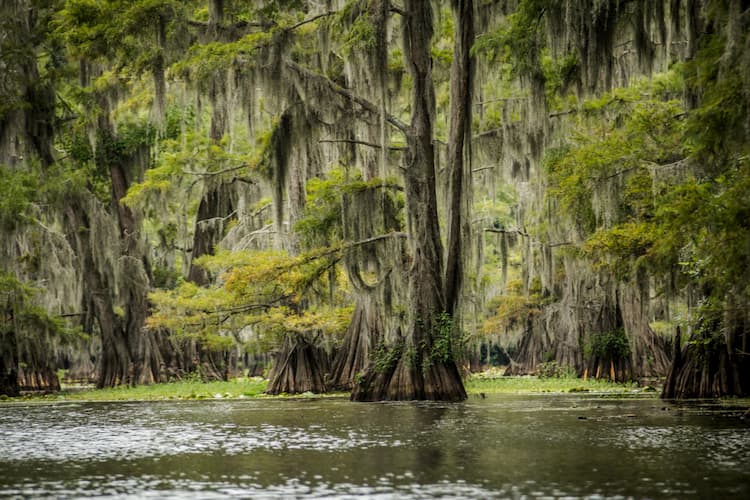 Bayou Bend Collection and Gardens
Bayou Bend makes it on this list for its 14 acres of organic gardens in the historic River Oaks neighborhood. Inspired by the classical architecture of Ima Hogg's former home and trends popular in the 1920s, the gardens include magnolias, crape myrtles, camellias, and azaleas. The Bayou Bend House is also beautiful, and after you finish with the gardens your group can go inside if you want to see furniture, silver, ceramics, and paintings from American history.
Bayou Bend recommends booking timed tickets before you arrive, and group reservations are typically available, though they're on hold during the COVID-19 pandemic. Kids 12 and under get in free, while students 13-18 pay $6.25 and adults pay $12.50.
Address: 6003 Memorial Dr, Houston, TX 77007
Charter bus parking: The museum offers free parking.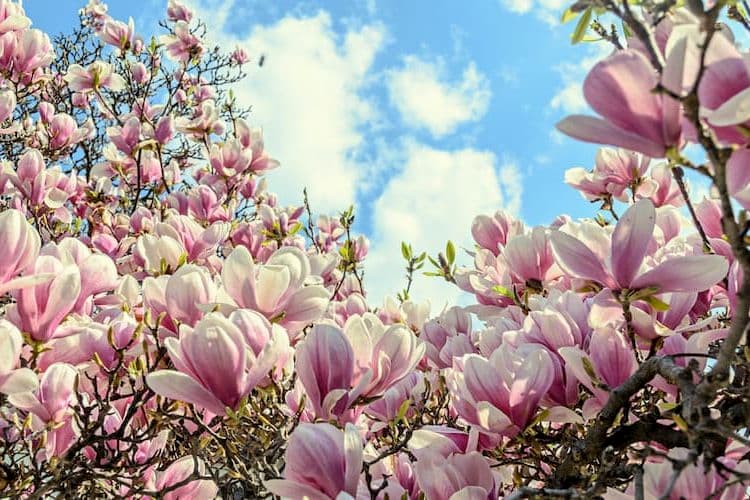 BAPS Shri Swaminarayan Mandir
This traditional Hindu temple on the outskirts of Houston was built according to the architectural principles of the Shilpa Shastra, which means it's towering and beautiful. Inside the expansive white building, you'll find elegant shrines with statues surrounded by candles. Entry is free, and the Mandir often offers guided tours, though tours are suspended during the COVID-19 pandemic. When they return, you can take a guided tour or an audio tour to learn about Hindu art, architecture, and philosophy.
When the pandemic ends, schools and groups of 8 or more people will be welcome to visit the Mandir for free with advance reservations. The Mandir is wheelchair accessible, but it does have restrictions that visitors must abide by. All guests must be silent and leave their phones switched off, and tank tops, shorts, and skirts shorter than knee length are prohibited. You also can't take pictures inside, though taking pictures outside is permitted.
Address: 1150 Brand Ln, Stafford, TX 77477
Charter bus parking: Free parking is available around the Mandir.
Explore Some of Texas's Most Beautiful Sights
Whether you're traveling to Dallas for work or looking for something to do with your students in San Antonio, Texas has plenty of beautiful landmarks for you to explore. Give Longhorn Charter Bus a call at 1-844-447-2779, and we'll find a charter bus to take you to state parks, beaches, and botanical gardens all across the state.