The Spookiest Destinations in the San Antonio Area
As one of the most historic major cities in Texas, San Antonio has plenty of old and (supposedly) haunted destinations to visit. Whether you're traveling just to learn about San Antonio history or you're looking for a few frights around Halloweentime, you'll find more than enough to do.
If you're getting a group together to explore San Antonio's spooky sites, you can count on Longhorn Charter Bus for your ride there. Create an itinerary of San Antonio's notably haunted locations, organize your group, and rent a charter bus or minibus for everyone to ride together. A bus rental is a perfect way to travel so you can swap ghost stories and enjoy time with your school club, work group, sports team, or big group of friends. Call Longhorn Charter Bus at (210) 686-0796 to reserve a charter bus rental in San Antonio for your night of frights.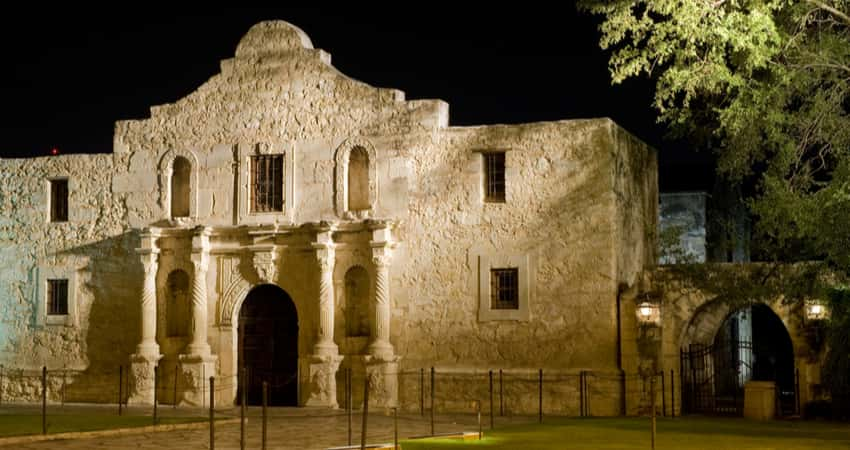 The Alamo
Address: 300 Alamo Plaza, San Antonio, TX 78205
The Alamo is considered one of the most haunted locations in San Antonio. The area surrounding the Spanish mission once served as an indigenous burial ground. After the Battle of the Alamo in 1836, many believe that the ghosts of fallen soldiers and prisoners began to roam the former mission's grounds as well. Not to scare you too much, but experts guess that more than 1,000 unmarked graves of Spanish settlers, Canary Islanders, and indigenous people are still on the Alamo grounds.
Over the years, visitors have reported several paranormal experiences at the Alamo. Guests have seen eerie smoky figures on the grounds and have heard distant sounds of battle explosions and war songs.
Groups looking to learn more about the historic aspect of the Alamo can book a daytime tour. If you're looking for something a bit spookier, consider booking a private after-hours tour. You'll have exclusive access to the mission after the big crowds go home. Request your after-hours tour at least one week in advance by calling 210-225-1391 ext 145.
Charter bus rental parking: The Alamo sees plenty of charter buses and tour buses every day. Oversized vehicle parking can be found along Alamo Street and E Nueva right in front of La Villita or at the lot on the corner of Navarro and Houston streets.
Freeman Coliseum
Address: 3201 E Houston St, San Antonio, TX 78219
A sports and event venue may not seem like a spooky location, but the Freeman Coliseum has become a hotspot for paranormal activity since it was built in 1949. Unlike the Alamo though, Freeman Coliseum has several stories that make it harder to pinpoint its haunted origins. The arena's mixed history includes allegedly being the site of occult sacrificial rituals, of accidental deaths during bull riding and circus events, and where Teddy Rosevelt trained the Rough Riders (several of whom died of disease) during the Spanish–American War. Visitors have heard the eerie cackling laugh of a clown who perished during a circus act and have seen ghostly specters of Rough Riders who passed away from an unknown ailment.
Unfortunately, Freeman Coliseum doesn't offer tours of any sort. But if you plan to attend a concert or sporting event at the arena, explore the venue to see if you come across any spooky entities.
Charter bus rental parking: Parking for charter buses, RVs, and other oversized vehicles costs $25.00 at Freeman Coliseum. The coliseum does share parking with the AT&T Center and oversized vehicle parking can be found in Lot 2 or 3, depending on the event.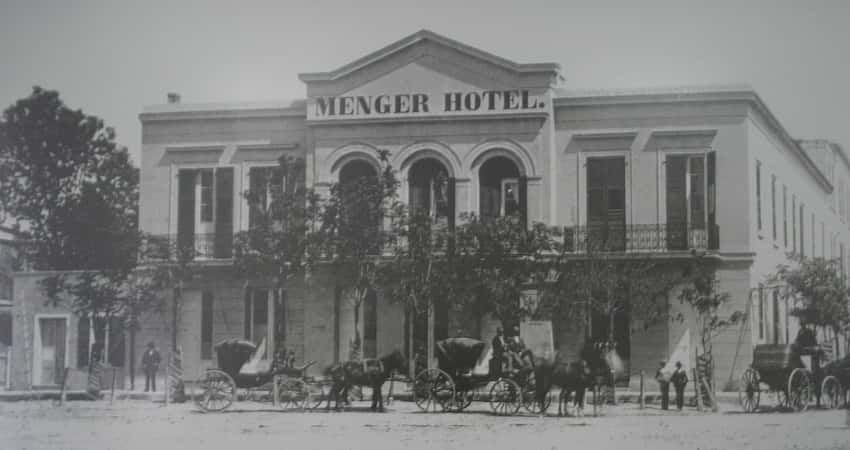 Menger Hotel
Address: 204 Alamo Plaza, San Antonio, TX 78205
The Menger Hotel is one of San Antonio's oldest and most haunted hotels. It was built in 1859 and currently resides in the city's Alamo Plaza Historic District. The hotel originally branched off from the Menger family's popular brewery that was built on the Alamo battlegrounds. Over the years, the Menger Hotel has hosted popular guests like Babe Ruth and Oscar Wilde and numerous U.S. presidents, including Theodore Roosevelt and Bill Clinton in more recent years. The hotel also sheltered and fed a large number of Confederate soldiers during the American Civil War.
It isn't fully clear whether anyone has passed on the hotel's grounds, but with its long history, there have been many accounts of ghostly activity. Some of the hotel's permanent residents include Sallie White, a housekeeper who allegedly died at the hotel, and a man wearing buckskin who is believed to be Louis Moses Rose. In total, modern hotel staff believe there are at least 40 ghosts roaming Menger's halls.
The Menger Hotel is still a functioning hotel and your group will likely have to book a guided tour through a third-party company. Your group can take a self-guided tour of the hotel: just be sure to be respectful of other guests.
Charter bus rental parking: The Menger Hotel is located just a couple of blocks from The Alamo. Parking in the area is available along Alamo Street or at La Villita or at a public lot on Navarro and Houston streets.
Woman Hollering Creek
Address: Saint Hedwig, TX, (between Miller Road and New Berlin Road)
Woman Hollering Creek is a small branch of the San Antonio River and is about a 30-minute drive outside Alamo City. It may look like a lackluster location at first glance, but the area's haunted folklore will make your hairs stand on end. The tale of La Llorona originated in Mexico but has made its way into Southern Texas. La Llorona's story has many variations but is usually about a mother who drowns her newborn child after the father has left her and rejects the baby. After she's drowned her child, La Llorona screams in anguish, regretting what she has done. It's said that her spirit walks along the river and screams in misery as she looks for her drowned child.
Parents usually use the weeping woman's story as a way to spook their kids into behaving—but strangely enough, people have reported seeing La Llorona along the banks of Cibolo Creek. Have your driver shuttle everyone out to the St. Hedwig area, and maybe you'll spot La Llorona taking her somber stroll along the creek.
Charter bus rental parking tip: Woman Hollering Creek doesn't have any of its own parking, and many of the roads in the area can get too narrow to park. If you're planning to visit in the evening, it's highly recommended that your group parks closer to the portion of the creek that's near I-10. Here you'll find more options to park your charter bus.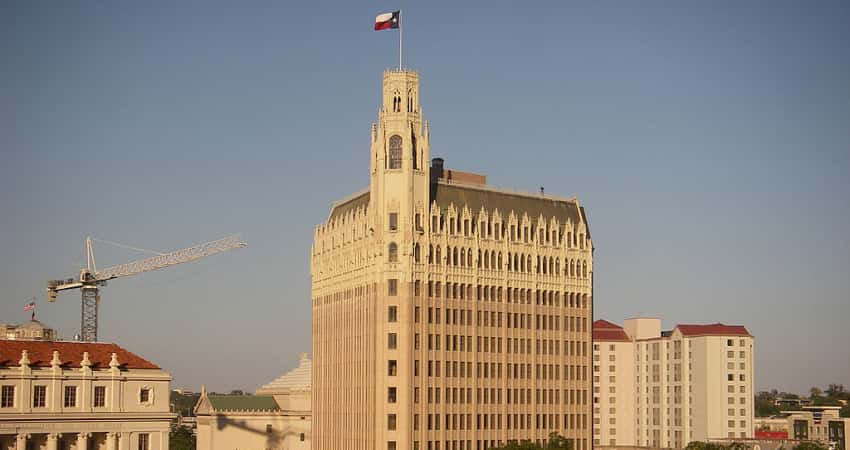 The Emily Morgan Hotel
Address: 705 E Houston St, San Antonio, TX 78205
Yep, there's another haunted hotel on this list! Unlike the Menger Hotel though, the Emily Morgan didn't start as a hotel. It began as the Medical Arts Building just a few blocks from The Alamo. The Medical Arts Building served as a 50-bed hospital from 1926 to 1976. Medical services were relocated to new buildings after 1976 and the neo-gothic building was converted into office spaces. In 1984, the building was made into a hotel and was finally purchased by Hilton in 2012. By 2015, the Emily Morgan Hotel was ranked as the third-most haunted hotel in the world by USA Today.
What makes the hotel so spooky though? Guests have complained of room phones ringing in the middle of the night, sink faucets turning on by themselves, TVs turning on and off, strong "oppressive" forces in rooms that make guests feel uneasy, and sightings of a woman dressed in all white. Many believe that this haunting stems from the hotel's time as a hospital. The most active haunted areas are reportedly the 12th and 14th floors where surgeries occurred.
Just like the Menger Hotel, the Emily Morgan has limited tours since it's still a functioning establishment. Occasionally, some pre-scheduled ghost tours will offer a peek inside the haunted hotel. Your group can also appreciate the building's neo-gothic architecture from the outside, reserve a table at Oro Restaurant & Bar inside the hotel, or book a night stay if you're brave enough to sleep in the hotel's haunted walls.
Charter bus rental parking: Parking at the hotel is exclusively for guests and is usually valet only. Groups traveling by charter bus will need to park in public parking lots instead. Since the hotel is just next door to the Alamo, your charter bus driver can utilize one of the tour bus parking lots in the area.
Travel to San Antonio's Scariest Locations with Longhorn Charter Bus
San Antonio has even more spooky destinations that your group can visit! From all the haunted locations on this list to other eerie spots like the San Fernando Cathedral and Black Swan Inn, you'll have more than enough to fill your itinerary. Book the group transportation for your ghost tour with Longhorn Charter Bus at any time. Call (210) 686-0796 to reserve your charter bus rental today!