Free Things to Do with Kids in Austin
Keeping your youth group, summer campers, or scout troop entertained while in Austin doesn't have to cost an arm and a leg—especially when there are so many budget-friendly things to do here!
Not sure where to start? Longhorn Charter Bus knows a few activities that are both budget-friendly and kid-approved. Keep reading to learn more—and if you ever need a ride to any of these attractions, just call us at 512-827-0540. We'll be more than happy to hash out a personalized bus rental that works for your itinerary, all at a predictable price with no hidden fees!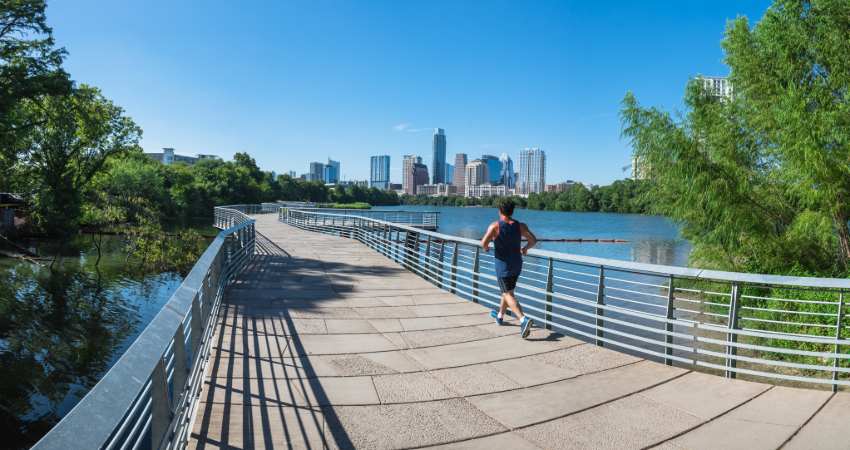 Explore the boardwalk at Lady Bird Lake.
Address: 1820 S Lakeshore Blvd, Austin, TX 78741
Need an excuse to get out and stretch your legs? We'll do you one better—this destination is a walking trail with a view.
This mile-long public boardwalk hugs the southern shore of Lady Bird Lake, granting visitors plenty of lookout points across the water and views of the downtown skyline. Keep an eye out for the 36 bronze-casted western-style belts along the railings. They're part of the Belting It Out public art series, and each one is embossed with the lyrics of a famous Texas musician.
Some tips for when you go:
This trail is popular among bikers and joggers, so tell your kids to stay on the right side of the path so faster traffic can pass by.
Most of the boardwalk has limited tree coverage and shade—meaning it gets very hot around midday and in the sweltering summer months. Plan to visit in the morning, evening, or on a cloudy day, and be sure to bring plenty of sunscreen.
Consider making some sort of wildlife checklist or bingo card to accompany your walk. There are lots of critters living along the waterfront, so see who can spot the most turtles, herons, and ducks along the way!
Bus parking: While the availability can be hit-or-miss, there are spacious parking lots in and around the Texas Department of Transportation campus and the Austin American-Statesman headquarters—both at the western end of the boardwalk. Your group can disembark from your bus's parking spot and have your driver meet back up with you at International Shores Park on the eastern end, with plenty of AC to cool you down after your walk.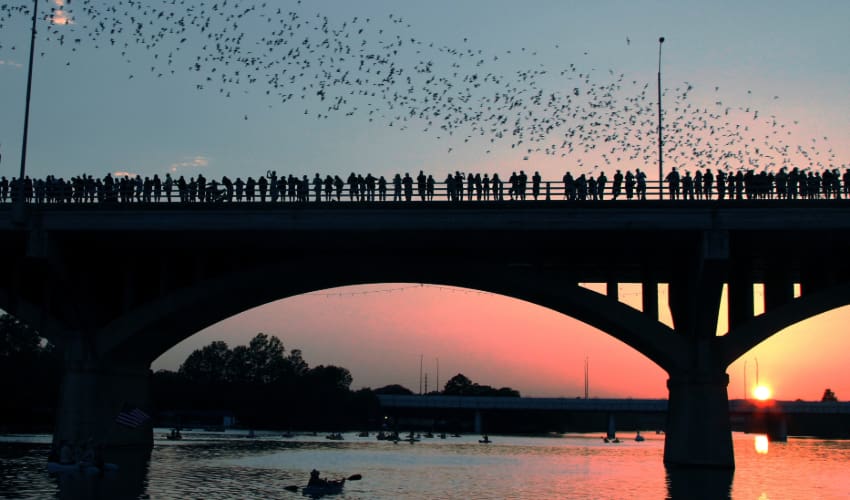 See the Congress Avenue Bridge bats.
Address: 305 S Congress Ave, Austin, TX 78704
Speaking of Austin wildlife, your group won't want to miss saying hello to the city's favorite flying friends: the Mexican free-tailed bats. Every year, between April and September, about 1.5 million of them come to roost under the Congress Avenue Bridge. And every day at sunset, they fly out from under the bridge and into the night—a cool and educational must-see for the young and young-at-heart.
To catch a glimpse of the largest urban bat colony on the continent, all your group needs to do is hang around the bridge around sundown. The bats fly out 30 to 60 minutes before the sun sets, which can be anywhere between 7:30 and 9 p.m., depending on the time of year. To secure the best viewing spots, try to get there an hour and a half before sunset. Keep in mind that the bridge can get pretty crowded during peak bat-viewing season (basically the middle of summer), so consider setting up camp at the little park on the southeastern side of the bridge.
And if you want in on Austin's festival culture, but are worried about leaving the kids at home, the bridge offers the perfect experience: the aptly named Bat Fest that takes place in mid-to-late August. Don your best bat-themed costume, grab a corndog or funnel cake from one of the local street food vendors, let the kids go wild in a bounce house, and watch the bats fly with a crowd of enthusiastic onlookers.
Bus Parking: The parking situation for the Congress Avenue Bridge is the same as the boardwalk: try your luck around the American-Statesman and Texas Department of Transportation parking lots. Spots will likely be scarce if you swing by for Bat Fest, though, so either plan to arrive early, or ask your driver to find a spot downtown or return to your hotel during the festivities.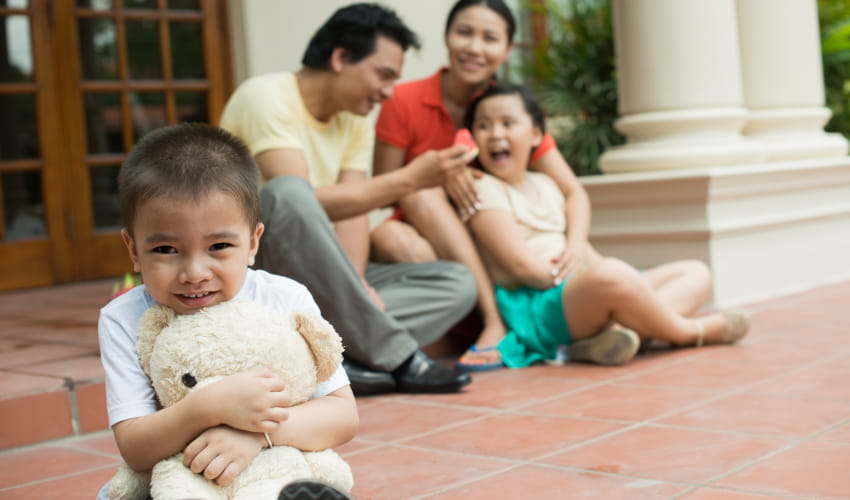 Tour the governor's mansion.
Address: 1010 Colorado St, Austin, TX 78701
Close to the Texas State Capitol—another free Austin field trip spot you might consider adding to the itinerary as well—this grand Greek revival style building has been called home by over 40 governors since 1856. It's the oldest governor's mansion west of the Mississippi River, and the fourth oldest continuously occupied governor's residence in the U.S.—so needless to say, there's a lot of history here.
Guided tours of the mansion are free, but you'll need to reserve one at least a week in advance—no walk-ups allowed. Most weeks, the time slots are available on Tuesdays, Wednesdays, and Thursdays in the late morning or early afternoon. Expect to spend about 30 minutes walking around the mansion's interior and taking in artifacts like the original "Fall of the Alamo" painting by Robert Jenkins Onderdonk, a library full of Texas-centric literature, and curio cabinets showcasing governors' momentos across the decades, from Civil War relics to class rings.
There are two things your group should keep in mind when planning your visit:
There are no restrooms on-site, so you might want to take advantage of the one on your charter bus rental if you're worried your little ones won't make it.
There is no place to store bags, coats, and strollers. Don't worry, though—your driver will be happy to look after whatever belongings you leave on the bus while you tour.
Bus Parking: After unloading everyone at the corner of W 10th Street and Colorado Street, your driver should be able to find designated bus-friendly street parking along Trinity Street, between E 15th and E 18th.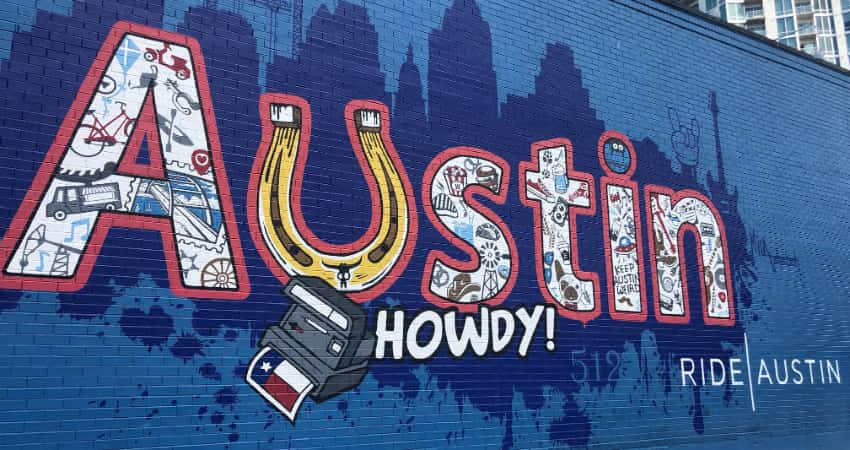 Check out the murals across town.
Nothing sums up Austin's fun and funky vibe quite like the city's many, many, many murals. Seriously, they're everywhere if you know where to look—public parks, gas stations, Chinese takeout stands, even sidewalks!
The beauty of Austin's street art is that it's free to look at and it's always changing. Even if you're returning visitors or long-time residents, have your bus driver drop your group off in your favorite neighborhood so you can walk around and see what's fresh.
If you're looking for a place to start your mural-spotting, here are a few long-standing favorites your kids are sure to love:
"Hi, How Are You"
What it is: A simple and cute frog with the words "Hi, How Are You" above it, created by musician Daniel Johnson. This mural is so well-loved, it even has its own city-sanctioned holiday: "Hi, How Are You" Day on January 22, which spotlights mental health awareness.
Where you'll find it: the corner of Guadalupe Street and 21st Street, along The Drag
"Greetings from Austin"
What it is: A large, colorful mural that looks like a 1940s-esque postcard. Some of the city's top landmarks depicted within the letters, including the UT Austin Tower, the Congress Avenue Bridge, and Barton Springs. Painted in 1998 by Todd Sanders and Rory Skagen.
Where you'll find it: 1720 S 1st Street, on the side of Roadhouse Relics
"i love you so much"
What it is: Red, cursive letters that read "i love you so much." Created by local musician Amy Cook as a public love letter to her girlfriend. One of the most Instagrammed spots in the city, and a great backdrop for a selfie with the ones you love—whether that's your friends and family or an ice cream cone from the sweets shop across the street.
Where you'll find it: 1300 S Congress Ave, on the side of Jo's Coffee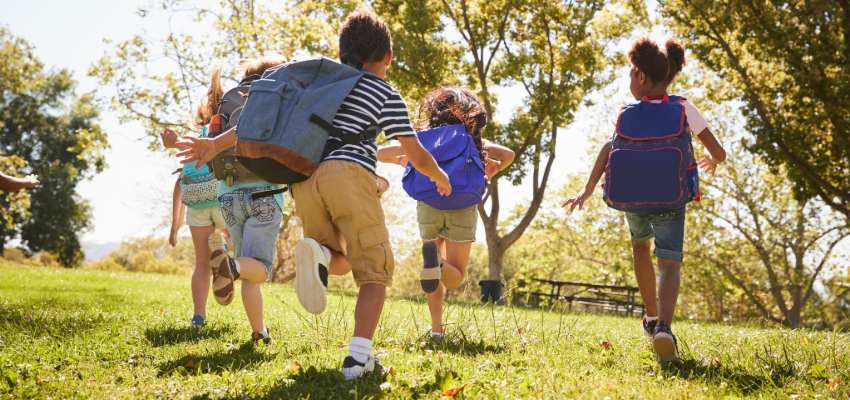 Make the Most of Your Austin Trip for Less
Whether you're planning an outing with your summer camp or scout troop or want to treat your extended family's kids while they're in town, you can trust the Longhorn Charter Bus team to secure an Austin bus rental that will keep everyone on time and all together. With our network of thoroughly-inspected motorcoaches and experienced, professional drivers, you know your little travelers are in good hands.
Besides, once you split the cost of your bus rental between everyone, your ride plan will likely cost as much (if not less!) than ordering rideshares throughout your trip—and you'll have a preplanned transportation service that can include amenities like WiFi and TV screens to keep everyone entertained between attractions. No need to wait around for a taxi, pay for gas, or worry whether or not your kids can navigate public transportation. Just hop on the bus, get comfy, and roll out!
Whenever you're ready to get planning, give us a call at 512-827-0540. Our reservation team is available 24/7 to help you out, and we'll even offer a free, no-obligation quote for your Austin group adventures.