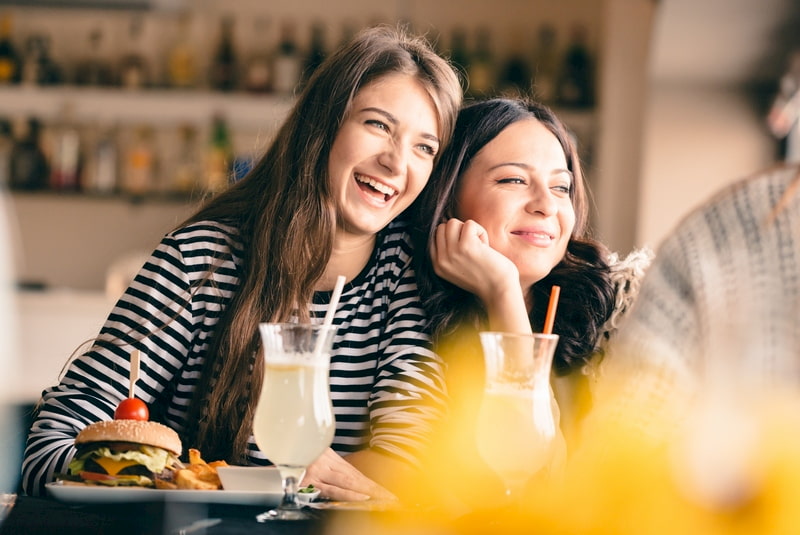 Mother's Day is approaching fast. Now's the time to say "thanks" and celebrate the mothers in your life, and Houston is just the place to do so.
Whether you're planning a family reunion, an outing for your senior community, a congregation-wide event, or anything in between, Longhorn Charter Bus is here to help. Show them how much you appreciate them by reserving a private bus that caters to their every need. That way, your lovely ladies—as well as their family and friends—can share photos of their day over onboard WiFi, watch their favorite films over personal TV screens, or kick up their heels in a reclining seat and just relax. Just let the Longhorn Charter Bus team know what amenities you want when you call 713-344-0553 to book.
But what kind of day should you plan for your group of moms? Well, it depends on what they find interesting.
For Sporty Moms…

Catch a Houston Astros Game
This year, Mother's Day weekend happens to line up with a stretch of home games against the Mariners. If you've got a sporty mom on your hands—or even a group of them—it's the perfect year to take them out to the ball game!
In the past, Minute Maid Park has offered exclusive Mother's Day packages that included limited edition replica jerseys, access to in-park wine tastings, and even a yoga session on the field. Specials like these tend to sell out fast, so keep an eye on the Astros ticketing site to snatch up yours before they're gone.
For an even more in-depth experience, consider signing up for a tour of the park! You'll get a firsthand look at all the best viewing spots within the stands, a rundown of the park's history, and even a chance to watch the Astros pregame batting practice. And yes, you can still tour Minute Maid Park on a home game day, just so long as you've purchased a ticket to that day's game.
Bus Tip: If you're taking a charter bus or minibus, your driver can drop you off along any street adjacent to the ballpark, including the protected left lane along Texas Avenue on the south side of Minute Maid Park. From there, your driver will need to park on Bastrop Street, which is quite a few blocks away. So be sure you have everything you need for the game when you're dropped off—it won't be easy to access the bus until your driver picks you back up along Hamilton Street after the game.

Race in the 5K Mamas Fun Run
Would she rather get her heart pumping? Sign up for this lowkey and family-friendly 5K, and she'll definitely get her steps in for the day—all for a good cause.
This race is geared toward mothers-to-be and current moms, but families and pets are more than welcome to participate! After you've rallied through the final stretch, breakfast, mini massages, finisher medals, and (if you're a mom) gifted flowers await you. The best part? 100% of proceeds go to 9 Months of 5K's Pregnancy House Project, which provides housing and resources for first-time moms in need.
Bus Tip: The race starts and ends at MacGregor Park. So after your driver drops your racers off for packet pick-up at 6 a.m., they can either look for a parking spot within the park or—more likely—find a bus-friendly lot within the Greater OST neighborhood. That way, your ride will be nearby and ready to round everyone up when you're ready to head home.
Address: 5225 Calhoun Rd, Houston, TX US 77021
Phone: 832-844-1754
For Classy Moms…

Take Afternoon Tea in Bellaire or Upper Kirby
If your mother prefers more of a pinkies-up kind of affair, Houston tea rooms deliver. Here are a couple of local favorites where you can take afternoon tea with your classy lady.
McHugh Tea Room
A teatime reservation here includes 3 types of finger sandwiches, 3 types of small confectionaries, 2 types of scones, and, of course, your choice of tea—including a rich Ginger Pu-erh, a brisk Egyptian Peppermint, a light Honeysuckle Fig Oolong, and much, much more. For an additional charge, this tea room will throw in bottomless mimosas, wine, or champagne. Just reserve at least 24 hours in advance by calling (713) 218-6300.
Group Tip: This place's afternoon tea event is geared toward small to medium parties—with a 2-person reservation minimum and a 17-person maximum. If you're planning for a turnout of 18 or more, consider reserving a private party room instead.
Address: 5305 Bissonnet St #D, Bellaire, TX 77401
Phone: (713) 960-8472
Kiran's Restaurant
Or, if you don't mind celebrating Mother's Day a bit early, this Old Kirby haunt offers afternoon tea service every Friday and Saturday at 2 p.m. While Kiran's teatime menu is highly curated and selective, you can count on this upscale Indian fusion eatery to deliver elegant cups of Chai, Darjeeling, and Earl Grey alongside fine dining dishes—such as duck and orange marmalade finger sandwiches, wild mushrooms en croute with a fig chutney, and lemon mousse cakes.
Group Tip: You can reserve you and your guests' seats in advance by calling ahead, but if you're planning a get-together with 20 or more, consider booking a private dining room instead.
Address: 2925 Richmond Ave, Houston, TX 77098
Phone: (713) 960-8472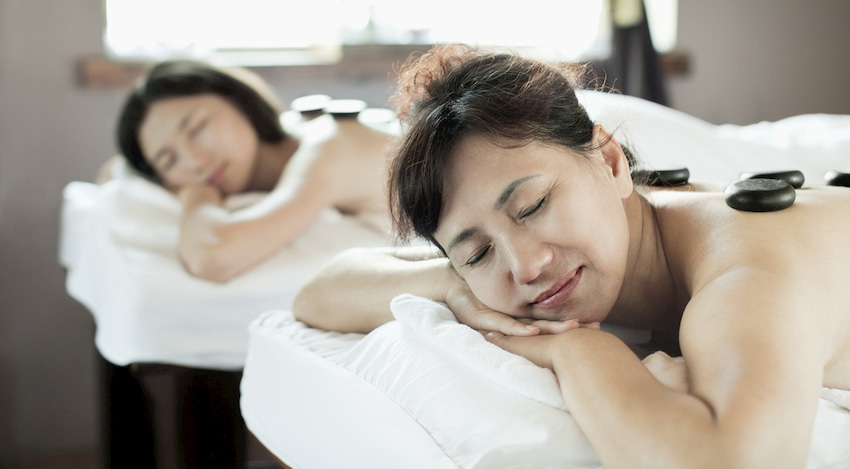 Enjoy a Spa Day in Galveston
What better way to show her you care than a well-deserved day of rest and relaxation?
Services at the Moody Gardens Hotel and Spa can last anywhere from 20 minutes to 6 hours, depending on what you book. So whether you want to pop in for a short and sweet hydrotherapy bubble bath or you've got a day full of massages, facials, and mani-pedis ahead of you, there's sure to be something to pamper your special lady as she pleases.
Group Tip: Although walk-ins are accepted, parties of 5 or more should give the spa a 72-hour advance notice to grant the massage therapists plenty of time to set up.
Address: 7 Hope Blvd, Galveston, TX 77554
Phone: (409) 683-4440
For Artsy Moms…

Catch an Outdoor Performance
Around this time of year—as the weather warms and the summer rolls in—showtimes at the Miller Outdoor Theater start picking up. If your mom is the type to support local acts and young performers, this is definitely a great place to catch a show. From Houston-based bands to youth productions by the HITS Theatre group, there's bound to be something worth seeing in this intimate public pavilion.
Group Tip: While performances are free to the public, if you want to grab a seat in the covered area close to the stage, you have to get a ticket from the box office at the northeast side of the theater. Each person is allowed a maximum of 4 tickets at a time, so if you're here with a medium- or large-sized group, you'll need to strategically send some of your patrons up to the box office to secure your tickets
Sitting on the hillside lawn is also free, but there's no way to officially reserve your spot. It's for this reason we recommend getting there early to ensure there's enough space for your group to spread out your blankets or set up your lawn chairs to enjoy the show.

Go Art-Gallery-Hopping
Does your artsy mom like a little of everything? That's okay, because the Houston art scene doesn't discriminate either. From the prestigious and stately Museum of Fine Arts, Houston to the eclectic Art Car Museum—aka the Garage Mahal—there's something to behold from nearly every palette, medium, and era.
Luckily, a lot of the city's galleries are within a few blocks of the Houston Museum District, making them an easy fit for a hop-on-hop-off gallery tour. For a mom with modern taste, you can start your journey at the Station Museum of Contemporary Art and work your way eastward, hitting up the Houston Center for Contemporary Craft on your way to the Moody Gallery Inc. local collections. Is she more of an art history buff? Start your day in the Museum of Fine Arts, containing Houston's older exhibits, and work your way to The Menil Collection for rare Paleolithic crafts.
Bus Tip: For an all-day shuttle service around the city, we recommend booking a minibus. It's compact enough to zip through the bustling Houston downtown area, yet has enough interior space to store your cameras, sketch pads, and souvenirs without compromising legroom.
For Gourmet Moms…

Get Brunch
Okay, this one may seem like a no-brainer for Mother's Day—if not a cop-out. But if you find yourself in a brunch haven such as Houston on Mother's Day, how could you pass up waffles and bottomless mimosas? Here are a few group-friendly places to get your brunch on—believe us, you'll want to share these with your friends and family.
Puebla's Mexican Kitchen
For Mexican comfort food, family recipes made with love, and locally-sourced farmhouse ingredients, this is the place to be. Enjoy the all-day, hardy breakfast fare, or sample the fan-favorite chilaquiles and made-to-order migas.
$
Address: 6320 N Main St, Houston, TX 77009, USA
Phone: (713) 426-9062
Ritual
Although it's usually praised for its smoked meats and craft beer, you should not underestimate this hip taproom's brunch game. From Breakfast Mac to the classic country ham and eggs, this place serves up mouth-watering Southern staples and a lot of them. (Seriously, there's no shame in asking for a to-go container.)
$$
Address: 602 Studewood St #1729, Houston, TX 77007
Phone: (832) 203-5180
State of Grace
This River Oaks eatery offers traditional Texan food and seafood with no shortage of elegance and polish. The menu changes with the seasons, but you can expect the likes of fried green tomato Benedict, kimchi fried rice, or shrimp and grits to grace your menu. Or, if you're not feeling brunchy after all, swing by after 5 p.m. for the place's infamous Sunday Supper with oysters, country-fried favorites, and crockpot mac and cheese.
$$$
Address: 3258 Westheimer Rd, Houston, TX 77098
Phone: (832) 942-5080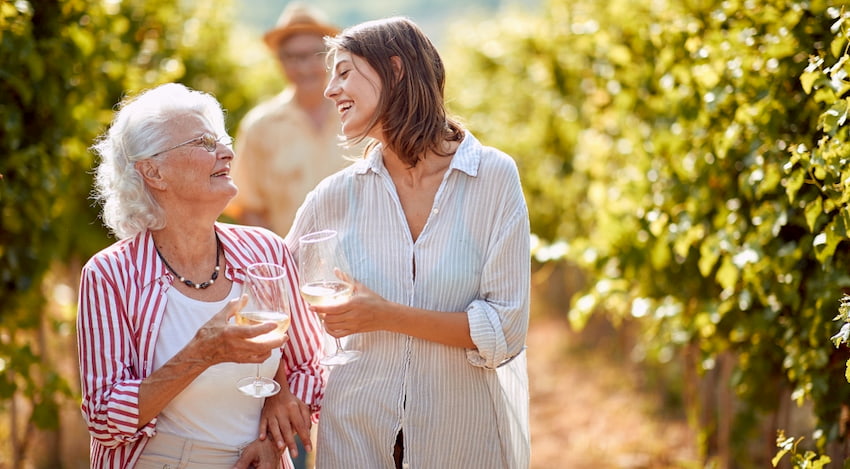 Wind Down on Texas Bluebonnet Wine Trail
Venture about an hour's drive away from Houston, and you'll find the perfect day trip for your mother/sommelier-at-heart: the Texas Bluebonnet Wine Trail. It's a string of eight small-batch wineries northwest of the city center, all of which provide unique collections from local vineyards.
If you're visiting around Mother's Day you will have just missed the area's Spring Bluebonnet Wine and Cheese Trail event. But don't sweat it. Take advantage of the slightly sparser wino crowds and tour each facility at your own pace, in relative peace. Every member winery offers tours and tastings to the public, though hours and availability differ from location to location.
Bus Tip: The perfect way to get around the Wine Trail? Book a private motorcoach! When you let a professional driver be your DD, no one has to miss out on the tastings—and if you'd like, you can even bring the libations with you on the road. That being said, if you plan to bring a drink aboard the bus, let your reservation specialist know before you book. Some operators prefer not to have alcohol in their buses, but we'll be more than happy to find you one who's open to it.
Book Your Mother's Day Transportation Today!
Whether you're hitting up any of the events listed above or planning an event of your own, you can count on Longhorn Charter Bus to make getting around Houston easy and stress-free. Our extensive network of minibuses, full-sized charter buses, and professional drivers means we can assemble nearly any fleet to suit your needs. Call 713-344-0553 to reserve your ride, and we'll offer a free, personalized quote with no obligation to book!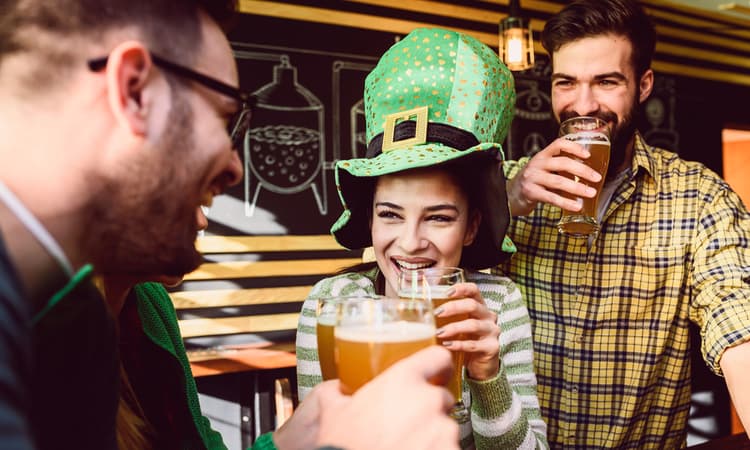 Each St. Patrick's Day, Dallas is one of the most popular places in the Southwest to celebrate Irish heritage. Sure, the city has similar activities as other cities—such as an annual parade and parties at local pubs—but Dallas does St. Patrick's Day bigger and better than most cities (this is Texas, after all).
With so many people traveling in and around Dallas for the festivities, now is the time to book your group's private charter bus. Longhorn Charter Bus is here 24/7 to help you coordinate smooth, entertaining bus trips all across Texas. For small groups, a minibus is just what you need to zip through the city in comfort. Large groups, on the other hand, will love the amenities of full-sized buses (like extra storage space for belongings and restrooms to limit stops). Call us today at (214) 206-8432 to speak with an experienced reservation specialist about your St. Patrick's Day trip!
Not sure what shenanigans to get into with friends and family this March? We created the guide below to help you and your group members find your new St. Patrick's Day tradition. 
Annual St. Patrick's Day Events
Each year, Dallas hosts some of the most popular St. Patrick's Day events in the state, including:
The Dallas St. Patrick's Day Parade & Festival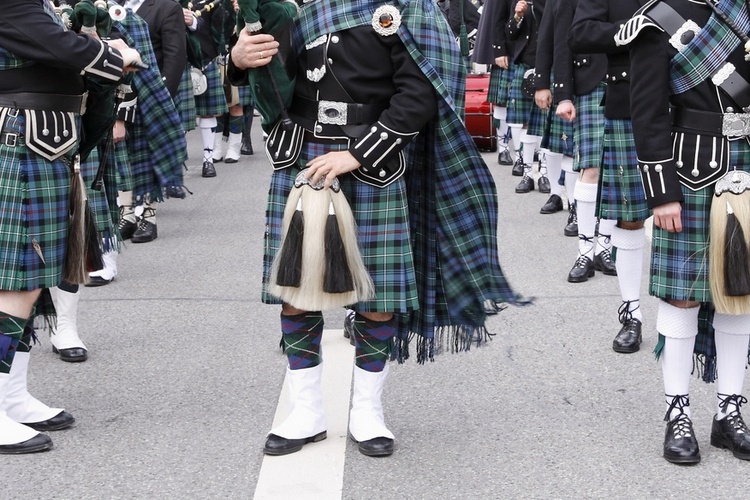 If you want to be near all of the action this St. Patrick's Day, plan to attend the
Dallas St. Patrick's Day parade and festival
. 
Known as the largest St. Patrick's Day parade in the southwest U.S., this event draws more than 125,000 attendees each year. The parade itself spans two miles, with more than 90 parade floats and 1,700 participants, such as bagpipers, marching bands, and dancers.
After the parade, stick around to enjoy food vendors, a brew fest, and a family zone filled with kid-friendly activities. This event is free to attend, but you'll want to bring along some spending money for food and activities.
Lower Greenville Avenue St. Patrick's Day Block Party
Keep the party going with a trip to Lower Greenville for the St. Patrick's Day Block Party. This 21+ event typically runs from mid-morning to late evening and features concerts, pop-up beer bars, food, and special events at nearby bars. Admission into the block party's roped-off areas is $15. 
Dash Down Greenville
Fancy a top-of-the-morning run? Each year, Run Project hosts the St. Paddy's Dash Down Greenville to support a charity and bring together a community of runners. After the race, enjoy free beer (for participants over 21), a donut-eating contest, and games at the after-party. 
St. Paddy's Pickle Parade and Palooza
Take a trip down to Mansfield, Texas—the pickle capital of Texas—for the one and only St. Paddy's Day Pickle Parade. Meet the plush, 6-foot-tall Pickle Dude mascot and his friends, the Pickle Posse, while you watch the festive floats roll by. Then, catch live musical performances, compete in a pickle-eating contest, and buy gifts by local artists at the Vendor Market. The parade and palooza are free to attend, but you'll need to bring spending money to buy goods and food from local vendors.
North Texas Irish Festival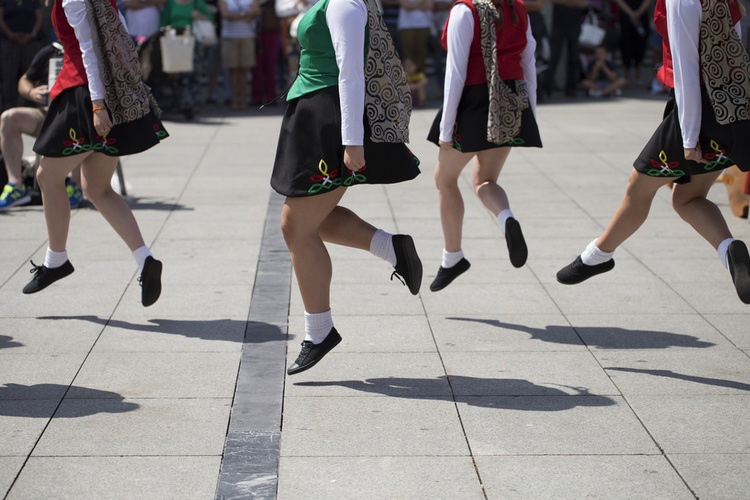 On the first weekend of March each year, Dallas's Fair Park transforms into the site of a three-day celebration of Irish history and culture. At the
North Texas Irish Festival
, you'll find performances from popular and up-and-coming Irish bands, dance groups, and more. Your group can also enjoy whiskey tastings, a fun run, music workshops, culinary demonstrations, horse shows, and chalk art displays. 
Tickets range in price from free to $20 per day, depending on how far in advance you purchase them and for which day. However, you can receive a discount on the most popular days (Saturday and Sunday) by purchasing them ahead of time or buying a two-day ticket.
The Top Irish Pubs to Visit on St. Paddy's Day
Looking for a more laid-back St. Patrick's Day activity in Dallas? Book a minibus pub crawl with Longhorn Charter Bus, and customize your itinerary to fit your group's preferences. Whether you want a bus with televisions, WiFi, or any other premium amenities, we'll hook you up with the rental that's right for you. Plus, you'll have a professional DD throughout the night!
Pro tip: Some operators allow alcoholic beverages on their buses. Ask your reservation specialist about your bus's specific policies at the time of booking!
Need some inspiration? Add these pubs to your itinerary for delicious food, brews, and socializing:
Trinity Hall
Address: 5321 E. Mockingbird Ln, Dallas, TX 75206
Dubliner
Address: 2818 Greenville Ave, Dallas, TX 75206
The Playwright Irish Pub
Address: 1722 Routh St #102, Dallas, TX 75201
The Crafty Irishman Public House
Address: 1800 Main St, Dallas, TX 75201
Cannon's Corner Irish Pub
Address: 1314 W Davis St, Dallas, TX 75208
Book Your St. Patrick's Day Bus Today!
To reserve your St. Paddy's day group transportation, call Longhorn Charter Bus any time of the day or night at (214) 206-8432. We'll provide you with a free, no-obligation quote and answers to any and every question you have about motorcoach rentals. Don't hesitate to call us to start planning your trip through DFW today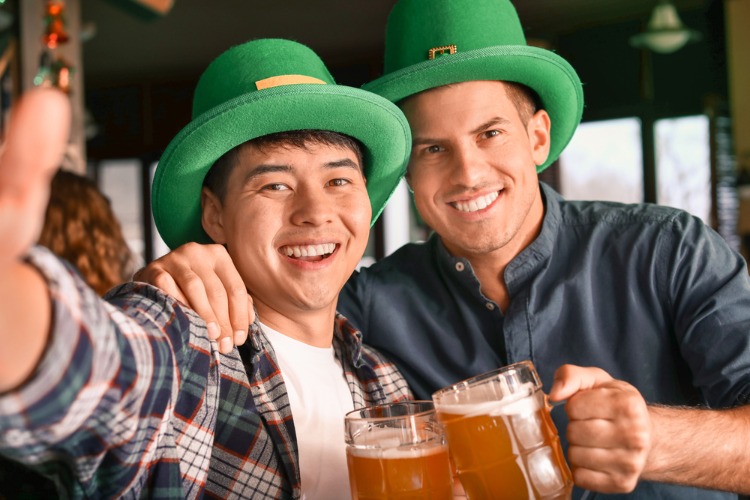 According to the DNA test I got for Christmas last year, I'm 70% Irish. Which, legally speaking, makes me an expert on celebrating St. Patrick's Day, and means I can say with authority that Houston is a great place to spend it.
I'm kidding about the law, of course, but not about Houston being an awesome place to celebrate St. Patrick's Day. In addition to a massive parade, Houston features several festivals for families and dozens of pub crawls and parties for adults. But if you're going out with coworkers, your wedding party, or the sports team you coach, you need to find something to do that's not only fun for you, but for your entire group. That's where Longhorn Charter Bus comes in.
We've compiled a list of 8 St. Patrick's Day celebrations in Houston that are great for large groups. And you know you don't want to drive when green beer is available, so let us handle that part. We'll send an experienced professional to shuttle you between festivals or bars while you lounge in a plush seat and use the optional WiFi to upload your Instagram photos. Just give us a call at 713-344-0553.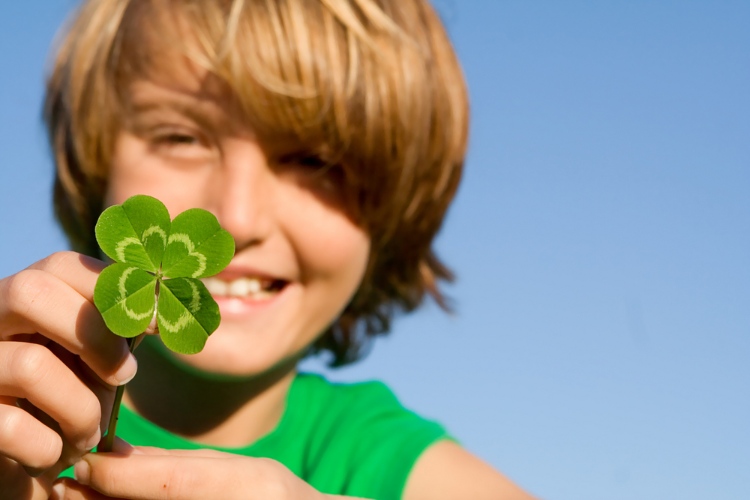 Great Activities for Families
1. St. Patrick's Day Parade
The St. Patrick's Day Parade has been an institution in downtown Houston for more than 60 years and has historically been one of the largest St. Patrick's Day parades in the U.S. The roughly 2-hour parade takes place in the area around Sesquicentennial Park and Market Square Park and features more than 100 participants, from radio stations who build green, white, and orange floats to walking groups performing Irish dances.
Where to park your bus: Your bus can drop you off near the parade route so you can walk to a viewing area, but oversize vehicle parking is also available in the flat lot at 800 Preston St.
Address: 800 Preston St, Houston, TX 77002
2. St. Patrick's Day Celebration at McGonigel's Mucky Duck
McGoniegl's Mucky Duck is a pub, but its St. Patrick's Day celebration is for all ages and legendary across Houston. Dine on shepherd's pie, fish and chips, corned beef and cabbage, and bread pudding soaked in Jameson sauce while watching performances by Irish singers, dancers, and bands. In 2020, the entertainment includes Pat Byrne, Frances Cunningham, and the Flying Fish Sailors.
If you have an after-school group or youth sports team with you, sign up for the Faerie Tea Party! Your kids will receive admission to the regular celebration as well as to Faerie Land, where they can meet Rowan, Crystal, and Titania. Tickets for both the tea party and the celebration as a whole tend to sell out quickly, so make sure you book online in advance if you're bringing a large group.
Where to park your bus: McGonigel's has a small parking lot and surrounding street parking that may work if you took a sprinter van or minibus. If you took a full-size charter bus, though, you'll probably have to ask your driver to drop you off and park farther away (the area around Levy Park, described below, could be a good place to look).
Address: 2425 Norfolk, Houston, TX 77098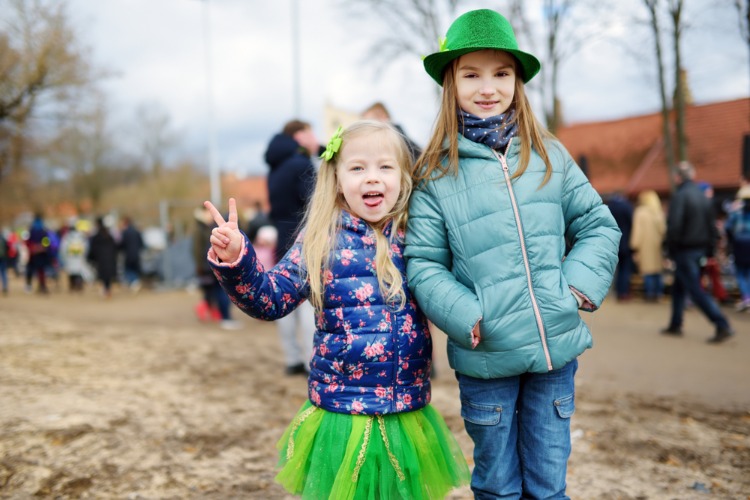 3. St. Patrick's Day Festival at Levy Park
The Levy Park festival is free, which makes it a great choice for large groups. Let your kids complete the leprechaun-themed scavenger hunt or take pictures in the photo booth while you enjoy snacks and drinks from the stalls scattered throughout the park. This event also includes live music from local bands. In 2020, Skyrocket! will headline with their high-energy covers of '70s and '80s hits.
Where to park your bus: Street parking can be found adjacent to the park as well as along Eastside Street and Wakeforest Avenue. You can also use the Kirby Grove parking garage on the corner of Wakeforest and Richmond, but the garage is a better option for vans or minibuses than for full-size buses.
Address: 3801 Eastside St, Houston, TX 77098
Great Activities for Adults
4. St. Patrick's Day Party at Saint Arnold Brewing Company
Celebrate one saint's day at a bar named for another. This brewery, beer garden, and restaurant holds a party every year with live music, food, appropriately themed pint glasses, and the Donegal Beard Growing Competition. Yes, beard growing competition. Admission is free, though you'll have to pay for the beer and for dishes like corned beef and cabbage and beef stew in a bread bowl.
Where to park your bus: You can find parking along Lyons Avenue and Maury and Providence streets, as well as directly behind the brewery.
Address: 2000 Lyons Ave, Houston, TX 77020
5. Luck of the Irish St. Paddy's Pub Crawl
This annual pub crawl in midtown Houston starts at Pub Fiction before winding through The Dogwood, Belle Station, and Little Woodrow's. Enjoy drink and food specials at all of the participating bars, and don't forget to book your transportation early so everyone can enjoy themselves and still get home safely. Longhorn Charter Bus is happy to be your DD.
Where to park your bus: Since a pub crawl can take awhile, you may want to let your driver return to your hotel or another resting place and return to pick you up later. However, there are public paid parking lots throughout Midtown that your bus can use if needed.
Address: 2303 Smith St #100, Houston, TX 77006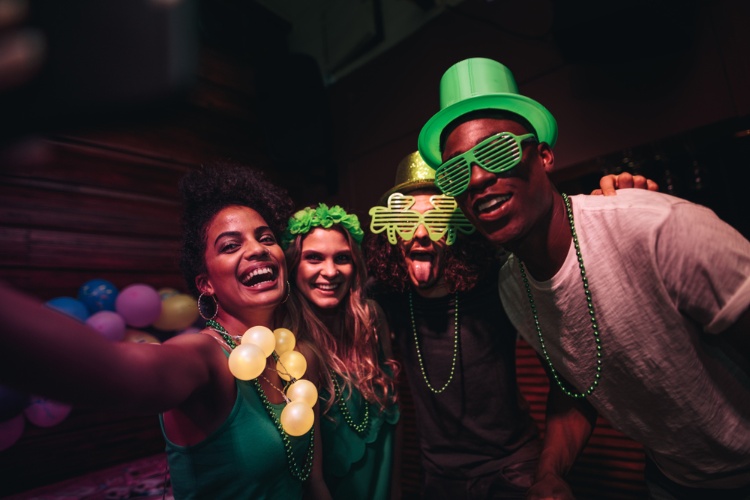 6. Howl at the Moon St. Patrick's Day Party
This piano bar and restaurant, known for its giant, shareable "bucket" drinks and live music, hosts a huge St. Patrick's Day celebration every year. You'll find face painting, $3 green beers, $4 Jameson shots, and $5 Irish Car Bombs as well as the venue's usual live music during this massive party.
Where to park your bus: Howl at the Moon has very limited parking around it, so your driver may need to drop you off before parking in a paid lot farther away. The good news is that you won't have to worry about finding parking for all of your group's cars—you can be picked up and dropped off within easy walking distance.
Address: 612 Hadley St, Houston, TX 77002
7. Bringin' in the Green
If you want to celebrate St. Patrick's Day by supporting a good cause, buy a ticket to this fundraising event hosted by The Montrose Center. For $40 ($30 if you're under 30 or over 60) you can enjoy hors d'oeuvres and an open bar and participate in the silent auction. The money from your ticket will support rapid rehousing for homeless LGBTQ+ youth in Houston, making this one of the few St. Patrick's Day parties where you'll know you're doing good while having a good time.
Where to park your bus: The event is held in a residential area, but the nearby Plaza in the Park shopping mall offers an expansive parking lot where your bus can go after it drops you off.
Address: 2346 Wroxton Rd, Houston, TX 77005
8. St. Patrick's Day Festival at Griff's Irish Pub
Proudly calling itself Houston's oldest sports bar, Griff's has been hosting a massive St. Patrick's Day celebration for more than 50 years. Every March, an exciting lineup of live bands and Irish dancers takes over the bar while a DJ plays music on the porch and the kitchen serves corned beef and cabbage. You can also get your face painted or indulge in a few glasses of green beer.
Where to park your bus: You definitely won't want to drive after this celebration. Parking in the area is limited, though, so your driver may want to drop you off and return to your hotel or a paid parking lot before coming to pick you up.
Address: 3416 Roseland St, Houston, TX 77006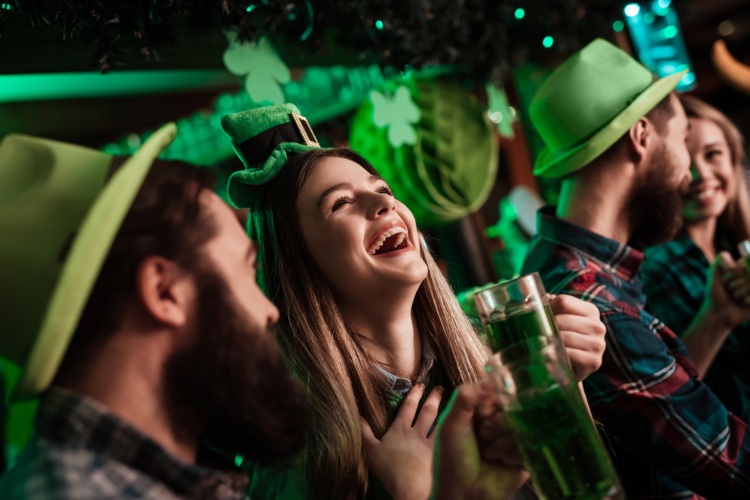 Celebrate St. Patrick's Day in Houston with Your Group
Whether you want to party with a big group of coworkers at a bar or treat your youth group to a festival downtown, you can find an amazing St. Patrick's Day event in Houston. Once you've decided which party you want to go to, buy your tickets if the event requires them and call Longhorn Charter Bus at 713-344-0553 to book your transportation. We'll take care of the driving so you can celebrate without worrying about getting home safely.