What to Do in Houston this Mother's Day
Mother's Day is approaching fast. Now's the time to say "thanks" and celebrate the mothers in your life, and Houston is just the place to do so.
Whether you're planning a family reunion, an outing for your senior community, a congregation-wide event, or anything in between, Longhorn Charter Bus is here to help. Show them how much you appreciate them by reserving a private bus that caters to their every need. That way, your lovely ladies—as well as their family and friends—can share photos of their day over onboard WiFi, watch their favorite films over personal TV screens, or kick up their heels in a reclining seat and just relax. Just let the Longhorn Charter Bus team know what amenities you want when you call 713-344-0553 to book.
But what kind of day should you plan for your group of moms? Well, it depends on what they find interesting.
For Sporty Moms…

Catch a Houston Astros Game
This year, Mother's Day weekend happens to line up with a stretch of home games against the Mariners. If you've got a sporty mom on your hands—or even a group of them—it's the perfect year to take them out to the ball game!
In the past, Minute Maid Park has offered exclusive Mother's Day packages that included limited edition replica jerseys, access to in-park wine tastings, and even a yoga session on the field. Specials like these tend to sell out fast, so keep an eye on the Astros ticketing site to snatch up yours before they're gone.
For an even more in-depth experience, consider signing up for a tour of the park! You'll get a firsthand look at all the best viewing spots within the stands, a rundown of the park's history, and even a chance to watch the Astros pregame batting practice. And yes, you can still tour Minute Maid Park on a home game day, just so long as you've purchased a ticket to that day's game.
Bus Tip: If you're taking a charter bus or minibus, your driver can drop you off along any street adjacent to the ballpark, including the protected left lane along Texas Avenue on the south side of Minute Maid Park. From there, your driver will need to park on Bastrop Street, which is quite a few blocks away. So be sure you have everything you need for the game when you're dropped off—it won't be easy to access the bus until your driver picks you back up along Hamilton Street after the game.

Race in the 5K Mamas Fun Run
Would she rather get her heart pumping? Sign up for this lowkey and family-friendly 5K, and she'll definitely get her steps in for the day—all for a good cause.
This race is geared toward mothers-to-be and current moms, but families and pets are more than welcome to participate! After you've rallied through the final stretch, breakfast, mini massages, finisher medals, and (if you're a mom) gifted flowers await you. The best part? 100% of proceeds go to 9 Months of 5K's Pregnancy House Project, which provides housing and resources for first-time moms in need.
Bus Tip: The race starts and ends at MacGregor Park. So after your driver drops your racers off for packet pick-up at 6 a.m., they can either look for a parking spot within the park or—more likely—find a bus-friendly lot within the Greater OST neighborhood. That way, your ride will be nearby and ready to round everyone up when you're ready to head home.
Address: 5225 Calhoun Rd, Houston, TX US 77021
Phone: 832-844-1754
For Classy Moms…

Take Afternoon Tea in Bellaire or Upper Kirby
If your mother prefers more of a pinkies-up kind of affair, Houston tea rooms deliver. Here are a couple of local favorites where you can take afternoon tea with your classy lady.
McHugh Tea Room
A teatime reservation here includes 3 types of finger sandwiches, 3 types of small confectionaries, 2 types of scones, and, of course, your choice of tea—including a rich Ginger Pu-erh, a brisk Egyptian Peppermint, a light Honeysuckle Fig Oolong, and much, much more. For an additional charge, this tea room will throw in bottomless mimosas, wine, or champagne. Just reserve at least 24 hours in advance by calling (713) 218-6300.
Group Tip: This place's afternoon tea event is geared toward small to medium parties—with a 2-person reservation minimum and a 17-person maximum. If you're planning for a turnout of 18 or more, consider reserving a private party room instead.
Address: 5305 Bissonnet St #D, Bellaire, TX 77401
Phone: (713) 960-8472
Kiran's Restaurant
Or, if you don't mind celebrating Mother's Day a bit early, this Old Kirby haunt offers afternoon tea service every Friday and Saturday at 2 p.m. While Kiran's teatime menu is highly curated and selective, you can count on this upscale Indian fusion eatery to deliver elegant cups of Chai, Darjeeling, and Earl Grey alongside fine dining dishes—such as duck and orange marmalade finger sandwiches, wild mushrooms en croute with a fig chutney, and lemon mousse cakes.
Group Tip: You can reserve you and your guests' seats in advance by calling ahead, but if you're planning a get-together with 20 or more, consider booking a private dining room instead.
Address: 2925 Richmond Ave, Houston, TX 77098
Phone: (713) 960-8472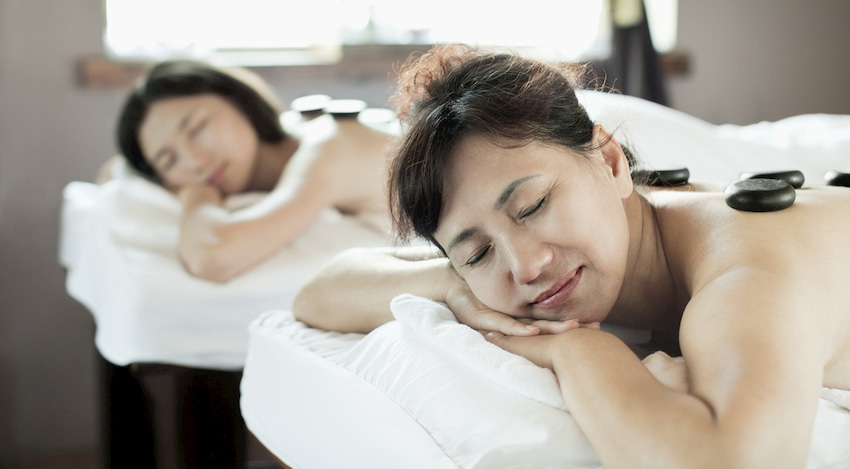 Enjoy a Spa Day in Galveston
What better way to show her you care than a well-deserved day of rest and relaxation?
Services at the Moody Gardens Hotel and Spa can last anywhere from 20 minutes to 6 hours, depending on what you book. So whether you want to pop in for a short and sweet hydrotherapy bubble bath or you've got a day full of massages, facials, and mani-pedis ahead of you, there's sure to be something to pamper your special lady as she pleases.
Group Tip: Although walk-ins are accepted, parties of 5 or more should give the spa a 72-hour advance notice to grant the massage therapists plenty of time to set up.
Address: 7 Hope Blvd, Galveston, TX 77554
Phone: (409) 683-4440
For Artsy Moms…

Catch an Outdoor Performance
Around this time of year—as the weather warms and the summer rolls in—showtimes at the Miller Outdoor Theater start picking up. If your mom is the type to support local acts and young performers, this is definitely a great place to catch a show. From Houston-based bands to youth productions by the HITS Theatre group, there's bound to be something worth seeing in this intimate public pavilion.
Group Tip: While performances are free to the public, if you want to grab a seat in the covered area close to the stage, you have to get a ticket from the box office at the northeast side of the theater. Each person is allowed a maximum of 4 tickets at a time, so if you're here with a medium- or large-sized group, you'll need to strategically send some of your patrons up to the box office to secure your tickets
Sitting on the hillside lawn is also free, but there's no way to officially reserve your spot. It's for this reason we recommend getting there early to ensure there's enough space for your group to spread out your blankets or set up your lawn chairs to enjoy the show.

Go Art-Gallery-Hopping
Does your artsy mom like a little of everything? That's okay, because the Houston art scene doesn't discriminate either. From the prestigious and stately Museum of Fine Arts, Houston to the eclectic Art Car Museum—aka the Garage Mahal—there's something to behold from nearly every palette, medium, and era.
Luckily, a lot of the city's galleries are within a few blocks of the Houston Museum District, making them an easy fit for a hop-on-hop-off gallery tour. For a mom with modern taste, you can start your journey at the Station Museum of Contemporary Art and work your way eastward, hitting up the Houston Center for Contemporary Craft on your way to the Moody Gallery Inc. local collections. Is she more of an art history buff? Start your day in the Museum of Fine Arts, containing Houston's older exhibits, and work your way to The Menil Collection for rare Paleolithic crafts.
Bus Tip: For an all-day shuttle service around the city, we recommend booking a minibus. It's compact enough to zip through the bustling Houston downtown area, yet has enough interior space to store your cameras, sketch pads, and souvenirs without compromising legroom.
For Gourmet Moms…

Get Brunch
Okay, this one may seem like a no-brainer for Mother's Day—if not a cop-out. But if you find yourself in a brunch haven such as Houston on Mother's Day, how could you pass up waffles and bottomless mimosas? Here are a few group-friendly places to get your brunch on—believe us, you'll want to share these with your friends and family.
Puebla's Mexican Kitchen
For Mexican comfort food, family recipes made with love, and locally-sourced farmhouse ingredients, this is the place to be. Enjoy the all-day, hardy breakfast fare, or sample the fan-favorite chilaquiles and made-to-order migas.
$
Address: 6320 N Main St, Houston, TX 77009, USA
Phone: (713) 426-9062
Ritual
Although it's usually praised for its smoked meats and craft beer, you should not underestimate this hip taproom's brunch game. From Breakfast Mac to the classic country ham and eggs, this place serves up mouth-watering Southern staples and a lot of them. (Seriously, there's no shame in asking for a to-go container.)
$$
Address: 602 Studewood St #1729, Houston, TX 77007
Phone: (832) 203-5180
State of Grace
This River Oaks eatery offers traditional Texan food and seafood with no shortage of elegance and polish. The menu changes with the seasons, but you can expect the likes of fried green tomato Benedict, kimchi fried rice, or shrimp and grits to grace your menu. Or, if you're not feeling brunchy after all, swing by after 5 p.m. for the place's infamous Sunday Supper with oysters, country-fried favorites, and crockpot mac and cheese.
$$$
Address: 3258 Westheimer Rd, Houston, TX 77098
Phone: (832) 942-5080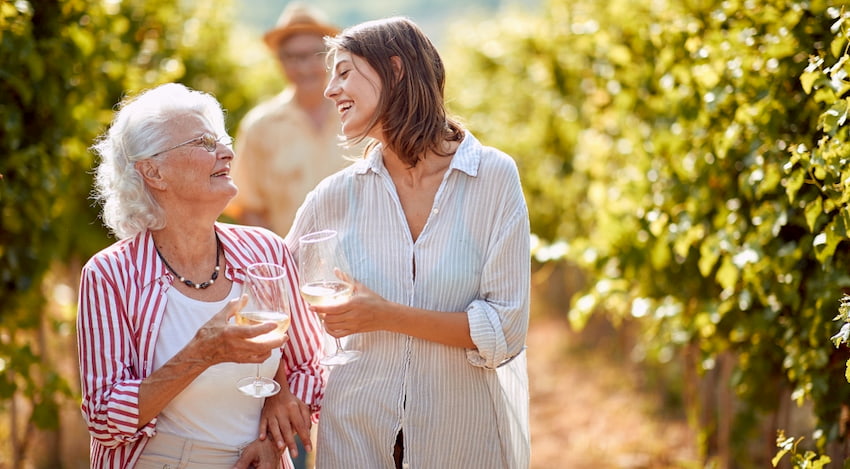 Wind Down on Texas Bluebonnet Wine Trail
Venture about an hour's drive away from Houston, and you'll find the perfect day trip for your mother/sommelier-at-heart: the Texas Bluebonnet Wine Trail. It's a string of eight small-batch wineries northwest of the city center, all of which provide unique collections from local vineyards.
If you're visiting around Mother's Day you will have just missed the area's Spring Bluebonnet Wine and Cheese Trail event. But don't sweat it. Take advantage of the slightly sparser wino crowds and tour each facility at your own pace, in relative peace. Every member winery offers tours and tastings to the public, though hours and availability differ from location to location.
Bus Tip: The perfect way to get around the Wine Trail? Book a private motorcoach! When you let a professional driver be your DD, no one has to miss out on the tastings—and if you'd like, you can even bring the libations with you on the road. That being said, if you plan to bring a drink aboard the bus, let your reservation specialist know before you book. Some operators prefer not to have alcohol in their buses, but we'll be more than happy to find you one who's open to it.
Book Your Mother's Day Transportation Today!
Whether you're hitting up any of the events listed above or planning an event of your own, you can count on Longhorn Charter Bus to make getting around Houston easy and stress-free. Our extensive network of minibuses, full-sized charter buses, and professional drivers means we can assemble nearly any fleet to suit your needs. Call 713-344-0553 to reserve your ride, and we'll offer a free, personalized quote with no obligation to book!