The Best Group-Friendly BBQ Spots in San Antonio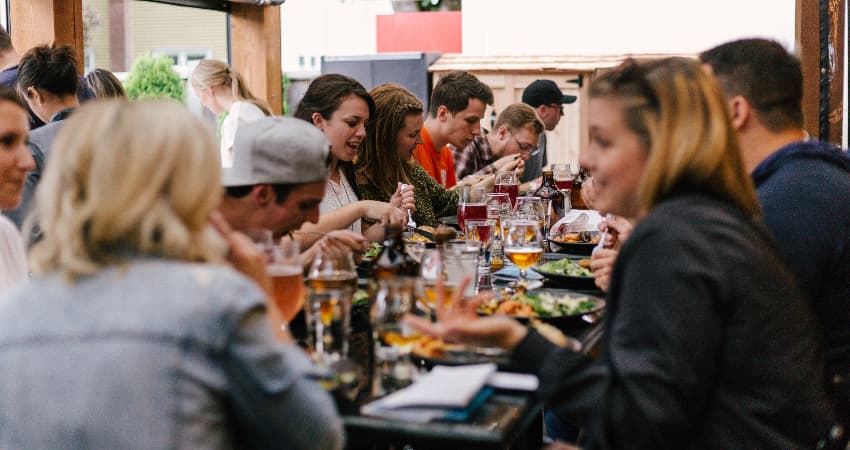 What's one of the first things you think of when someone mentions Texas? The Old West? Horses and ranching? The Dallas Cowboys? I think about barbecue (c'mon, I can't be the only one). Texas pit barbecue is an art form, and visitors should make it a top priority to grab a bite, especially if you're a group of foodies.
The Austin and Dallas areas are usually hailed for their top-tier barbecue, but let's not forget San Antonio! Alamo City has an impressive selection of pit barbecue spots if you're planning a trip around South-Central Texas. Grab lunch after a long day of private group tours at historic sites, plan a company happy hour, or book a casual wedding reception filled with all the tasty food you want. If you'll need big group transportation to your barbecue spot of choice, call Longhorn Charter Bus at 210-686-0796. Longhorn will get your dining group a minibus or charter bus to avoid any parking hassles and eliminate the dread of driving after eating your bodyweight in brisket. Believe me, having a personal driver and a spacious seat to stretch out in is a good way to let your food settle.
Picking a San Antonio barbecue spot can be tough, but here are a few top contenders for group-friendly options:
Smoke Shack BBQ + Southern Kitchen
Address: 3714 Broadway, San Antonio, TX 78209
Phone: 210-957-1430
If you're traveling down bustling Broadway Street, it's hard to miss Smoke Shack and its recognizable roof painted with the Texas state flag. Smoke Shack is one of the busiest barbecue joints in San Antonio, offering guests all the standard Texas fare in a rustic and casual atmosphere. Get your fill of beef brisket, tender ribs, crispy fried chicken, and delicious Southern sides like okra and mac 'n' cheese. Smoke Shack is a wonderful barbecue spot for groups to visit after a long day at Brackenridge Park, Witte Museum, or the San Antonio Zoo. It's right next door! Or are you planning an event in the park? Get Smoke Shack to cater your birthday party, school field trip, or other big occasion.
Charter bus travel tip: Groups traveling by charter bus should organize parking at Brackenridge Park while dining. Smoke Shack is always busy, and parking for your shuttle will be limited. If you're planning to grab food after visiting Breckenridge, have your driver drop your group off before parking off-site.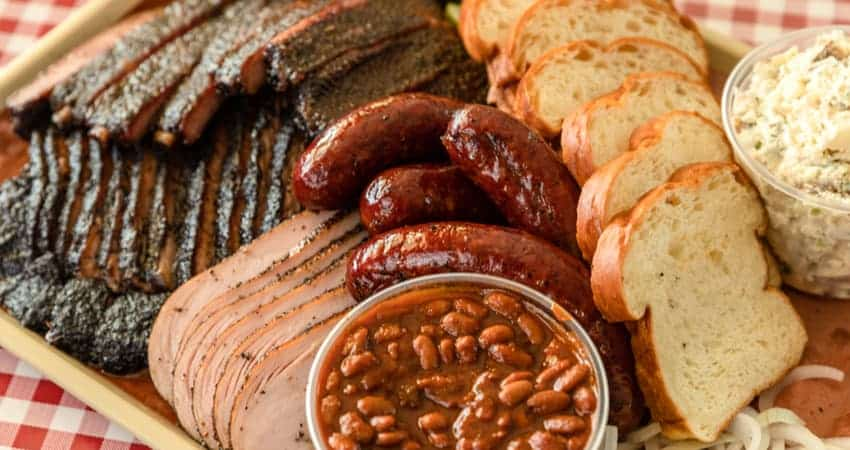 The Big Bib BBQ
Address: 104 Lanark Dr, San Antonio, TX 78218
Phone: 210-654-8400
The Big Bib is a black-owned barbecue spot serving up wood-smoked meats and Southern side dishes in North San Antonio. Known for its pulled pork, rib tips, potato casseroles, and variety of homemade sauces, this spot will give your group more than enough to satiate your palates. You'll also find live music out on the restaurant's spacious patio on select evenings. Enjoy smooth jazz and a bite (or two, maybe three) out on the patio with your friends and family.
Along with its main dining room, Big Bib also has an event center right next door. Big Bib Too is equipped with a full bar, stage, lighting and sound system, and attentive staff for your event. Plan a company holiday event, a birthday bash, a graduation party, or any other type of big event. When you book your event at Big Bib Too, leave the guest transportation to Longhorn Charter Bus. Everyone can enjoy mouthwatering meals and refreshing drinks and dance the night away while a professional charter bus driver safely shuttles them home at the end of the night.
Charter bus travel tip: Big Bib has plenty of parking for guests traveling in standard vehicles, but if you're traveling by bus during a dinner rush, you may need to organize additional parking. Let the restaurant's event staff know your guest count and the number of charter bus rentals you'll have.
B&B Smokehouse
Address: 2619 Pleasanton Rd, San Antonio, TX 78221
Phone: 210-921-2745
B&B Smokehouse has been serving up Texas-style barbecue for San Antonians since 1984. From homemade hamburgers and smoked turkey sandwiches to barbecue beef and pork ribs, B&B Smokehouse has all the traditional favorites. You'll also find po'boys, tacos, and baked potatoes that you can load up with signature house-smoked meats. The barn-style smokehouse is just a couple miles from San Antonio Missions National Historical Park and should be your lunch stop after a history tour. B&B has a spacious dining room: just be sure to call ahead to ensure they'll have available seating options for your large group.
Charter bus travel tip: Parking can be tight at B&B Smokehouse. So if you're shuttling your Missions Park tour group to the smokehouse for a bite, you'll likely have to organize off-site or street parking on busy days.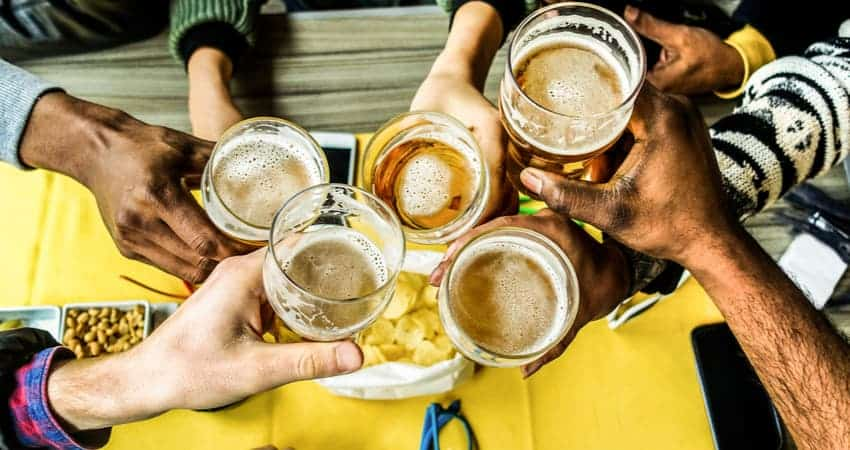 B&D Ice House
Address:1004 S Alamo St, San Antonio, TX 78210
Phone: 210-225-9801
Barbecue and beer? Sign me up! From a distance, B&D Ice House may look like a hole in the wall, but they have mouthwatering food and friendly service, making this place well worth a stop. B&D's interior dining area is small, but there's an outdoor patio with picnic tables for an easy group dining experience. Grab popular items like fall-off-the-bone ribs, brisket sandwiches, BBQ Frito pies, chili mac 'n' cheese, and stuffed jalapenos. There's also a good selection of craft beer and local wines from Hill Country vineyards. B&D doesn't offer reservations, but it's recommended you call ahead to see how many picnic tables are available to seat your group.
Charter bus travel tip: Unfortunately, B&D doesn't have its own parking lot, and all parking options are along the street or in nearby public lots. A smaller model of minibus may fit along the street, but if you're traveling by charter bus, have your driver drop your group off before parking off-site.
2M Smokehouse
Address: 2731 S WW White Rd, San Antonio, TX 78222
Phone: 210-885-9352
If you're in the Lower Southeast Side neighborhood at the right time, you'll want to stop at 2M Smokehouse. This barbecue joint has limited hours but a dedicated clientele for their tasty Mexican-inspired Texas barbecue. This local spot is so busy that guests often line up prior to opening to snag popular items like beef ribs, pork ribs, and house-made sausages infused with serrano peppers and Oaxaca cheese. The restaurant is counter service and sells meats by the pound, sandwiches, tacos, and sides like elotes. If you're a fan of barbacoa, check out 2M on the first Sunday of the month for their special—it sells out extra fast, so be quick!
Groups planning a trip over to 2M should consider pre-ordering their food. Pre-orders are available for meals of $100 or more with a $50 deposit. Just be sure you're right on time (or let 2M know you're running late) to get your food or it will be sold.
Charter bus travel tip: 2M Smokehouse is no stranger to lines, and parking in the lot can get messy. Additional parking is available along the street, but you may have to walk quite a ways to get to the smokehouse. Have your driver drop everyone off to hop in line before they park along the street.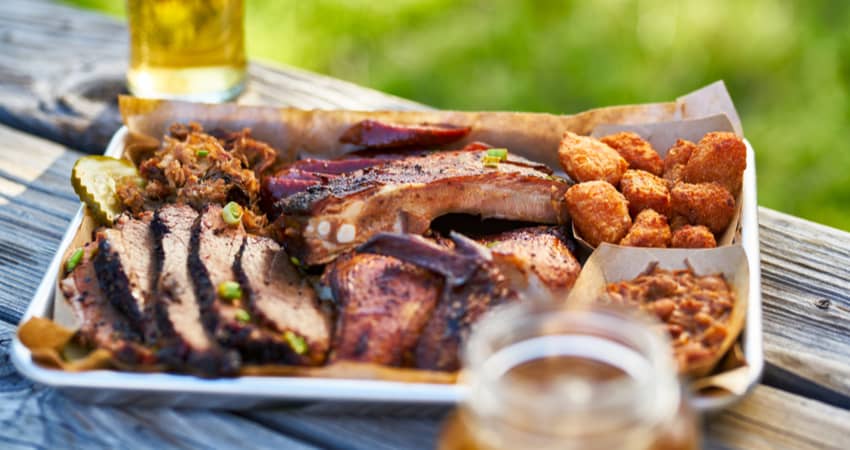 Two Bros. BBQ Market
Address: 12656 West Ave, San Antonio, TX 78216
Phone: 210-496-0222
If you're looking for a kid-friendly barbecue spot with plenty of seating, Two Bros. BBQ Market is the place to plan events like a reunion with friends and family. Two Bros. has a large enclosed play yard for the kids to enjoy while adults relax at picnic tables under a canopy of shady oak trees. Fill your bellies with large servings of pulled pork, smoked chicken, cherry-glazed ribs, and essential Southern sides like potato salad and BBQ beans. Don't forget to save room for dessert too! Two Bros. has beloved banana pudding and deep-fried strawberry pies to satiate your sweet tooth.
Two Bros. doesn't usually take reservations for solo diners or couples, but large groups can call ahead to snag a table. Indoor seating includes long community table options. You can also opt to sit on the spacious patio.
Charter bus travel tip: Parking can get tight on busy days, but thankfully, Two Bros. is located right across the street from Walker Ranch Historic Landmark Park. If you're traveling in an oversized vehicle like a charter bus or a minibus, you can explore additional parking options at the park's public lots.
Ready to Experience Barbecue Texas Style?
Booking a charter bus to enjoy barbecue may sound like overkill, but if you're planning a large gathering, you just may need one. Whether you're organizing a birthday party at Big Bib or school field trip dining with Smoke Shack, Longhorn Charter Bus can handle your group transportation. Keep your mind on the food while all the driving and parking is handled. Call 210-686-0796 to get a personalized charter bus quote at any time!