7 Budget-Friendly Activities Your Group Can Do in Dallas
As the home of celebrities like Selena Gomez and Erykah Badu and businesses like American Airlines and AT&T, Dallas is often associated with money and glamour. But that doesn't mean it's impossible to have fun in the city on a budget. Dallas actually boasts many free or inexpensive attractions, from memorials and parks to art museums and walking trails. 
If you're trying to get around the Dallas-Fort Worth area without spending too much money, you'll need to think carefully about your transportation. Dallas has public transit, but the city still relies heavily on cars, and calling rideshares or renting cars for a dozen or more people can quickly become expensive.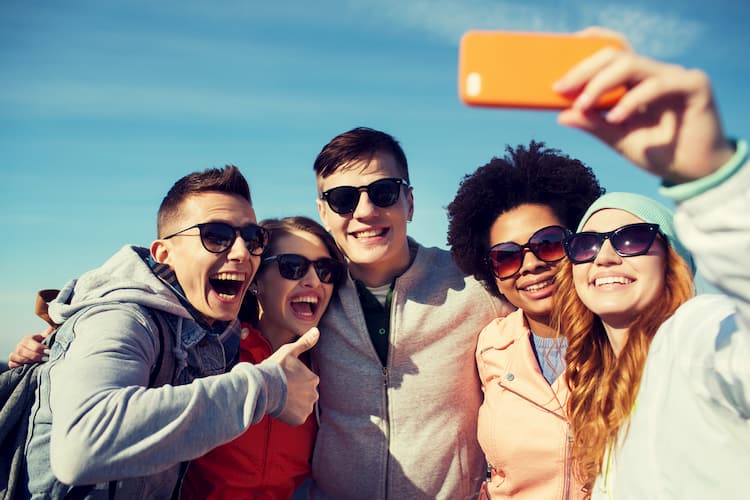 A charter bus rental may seem like an expensive option as well, and it certainly can be. But when the cost is divided among everyone in your group, it actually offers a relatively affordable way to get around the city. If you think a bus might be the right choice for you, Longhorn Charter Bus can help you find one based on your group size, preferred amenities, and budget. Just give us a call at 214-206-8432, and then get ready to experience Dallas on a budget.
1. See the longhorn statues at Pioneer Plaza.
What could be more Dallas than a series of statues depicting cows and cowboys? Pioneer Plaza lies along the historic Shawnee Trail, which used to be home to hundreds of cowboys driving herds of longhorn cattle. Pioneer Plaza now commemorates its history with 49 bronze cattle statues accompanied by 3 bronze cowboys. Some of the cow statues even stand in running water, making this an excellent place for an Instagram photo.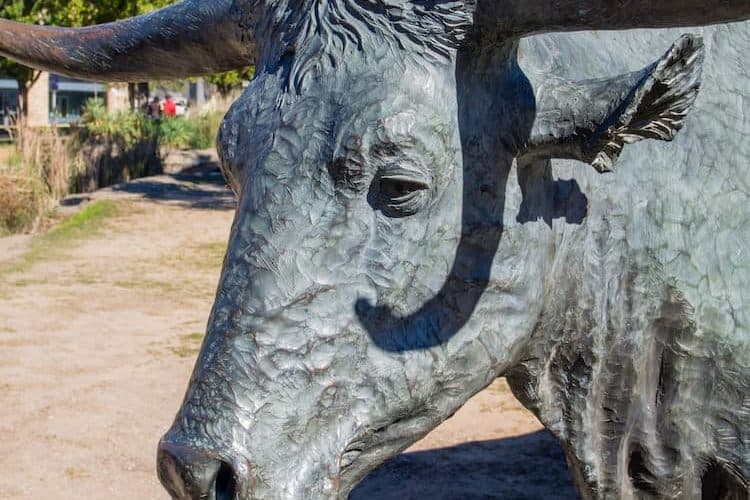 The plaza lies in the heart of downtown Dallas, so parking can be tricky. You'll either want to reserve parking in a nearby paid lot or have your bus drop you off and return to the hotel while you wander around downtown. Pioneer Plaza is a great starting point for exploring Dallas, since you'll be near the John F. Kennedy Memorial, City Hall and the Kay Bailey Hutchison Convention Center. 
Drop-off address: 1428 Young St, Dallas, TX 75202
2. Visit the site of John F. Kennedy's assassination. 
Near Pioneer Plaza you'll find another, much sadder piece of Dallas's history. Dealey Plaza marks the spot where John F. Kennedy was assassinated in 1963. You can see the plaza itself, the exterior of the former School Book Depository, and the infamous grassy knoll for free. However, your group will have to pay if you want to see the exhibits at the Sixth Floor Museum inside the Depository. The museum features detailed displays about JFK's presidency and his final visit to Dallas, but if a visit doesn't lie within your budget, seeing the outside of the building is still worth it.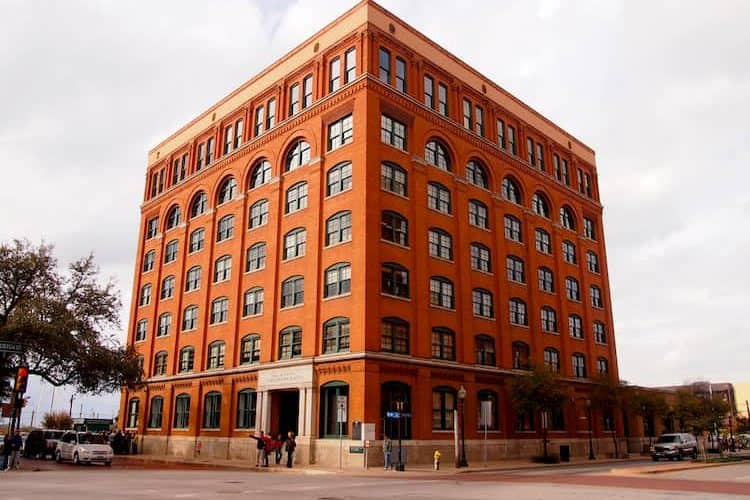 Once you've visited the place where the assassination occurred, you can pay your respects at the John F. Kennedy Memorial. Designed by Philip Johnson, a friend of the Kennedy family, the memorial resembles a square, concrete room with an open roof to symbolize Kennedy's spirit flying free beyond the tomb. 
Like Pioneer Plaza, Dealey Plaza lies in the center of downtown, so parking options are limited. You'll probably want to ask your driver to drop you off near the memorial or the Depository and then return to pick you up once you've finished exploring. 
Drop-off addresses: 646 Main St, Dallas, TX 75202 (John F. Kennedy Memorial)
411 Elm St, Dallas, TX 75202 (Depository and Sixth Floor Museum) 
3. Explore free art museums in the Dallas Arts District.
Two of Dallas's most popular museums, the Dallas Museum of Art and the Crow Museum of Asian Art, offer free general admission every day. At the DMA, you'll find art that spans the globe, from the Islamic world to the Americas, Africa, Europe, and the Pacific Islands. Your group can either wander around the museum for free or book a tour with a docent for $5 per person.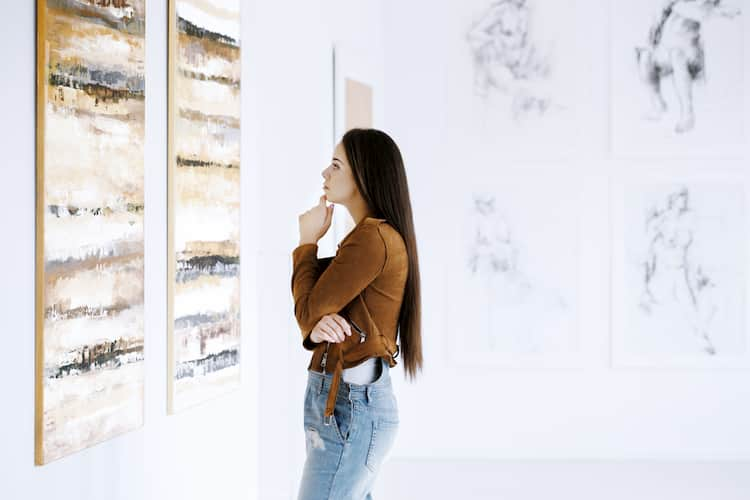 If you'd like to see art from throughout Asia, including works from India, China, Japan, and Korea, plan a visit to the Crow Museum. Named for the couple who first started the collection, this free museum features exhibits exploring everything from samurai culture to Tibetan Buddhist art. 
Both of the museums have parking garages, but they can only accommodate small minibuses. The good news is that the two museums are right next to each other, so if you want to visit both in one day, your bus will only need to drop you off once. You can then walk to the second museum and have your driver pick you up there when you're done. 
Drop-off addresses: 1717 N Harwood St, Dallas, TX 75201 (Dallas Museum of Art)
2010 Flora St, Dallas, TX 75201 (Crow Museum of Asian Art) 
4. Spend an afternoon in Klyde Warren Park.
Klyde Warren isn't your typical public park. Sure, you'll find walking trails, playgrounds, and picnic tables, but you'll also find yoga classes, storytime events for children, live music, and arts festivals. During lunchtime many of Dallas's most popular food trucks show up to peddle their wares, and the park shows movies on a massive screen on Saturday nights during the summer.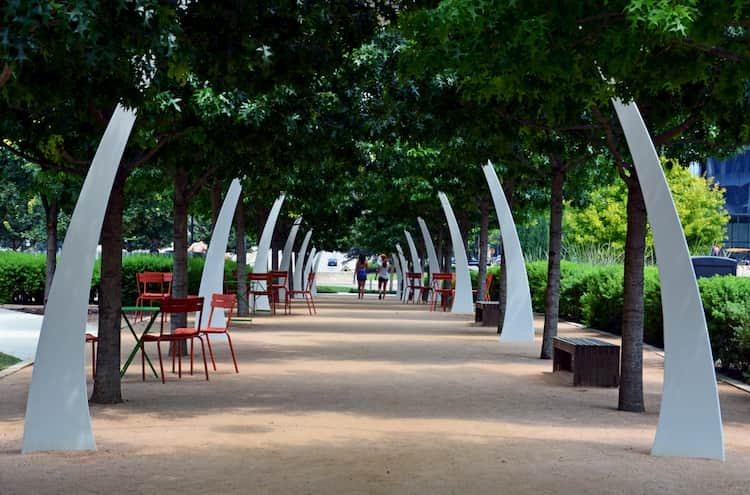 If you're lucky enough to be in Dallas during one of the park's seasonal festivals, you can take part in a free celebration your group will never forget. The Food & Wine Festival is held in May, while late June or early July brings the Independence Day Celebration. In September, you can check out the Avance Latino Street Fest. 
The park is surrounded by paid parking garages and metered street parking, but if you want to save money and ensure your bus has enough space, you may want to opt for getting dropped off. When your bus picks you up, your driver can blast the air-conditioning to help you cool off while you lean back in your reclining seat. 
Drop-off address: 2012 Woodall Rodgers Fwy, Dallas, TX 75201
5. Go to Thanks-Giving Square and visit the Chapel of Thanksgiving.
Originally constructed in the 1970s, Thanks-Giving Square was conceived by a group of Dallas businessmen who wanted to celebrate Dallas's character as well as its economic growth. They financed the construction of a peaceful garden and an all-faiths chapel, and they chose the name "Thanks-Giving" because they believed gratitude was valued by all religions.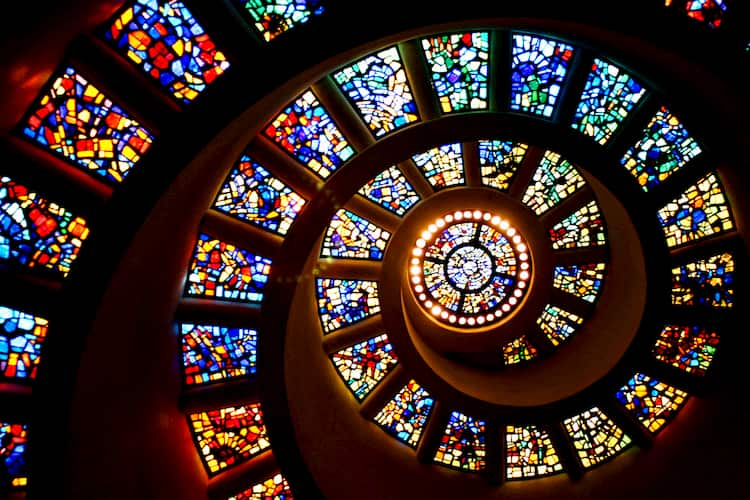 Today, the chapel draws both religious groups and non-religious groups looking for a place to relax and reflect. While the garden is beautiful, the chapel is without a doubt the main attraction. When you gaze up at the soaring spiral ceiling, you'll see dozens of stained-glass panels in an array of vibrant colors. This is yet another downtown Dallas location with limited parking for buses, so take advantage of fun amenities like WiFi while your driver navigates the traffic and drops you off at the entrance. 
Drop-off address: 1627 Pacific Ave, Dallas, TX 75201
6. Walk on the Katy Trail.
Sometimes when you're visiting a city as big as Dallas, you just need to see trees for a while. Dallas's most popular walking, running, biking, and skating trail runs from Reverchon Park in the south to Southern Methodist University in the north. Although parts of Katy Trail are more urban, most of it winds past trees, lakes, and rivers, making it the perfect place to unwind after a business meeting.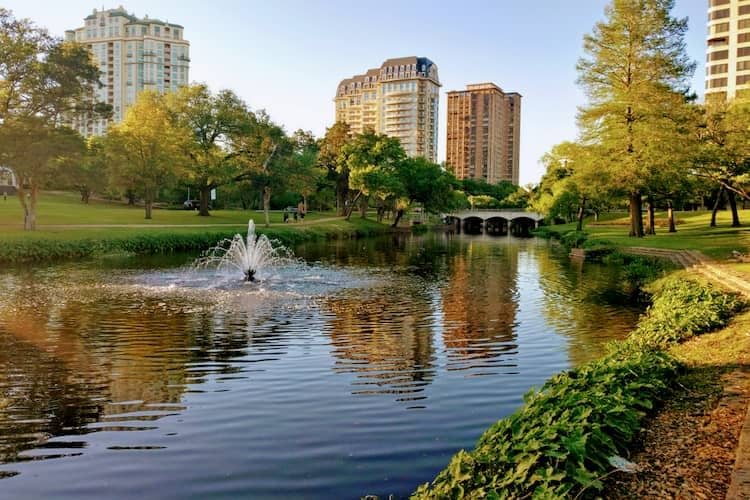 The entire trail is about three miles long, and if you're with an especially athletic group, your bus driver can drop you off at one end and pick you up at the other. Don't worry if your group isn't up for going the full distance, though–you can always walk a shorter distance that's right for you and then return to the point where you started. 
Drop-off address: 3127 Routh St, Dallas, TX 75201 (south end)
5900 Bishop Blvd, Dallas, TX 75205 (north end) 
7. Take a picture of the Margaret Hunt Hill Bridge. 
This majestic bridge has quickly become one of Dallas's most iconic sights. Designed by Santiago Calatrava, the huge white loop surrounded by wires offers an incredible backdrop for pictures. You can even see the downtown Dallas skyline in the distance.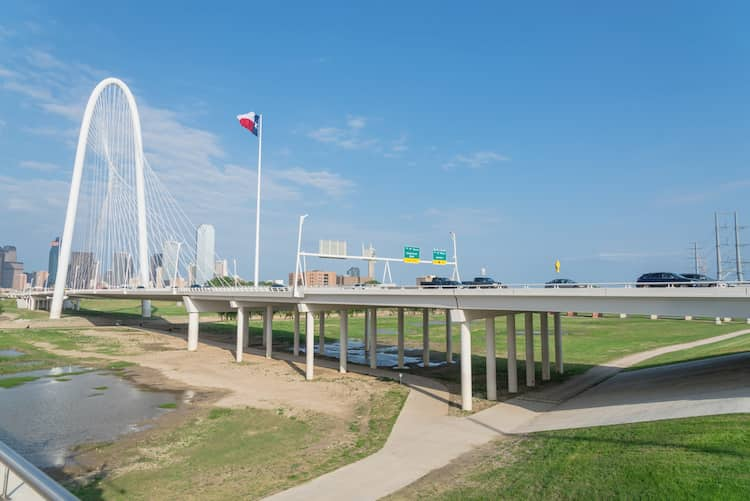 In order to get the best possible photo of this landmark, you'll want to get dropped off either at the entrance to the Ronald Kirk Pedestrian Bridge or somewhere along the Trinity Skyline Trail that runs near the pedestrian bridge. You can then pose with the Hill Bridge in the background without worrying about battling the cars racing across it. If you can't wait to upload your photos, use your charter bus's WiFi to post them to Instagram on the way home. 
Drop-off address: 3011 Gulden Ln, Dallas, TX 75212 (entrance to pedestrian bridge) 
Get Out and Explore Dallas on a Budget
Though your group can have an amazing time at a Texas Rangers game or the Perot Museum, Dallas's paid attractions will quickly blow through your group's budget. If you need to save money during your trip, consider a day at Dealey Plaza, Klyde Warren Park or Thanks-Giving Square. You'll get an authentic taste of Dallas's culture without having to pay for your entertainment, and Longhorn Charter Bus can provide transportation to all of the destinations on your itinerary. Just give us a call at 214-206-8432. We're here to help your group plan an awesome (and affordable!) trip to Dallas.