6 of the Best Budget-Friendly Group Activities in San Antonio
Traveling on a budget opens the doors to unique cultural destinations that might not have been your first pick. The best budget-friendly activities for groups in San Antonio include stretching your legs in the great outdoors, diving into history at storied sites, or visiting a military installation—all exciting opportunities for your next classroom field trip or corporate team-building activity.
Wherever you choose to go, Longhorn Charter Bus can connect you with the right group transportation for your trip and budget. Large groups can stay comfortable on a full-sized, 56-passenger charter bus while smaller teams can stretch their legs in an 18- to 25-passenger minibus. With a charter bus rental, you won't need to stress about keeping your group together, navigating traffic jams, or hoping for a parking spot close to your destination. Your driver can pick you up and drop you off in convenient locations.
When it comes to pick-ups and drop-offs in San Antonio, take a look at the city's map of short-term parking facilities for buses. It outlines loading zones and parking locations throughout downtown San Antonio, where you'll find a large handful of the locations on this list.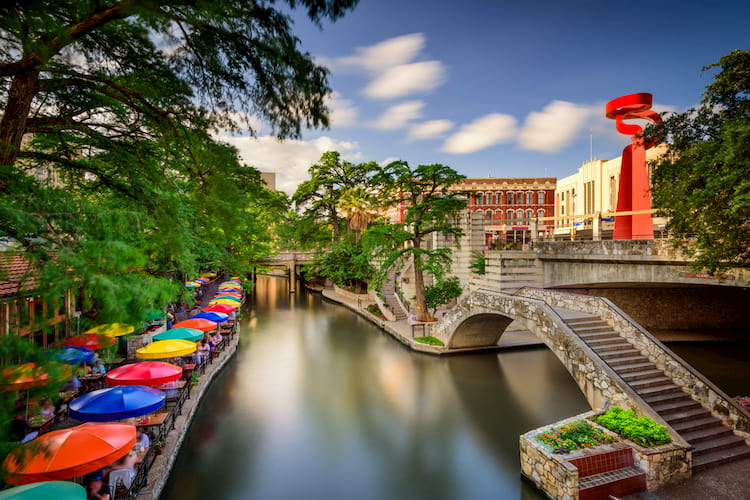 San Antonio River Walk
Address: 849 E Commerce St, San Antonio, TX 78205
Cost: Free to visit, walk, and explore.
Spend the day stretching your legs and soaking in the sights as you walk the San Antonio River Walk, a stunning city park and 2.5-mile riverside pathway in the heart of the city. Your stroll will be spotted with local public art and live mariachi music as well as food and art vendors. To visit and explore the River Walk is free, but you'll need to pay for any of the attractions and tours along the way.
Yanaguana Garden at Hemisfair
Address: 434 S Alamo St, San Antonio, TX 78205
Cost: Free to visit, play, and explore.
In downtown San Antonio, Yanaguana Garden is a creative oasis and playground for adults and kids of all ages and abilities. Children will enjoy the splash pad or sand play area, while adults can play with free giant chess and checkers sets. There's plenty to do for an afternoon, including lounging in green spaces, setting up lunch at picnic tables, and exploring dozens of interactive public art installations.
You may need to pay for parking, though a portion of the fees collected at certain parking locations is donated to the Hemisfair park program. We recommend calling locations ahead of time to make sure charter bus parking can be accommodated at the time you want to go.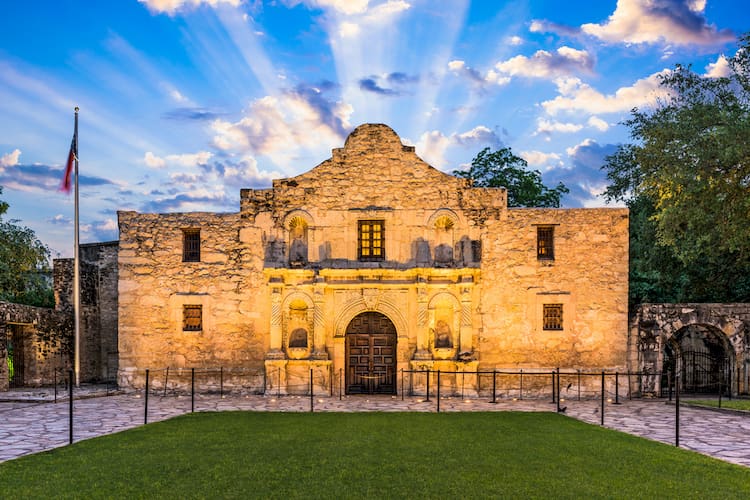 The Alamo
Address: 300 Alamo Plaza, San Antonio, TX 78205
Cost: Free to visit. $20 per person for a guided tour.
What's a trip to San Antonio without a visit to The Alamo? This historic mission and fortress compound was founded in the 18th century by Roman Catholic missionaries and is most famous for its part in the Texas Revolution and the Battle of the Alamo. Entrance to the Alamo Church and grounds is free, but if you're interested in a 1-hour group tour, you can reserve one for groups of 20-30 people at $20 per person.
Joint Base San Antonio Air Show and Open House
Address: 2330 Stanley Rd, San Antonio, TX 78234
Cost: Varies, but generally free and open to the public.
Every year, JBSA hosts an air show and open house. These days are usually complete with food vendors, aircraft exhibits, and exhilarating performances by jet fighter flight teams!
The show typically takes place in November. To find out when the next show at JBSA is, you can also follow the schedules of frequent performance teams like the United States Air Force Thunderbirds, who've published their show schedule for the next two years. The Thunderbirds will be at JBSA on November 14th and 15th in 2020.
Admission to air shows at military installations are generally free and open to the public, but the cost may vary. You can keep an eye on the JBSA official website for an announcement about the show, an itinerary, how to obtain tickets, and important information for parking and gaining entrance to the installation.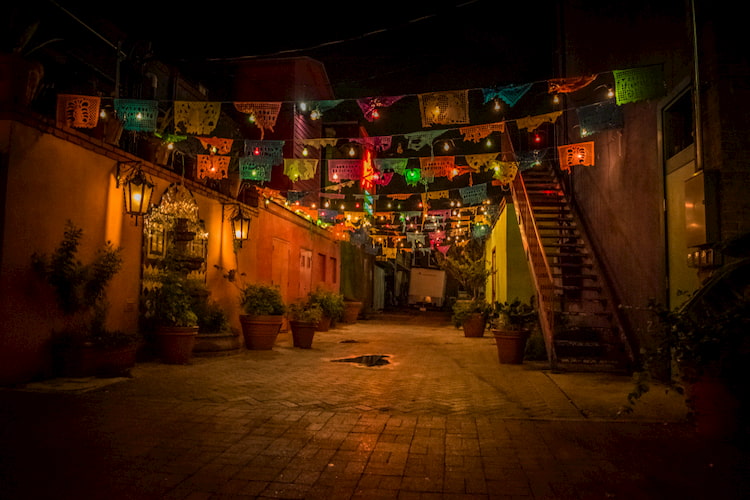 Historic Market Square
Address: 514 W Commerce St, San Antonio, TX 78207
Cost: Free to visit and enjoy live music.
The story of Historic Market Square dates back to 1730 when the King of Spain gave it to San Antonio's original settlers. It's well-known for the famous "Chili Queens," the revered creators of chili con carne who took over the plaza at twilight to dish out their signature, slow-simmered, spicy beef stew. Families, soldiers, cowboys, and troubadours all gathered for good food and great music—and not much has changed! Today, Historic Market Square is the largest Mexican marketplace in the United States with over 100 restaurants, shops, and vendors to explore. You're free to roam the stalls, see art, try local cuisine, and hear live music.
Fort Sam Houston Museum
Address: 1405 E Grayson St, Fort Sam Houston, TX 78234
Cost: Free to visit.
As the self-proclaimed "Military City USA," you can bet Fort Sam Houston has programs open for the civilian public to enjoy! Located in the historic Quadrangle—an iconic fort structure where Apache leader Geronimo was once imprisoned—the museum is known for its exhibits about the history of border security and medical service and training. Don't leave without seeing the colorful peacocks who roam the grounds around the Quadrangle. (No one knows exactly when the birds arrived on base, but rumor has it they've been squawking at soldiers since 1898.) You'll need to stop at the Visitor Center on Walters Street for access to the installation and museum. Everyone in your group who is 18 years or older will need to present a valid picture ID card, and you can call the museum at 210-221-1886 with any questions about how to visit.
Explore Budget-Friendly San Antonio with a Charter Bus
Ready to hit the road to San Antonio without breaking the bank? Call Longhorn Charter Bus at 210-686-0796 to get started. Our reservation specialists are available 24/7 and ready to help you plan your next budget-friendly group trip. Whether you're in nearby Austin or from as far away as El Paso, we can help you choose the right charter bus for your affordable adventure to San Antonio, Texas.