The Best Spots for Outdoor Dining in Dallas
Dallas's warm weather makes it a mecca for outdoor dining. Whether you're trying to social distance during the COVID-19 pandemic or you just want to eat outside for fun, Dallas offers plenty of bars, restaurants, and bistros with outdoor seating.
Planning to have a few drinks with your meal? Don't forget to arrange for a DD from Longhorn Charter Bus. We can connect you with a professional, experienced driver and a comfortable charter bus with plush seats and AC. Just give us a call at 1-844-447-2779 before you head out to one of these Dallas restaurants.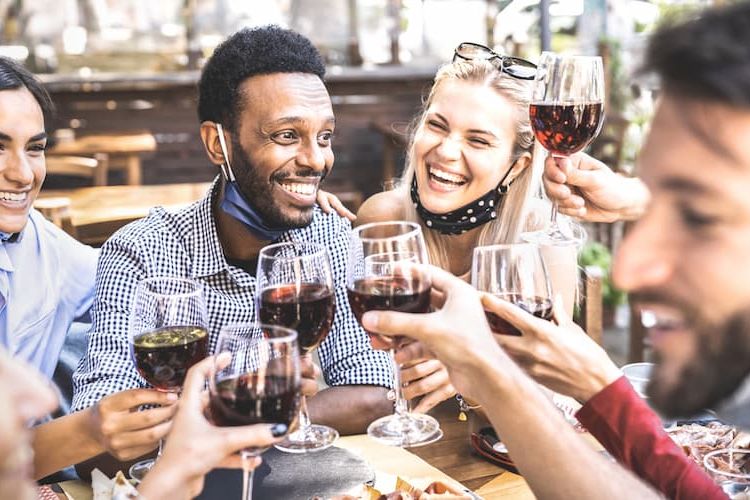 The Rustic
A Dallas favorite, The Rustic has a spacious backyard that occasionally features live music. The food here comes from Texas ranches and farms, and the restaurant creates its own signature cocktails. Chow down on a Texas Hot Chicken & Cheese Sandwich, which comes with American cheese, Nashville hot chicken, pickles, and mayo, or try the cactus fries, made from prickly pear cactus. When you're done with your meal, you can polish it off with a spicy margarita or a Mezcal Rustic Water.
Address: 3656 Howell St, Dallas, TX 75204
Charter bus parking: The Rustic has its own parking lot, but your charter bus may need to park in other nearby paid lots if there's no space.
HG Sply Co
If you love health food, you'll love HG Sply Co. This restaurant participates in the Whole 30 program, and all of their dishes can be made gluten- or dairy-free by request. Order their popular Bunless Burger Bowl, or build your own bowl with chicken, salmon, quinoa, and other proteins on a bed of cauliflower rice or sweet potatoes. HG Sply Co also has rooftop dining, so you can look out over the Lower Greenville neighborhood while you sip your cocktail and eat your healthy meal.
Address: 2008 Greenville Ave, Dallas, Texas 75206
Charter bus parking: HG Sply Co doesn't have its own parking lot, but there are several paid parking lots across the street.
Paradiso
Planning an elegant night out with your friends or significant other? Look no further than Paradiso. This upscale restaurant serves Italian and Mediterranean cuisine inside and on a shaded garden patio. Though the patio sometimes has to close for inclement weather, it's open whenever the skies allow. All of Paradiso's pizza, pasta, and baked goods are made in-house, and you can order handmade rigatoni or fresh soppressata pizza along with specialty cocktails.
Address: 308 N Bishop Ave, Dallas, TX 75208
Charter bus parking: The Bishop Arts District, where Paradiso lies, has plenty of street parking and paid lots. You can have your charter bus driver drop you off in front of the restaurant and then find a spot.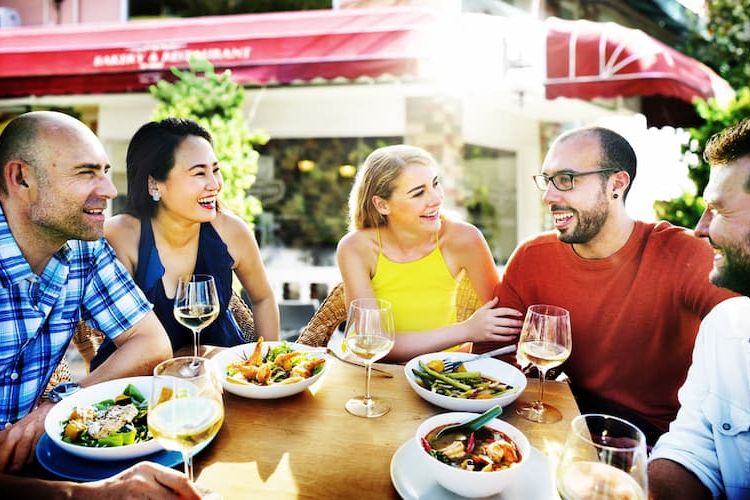 Truck Yard
Like HG Supply Co, Truck Yard lies in the iconic Lower Greenville neighborhood. Unlike HG Supply Co, Truck Yard is casual and quirky, with a massive backyard that holds picnic tables, food trucks, brightly painted metal signs, and treehouses. You can sometimes see live music here, and kids and dogs are welcome. Try craft cocktails like the Twisted Mule and Truck Berry Lemonade, and soak up all that alcohol with a vegetarian Philly cheesesteak, Chicago beef sandwich, or plate of ribeye nachos.
Address: 5624 Sears St, Dallas, TX 75206
Charter bus parking: There are several paid lots around the Truck Yard where you can leave your bus.
The Porch
If you're looking for a place where you can relax before your wedding or meet up with friends, you won't want to miss this haunt's beloved patio space. Located on the bustling Henderson Avenue, The Porch (unsurprisingly) has a large outdoor dining area with high-top tables and a rich array of cocktails—all with great ambiance and people-watching potential. You can pair your drinks with refreshing eats like the grapefruit agave gimlet and steak tartare, or even a bright ahi tuna salad.
Address: 2912 Henderson Ave, Dallas, TX 75206
Charter bus parking: Like many of the eateries on this list, The Porth relies on a combination of street parking and paid lots.
Oddfellows
Located in the Bishop Arts District, Oddfellows boasts outdoor patio and indoor seating to complement its menu of breakfast and brunch classics. This is the place to be if you're craving eggs Benedict, chicken and waffles, or huevos rancheros. You can also indulge in one-of-a-kind treats like buffalo mac and cheese and meatloaf made from 44 Farms beef.
Address: 316 W 7th St, Dallas, TX 75208
Charter bus parking: Though Oddfellows has a parking lot, it often fills up. Your charter bus driver may need to rely on street parking or other nearby lots.
Parigi
Parigi has always had an outdoor patio, but during the time of social distancing they've borrowed the patio from their neighbor Nuvo to give guests even more outside eating space. Parigi took inspiration from Paris bistros, and you can see the French influence in the refined decor and the dishes like mussels, lobster sandwiches, and chicken au poivre. Although the food is French-inspired, the ingredients are all local and seasonal.
Address: 3311 Oak Lawn Ave, Dallas, TX 75219
Charter bus parking: Parigi relies on valet parking. Since that won't be an option with a charter bus, your driver will need to look for street parking along side streets.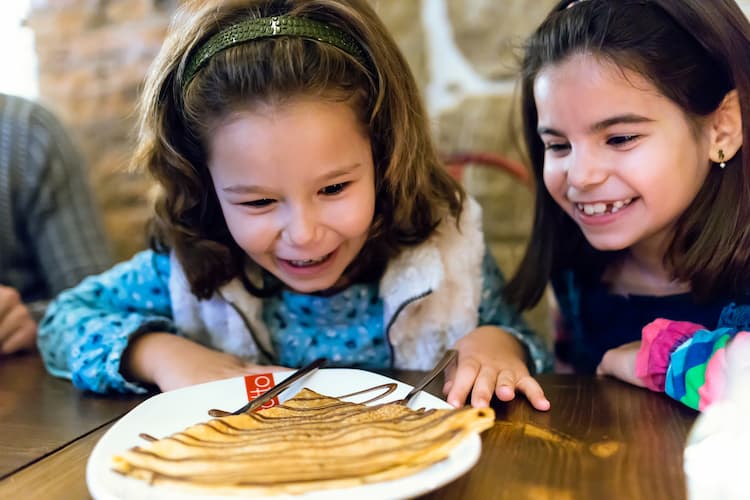 Smoky Rose
Located across the street from the Dallas Arboretum, Smoky Rose serves barbeque that's freshly smoked each morning. Make sure your group gets there early, because once the meat runs out, this BBQ joint won't be making more. Popular dishes include the spare ribs, pulled pork, and sliced prime brisket, and you can pair your entree with a frozen lemonade and jalapeno hushpuppies. Smoky Rose offers plenty of outdoor seating on their patio, and sometimes they even feature live music.
Address: 8602 Garland Rd, Dallas, TX 75218
Charter bus parking: Smoky Rose has very limited parking and mostly relies on valet service. That means your bus rental will need to park along a nearby side street.
Henry's Majestic
Inside Henry's Majestic, you'll find a large wooden bar that looks like it came straight from the nineteenth century. Outside Henry's, you'll find a dog-friendly patio with an outdoor fireplace and multiple TVs. This is a great place to lounge and dine on elevated American dishes like carnitas dumplings, oysters casino, and charcuterie boards. Henry's is also known for its craft cocktails, like the Clear and Present Danger, made with gin, citric acid, and absinthe, and the 81st Old Fashioned, made with bourbon, cola reduction syrup, and cherry bitters.
Address: 4900 McKinney Ave, Dallas, Texas 75205
Charter bus parking: Henry's has very limited parking. Valet service is available, but charter buses will need to park along a side street.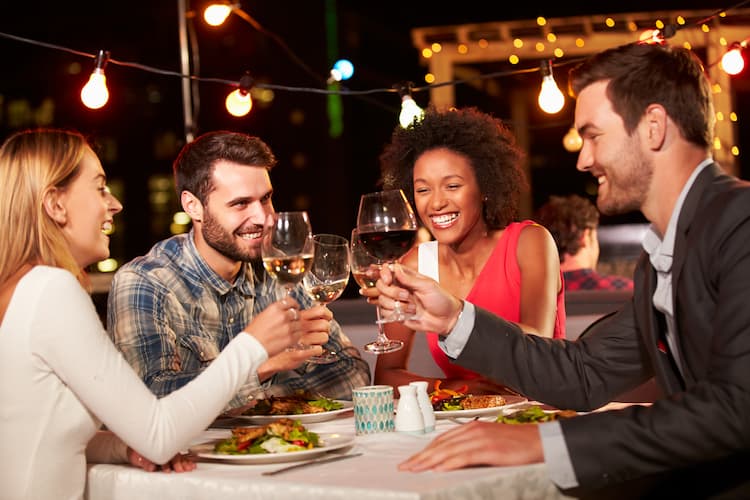 Jaxon Texas Kitchen & Beer Garden
If you want a taste of classic Texas cuisine, you'll find it at Jaxon. Request a table in the outdoor beer garden and dine on a spicy fried chicken sandwich, charred shishito peppers, or chicken-fried steak. Jaxon has 40 taps pouring craft beer and also mixes up craft cocktails like the Tejas mule and the spicy pineapple margarita. This is a great place to relax in between touring downtown Dallas landmarks like Dealey Plaza and the Dallas World Aquarium.
Address: 311 S Akard St, Dallas, Texas 75202
Charter bus parking: You may be able to get your parking validated at the AT&T Garage if you're in a small minibus, but since full-size charter buses probably won't fit, your driver will need to search for street parking when you travel with a bigger group.
Treat Your Group to Eclectic Outdoor Dining in Dallas
Dallas makes it easy to stay safe during the COVID-19 pandemic with plenty of outdoor dining options. And once the pandemic ends, your group can still take advantage of outdoor patios and beer gardens to soak up Dallas's warm spring, summer, and fall weather. When you've decided which restaurants you'd like to visit, give Longhorn Charter Bus a call at 1-844-447-2779. We'd love to provide your transportation.